Bernadette Brown leads Michigan Justice Fund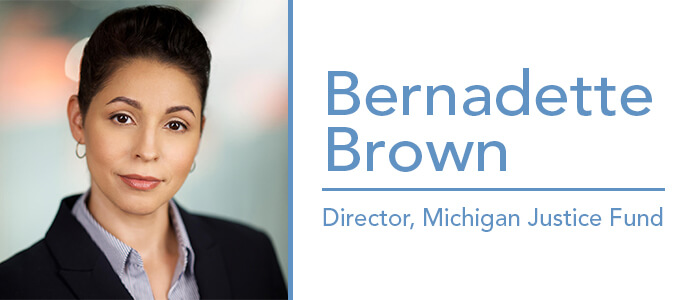 The Community Foundation for Southeast Michigan is pleased to announce the hiring of Bernadette Brown as the director of the Michigan Justice Fund.
Through this new position at the Community Foundation, Bernadette will provide leadership, management and guidance in support of the initiative for a three-year period.
Bernadette is from Detroit and joins this effort after serving as a corrections and youth justice consultant to government agencies and nonprofit organizations. She also served as the deputy legislative director at the New York Civil Liberties Union, a senior program specialist at the National Council on Crime and Delinquency in California, and a public defender at the Neighborhood Defender Service of Harlem in NYC. She received her JD from Boston University School of Law and her BA from Columbia University. She is admitted to the New York State Bar.