We're Hiring: Coordinator, Donor Services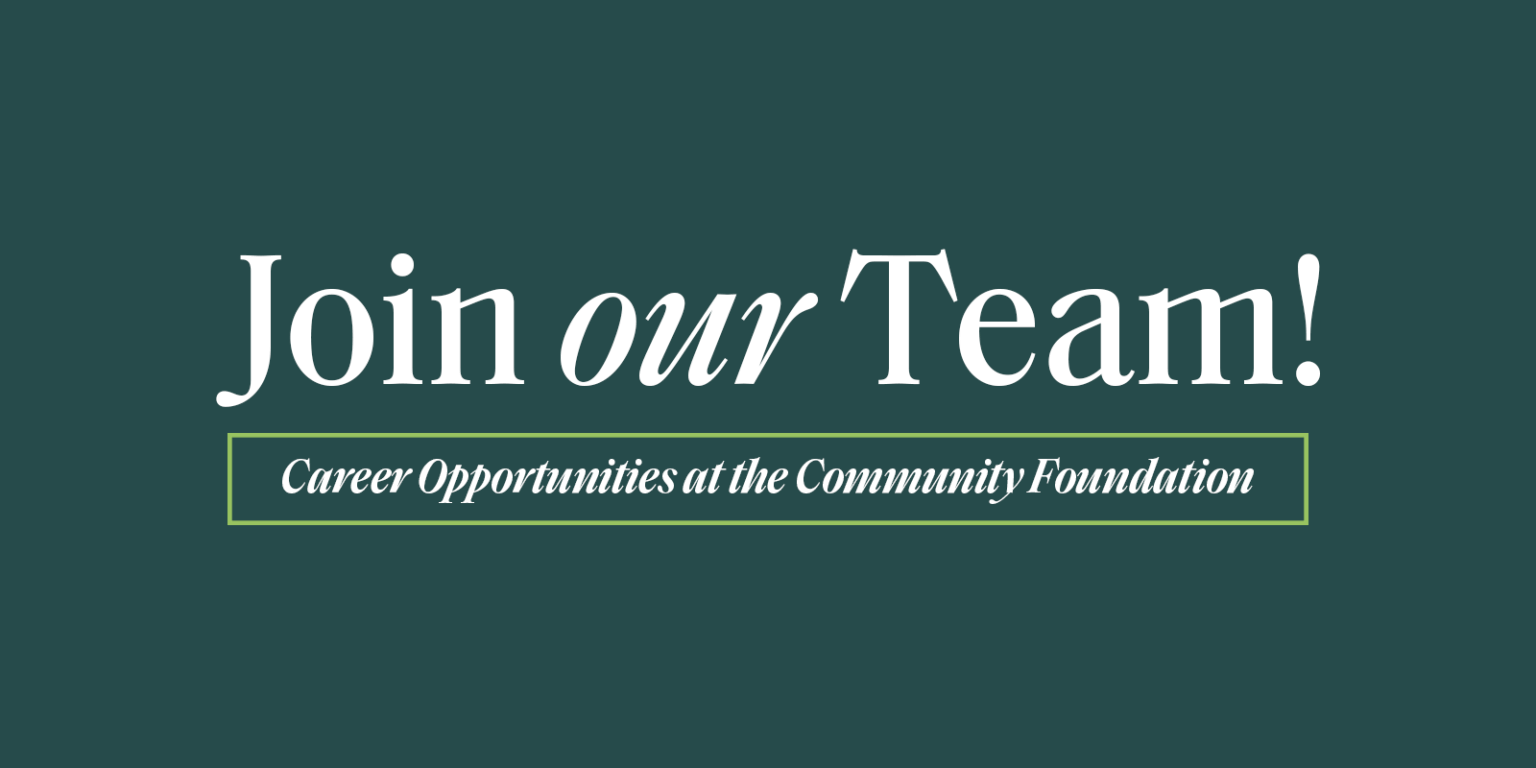 The Opportunity
The Coordinator, Donor Services is responsible for a wide range of donor and constituent relationship activities with the primary goal of deepening their relationship with the Community Foundation, and the ultimate goal of building permanent endowment with the Community Foundation.
The position interacts primarily with current donors, current agency endowment fund partners, and professional advisors to steward these relationships for long-term growth opportunities for the Community Foundation.
Responsibilities
Support the implementation of a donor stewardship program including communications and educational events connecting donors to philanthropic opportunities.
Work with Communications Department to develop a series of assets that connect donors and professional advisors to causes that matter to them and the community.
Steward existing agency partners and serve as the lead staff among several in the department who manage agency endowment fund relationships.
Assist with program content development, delivery, and outreach with the Legal/Financial Network and Legal/Financial Next Generation (LFN and LFNX).
Present or co-present with CFSEM colleagues at convening of donors, nonprofit organizations, or professional advisors on the Community Foundation, charitable vehicles, grantmaking, and the importance of endowment as appropriate to the audience.
Understand and integrate DEIJ into individual and department workplans, and where appropriate, contribute these to broader strategic planning and asset development efforts.
Participate in the life of the Community Foundation by attending appropriate events and programs, maintaining membership in key organizations, and participating in activities to expand the public's awareness of the Community Foundation.
Perform other duties as assigned including participation in other activities as assigned by the Senior Director, Donor Services or the Vice President, Donor Services.
Qualifications
A commitment to providing quality stewardship to all constituents, and the ability to develop positive working relationships with staff, trustees, donors, contractors, and community stakeholders.
Bachelor's degree or 2 years of experience working in fundraising, donor relations, client relations, or philanthropy in lieu of a degree.
Experience with portfolio management and prospect development.
Exceptional strategic and creative thinking
Exceptional written and verbal communications skills.
Strong people skills: ability to collaborate and work as part of a team.
Outstanding organizational skills, attention to detail, and the ability to manage multiple deadlines and priorities.
Passion, strong work ethic, self-motivated drive, and love of connecting resources to needs and opportunities.
Working knowledge (or willingness to develop working knowledge) of charitable gift planning techniques and willingness for continued learning of such techniques.
Desire to build a rapport with co-workers and a commitment to building deep knowledge of CFSEM, its constituents, lines of business, and stakeholders.
A commitment to CFSEM's mission and values, to incorporating DEIJ into our mission and values, and a desire to be an integral part of strategic planning for CFSEM to ensure our permanence in the region we serve.
Salary Expectation
The targeted salary for those entering this role is $53,600 – $67,000.
The Community Foundation for Southeast Michigan offers a robust benefits package including 20 days of vacation accrued monthly, 5 personal days, 11 holidays, 9 sick days accrued monthly, paid parental leave, and employer paid short/long-term disability.
The Community Foundation also offers a pension retirement program after 1 year of service which contributes 10% of salary.
To Apply
To apply for this position, send an email to careeropportunities@cfsem.org with your cover letter and resume. Internal candidates will be considered first. All applications are requested by May 24, 2023. 
To provide equal employment opportunities to all individuals, employment decisions will be based on merit, qualifications and abilities without regard to race, religion, creed, color, national origin, age, gender, marital status, sexual orientation, gender identity, height, weight, political or union affiliation, disability or any factor prohibited by law.