Job Opening: Project Manager, Michigan Opioid Partnership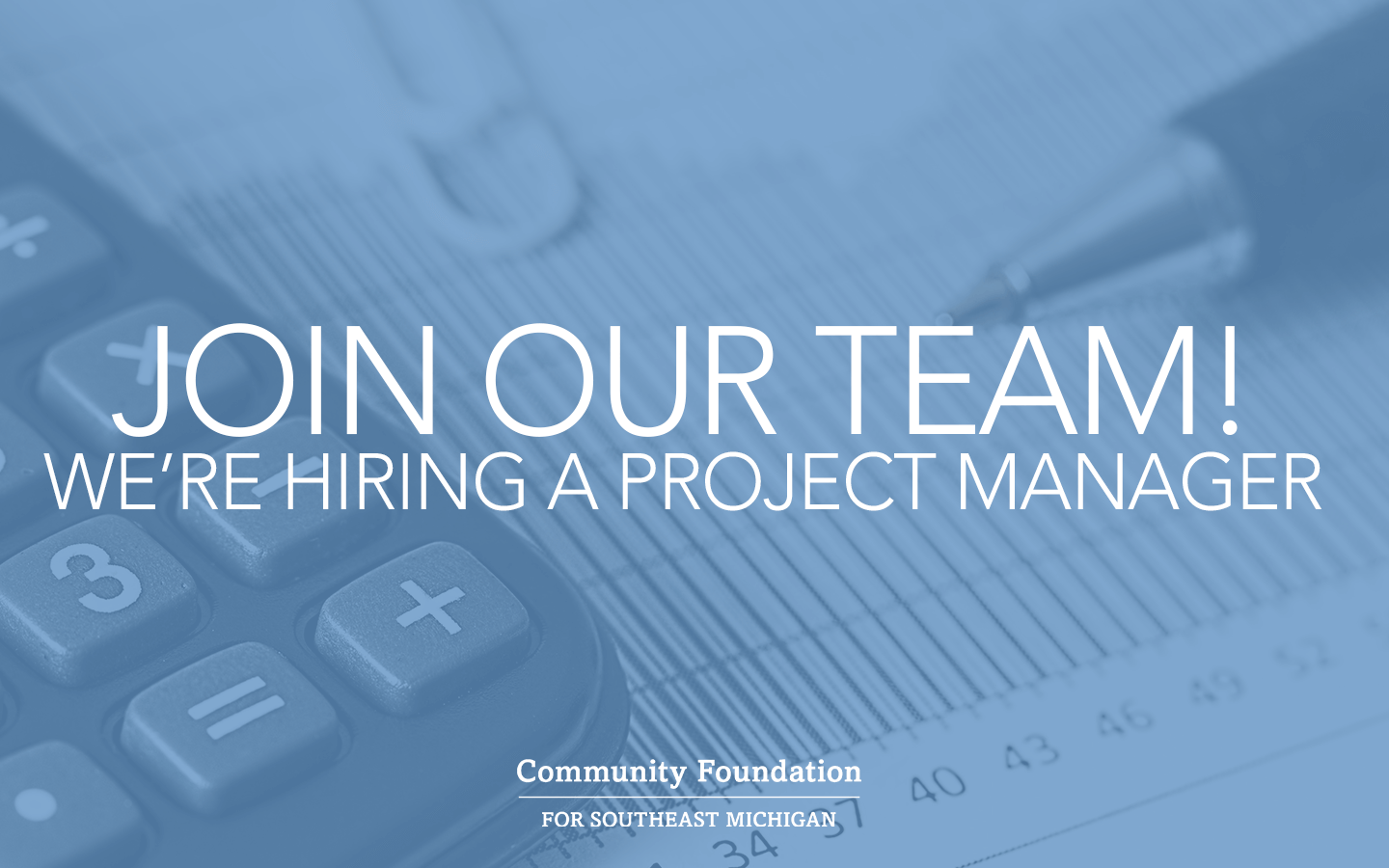 The Project Manager, Michigan Opioid Partnership provides leadership, management and coordination in support of the Foundation's effort to facilitate a technical assistance project focused on hospital emergency departments. The project is designed to provide support, including peer to peer coaching, training, knowledge sharing and funding to hospitals and outpatient providers in the targeted counties as they develop or expand efforts to increase access to medication for opioid use disorder (MOUD).
The project complements grant funding from MDHHS to address the racial disparities that exist in overdose rates with a focus on hospital emergency departments and linkages to care. The position also includes oversight of a statewide effort to develop a web-based resource for hospitals and providers focused on MOUD. This position is funded through September 2021, with the possibility for extension based on availability of grant funds.
While the Michigan Opioid Partnership is a statewide effort, this position will be solely focused on working with hospitals in Wayne and Genesee counties. These counties are a priority because of the disproportionally high number of opioid overdoses.
Responsibilities Include:
Manage daily operations and oversight of the technical assistance project in Wayne and Genesee counties
Assess hospitals' needs, processes, facilitators, and barriers, using findings from baseline assessments and other data sources
Develop tailored technical assistance plans with each hospital and a consulting/contracted support team
Develop and manage a detailed project timeline
Lead the scheduling and documentation of site visits and meetings
Coordinate trainings for hospital staff
Integrate racial equity activities with hospitals including identifying and addressing institutional barriers to accessing emergency department and MOUD care for populations who have been historically disadvantaged and marginalized, including Black, Latinx, and Indigenous communities
Establish learning collaborative open to hospitals statewide, including identifying partners to participate, and coordinating regional meetings and web-based technical assistance
Oversee the development of a website to host web-based technical assistance content including materials, recorded session and resources.
Communicate and meet on an ongoing basis with hospital project staff and Foundation staff to ensure coordination of reporting and managing timelines
Facilitate collaboration, communication, and reporting back to project funders about the status of technical assistance activities
Coordinate stakeholder meetings related to the initiative, leveraging existing resources and prioritizing local partners
Co-manage performance tracking at each hospital using quality measures
Participate in evaluation efforts of the project to ensure effective learning and communication
Qualifications
Five years professional experience in public health or similar field
Proven project management experience, prioritizing multiple projects within tight deadlines
Bachelor's degree, master's degree preferred, in public health, public policy, social work or related field
Familiarity with substance use and addiction medicine, harm reduction and/or hospital systems, preferred
Demonstrated commitment to and experience with the application of diversity, equity and inclusion practices within projects or programs
Experience in communicating in a persuasive, credible manner, in person, in digital settings, and in writing and presentations
Computer proficiency in all Microsoft applications
To Apply
Send your cover letter, resume and salary requirements to Nancy Davies, human resources director at: careeropportunities@cfsem.org.