Job Posting: Director, Project Play:Southeast Michigan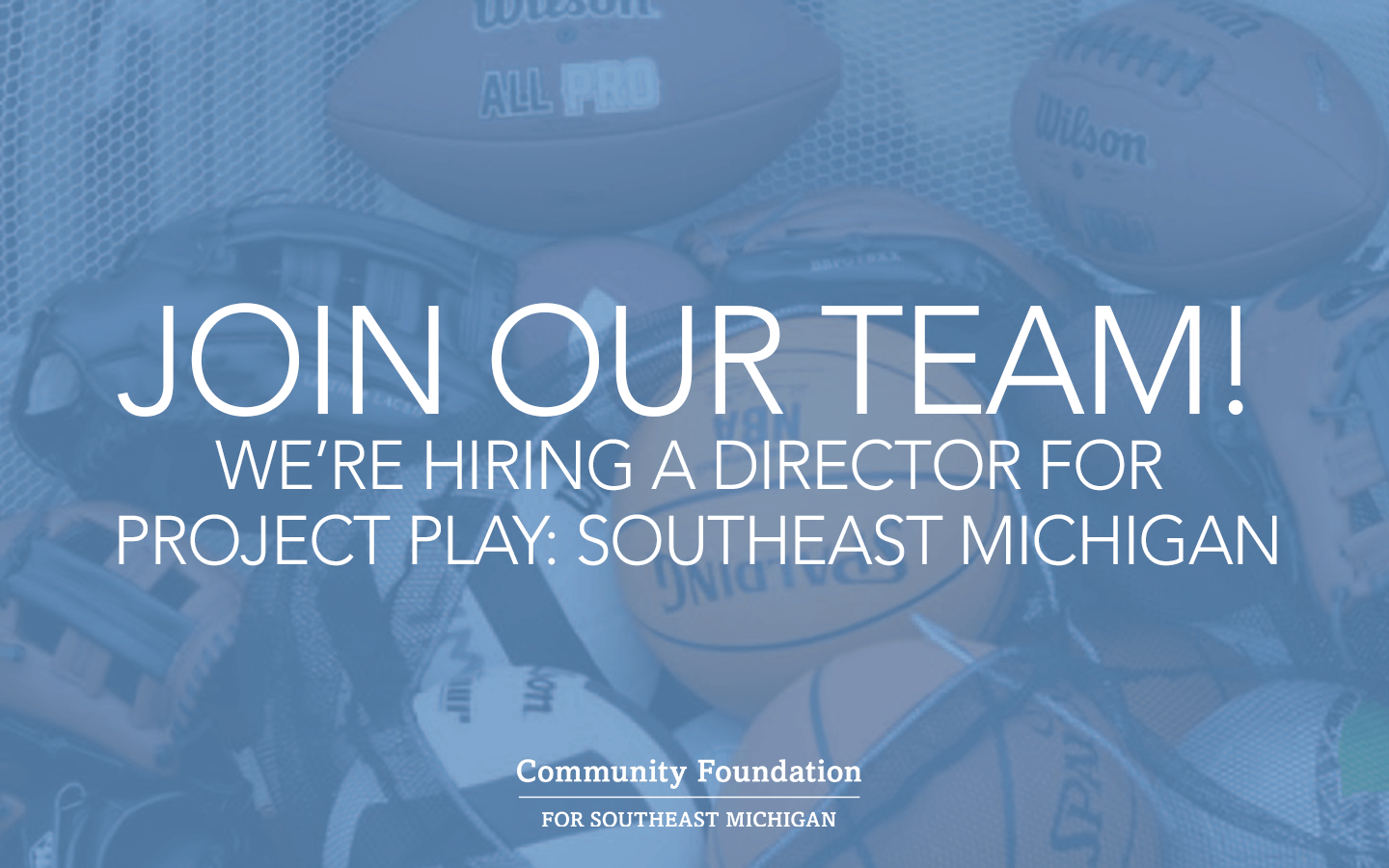 The Director of Project Play: Southeast Michigan will lead the Community Foundation for Southeast Michigan's efforts to facilitate the implementation of Project Play: Southeast Michigan.
The goal of this initiative is: Building a Southeast Michigan community in which all children have the opportunity to be active in sports or recreation regardless of gender, race, zip code, or ability The Community Foundation for Southeast Michigan and the Ralph C. Wilson, Jr. Foundation, with technical support from The Aspen Institute Sports & Society Program, leads this collective impact initiative through cross-sector partnerships that engage public, private, and philanthropic institutions, as well as residents, in collective action. This position is funded by the Ralph C. Wilson, Jr. Foundation for three years beginning September 2020.
The Community Foundation serves as convener, co-creator and administrative backbone organization for the Initiative, working with the Aspen Institute and Ralph C. Wilson, Jr. Foundation to mobilize stakeholders and develop breakthrough initiatives. Initiative change strategies focus on The Aspen Institute Project Play framework and builds upon the Project Play Southeast Michigan State of Play report released in June 2017.
The Director, Project Play: Southeast Michigan, is primarily responsible for leading, managing, coordinating and executing the Project Play's role in Southeast Michigan's youth sports ecosystem. This is a senior leadership role, reporting directly to the Vice President, Program.
This will include: (1) serving as the link between the Community Foundation, the Ralph C. Wilson, Jr. Foundation, contractors (including Aspen Institute), the Southeast Michigan Youth Sports Task Force, working groups and key stakeholders, as well as the Community Foundation for Greater Buffalo, who is managing a parallel initiative; (2) maintaining strong knowledge of relevant community issues; (3) developing and maintaining strong relationships in the youth sports ecosystem; (4) and utilizing tools for advancing collective action, including: convening partners, building coalitions, forging common agendas, organizing media campaigns, initiating grants, and leveraging resources.
RESPONSIBILITIES INCLUDE
Manage and/or inform Project Play: Southeast Michigan, including strategy, execution, learning, and evaluation
Manage and maintain the engagement of task force members and key stakeholders
Develop, formalize, and maintain a strong regional youth sports network involving a diverse group of citizens, professionals, community stakeholders, and elected officials, when appropriate
Facilitate the efforts of stakeholders to create shared agendas, common action plans, assessment systems, and sustainability strategies
Work with Director, Health Initiatives on areas of alignment with Project Play: Southeast Michigan and physical and behavioral health
Align the work of Project Play: Southeast Michigan to current and future efforts of public space/green infrastructure and the broader youth programming/development field at the Community Foundation, Ralph C. Wilson, Jr. Foundation, and in southeast Michigan
Ensure community convenings, stakeholder events and meetings are coordinated
Seek and secure additional support to leverage existing resources dedicated to southeast Michigan youth activity, including attracting funding from sources outside the southeast Michigan region and/or increasing flow of government funds to physical activity via policy change efforts
Work with communications teams at the Community Foundation and the Ralph C. Wilson, Jr. Foundation to develop and deliver key messages about Project Play: Southeast Michigan and broader coordinated funding strategies that advance opportunities for youth to be physically active as well as reflect the foundations' brand and brand promises
Oversee the Southeast Michigan Youth Sports Task Force and Workgroups, including developing agendas, facilitating meetings and involving the Task Force and Workgroups in strategy development for the region
Oversee the grantmaking activities of the Ralph C. Wilson, Jr. Legacy Fund for Youth Sports at the Community Foundation in partnership with Community Foundation Program staff, and promote/coordinate with grantmaking strategies of local and national partners
Manage relevant contracts and budgets
Assist the Vice President, Program in the coordination of work across program areas where Project Play intersects with other activities of the Foundation
Be knowledgeable of Foundation's electronic grant tracking systems and assist with pulling reports and analyzing grantmaking activities as needed for communications activities
Assist with the development of content for Project Play publications and web-based information
KEY COMPETENCIES
As the key leader for this unique collaborative, a number of special competencies are desired, including the ability to:
Engage peer funders in project development and investment where interests overlap
Analyze and develop a community network of all constituent groups
Influence community leadership and promote policy and system changes that benefit program goals and the local level
Drive identification and design of outcome indicators in partnership with evaluators
Build and implement vision for community capacity building and leadership
Assess and manage risk to the project, the Community Foundation, and key project partners when considering activities
Think strategically and entrepreneurially
Manage financial, project and operational aspects of effort, with support from Community Foundation team as backbone organization
Actively engage in continuous learning
Demonstrate a high level of cultural acuity and flexibility across a very diverse seven-county region
TECHNICAL EXPERTISE/EXPERIENCE AND QUALIFICATIONS
Technical Expertise Desired
Ten years of progressively more responsible experience in youth sports, athletics administration, or related community-based field
Demonstrated domain expertise and ability to lead strategy development
Past experience playing, coaching and/or management experience within sports is preferred
Proven program development and project management experience, prioritizing multiple projects within tight deadlines
Extensive knowledge of the youth sport sector and culture and experience in leading and facilitating community coalitions
Demonstrated ability to establish and maintain effective relationships with persons of diverse backgrounds and organizations throughout the Southeast Michigan community
Bachelor's degree minimum, with Graduate Degree strongly preferred; relevant backgrounds may include sports management, planning, public administration, education, business, economics,
Experience in communicating in a persuasive, credible manner, in person, in digital settings, and in writing and presentations
Strong analytical, evaluative, and managerial skills
Experience in the management and supervision of staff
Computer proficiency in all Microsoft components
Technology skills and the ability to apply software knowledge
Demonstrate consistent quality
Commitment to the team effort of the Community Foundation and the Ralph C. Wilson Jr. Foundation
OTHER PERSONAL CHARACTERISTICS
Solid judgment and apparent leadership skills
A team player who can interrelate and operate effectively with peers and other associates within a collegial, yet demanding, work environment
An individual who can handle a variety of constituencies, manage multiple tasks simultaneously, and thrive in a complex environment with multiple priorities
Impeccable integrity
Strong analytical skills, business intuition, and common sense with the ability to innovate
Strong work ethic
Entrepreneurial mindset with the ability to work both collaboratively and autonomously as the situation dictates
Strong time management skills
TO APPLY
Send your cover letter, resume and salary requirements to Nancy Davies, human resources director at: careeropportunities@cfsem.org.