Ways for You to Give at the End of 2020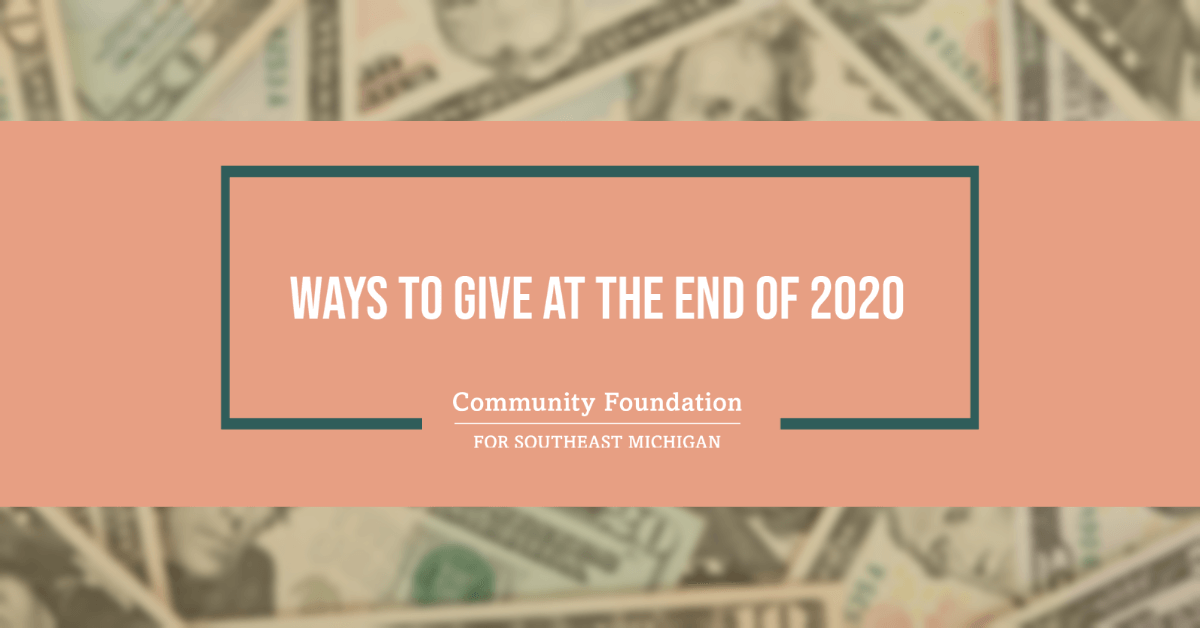 As we enter the holiday season, many of us evaluate our charitable giving and look for opportunities to accomplish our goals by year end.
Several tax changes went into effect for 2020, some of which directly impact charitable giving. As you work with your advisors on year-end planning, consider some of these giving strategies that will allow you to support charitable causes important to you while accomplishing tax savings.
1. Deduct up to 100% of Adjusted Gross Income
This year only! Individuals can deduct qualified cash donations to the Community Foundation of up to 100% of adjusted gross income ("AGI") as a result of the CARES Act.
This temporary increase in the AGI limitation does not affect the other deduction limits for gifts to public charities in effect prior to the CARES Act. Those limitations are based on the nature of the property contributed (e.g. cash, long term capital gain) and the type of charity to which the donor contributes (e.g. supporting organization, donor advised fund).
The limit for gifts of cash to a field of interest fund, general operating fund, or endowment at the Community Foundation is 100% of AGI.
The limit for gifts of cash to supporting organizations and donor advised funds is 60% of AGI.
The limit for gifts of appreciated long-term capital gains property (e.g. real estate, publicly traded securities) to the Community Foundation, including supporting organizations and donor advised funds, is 30% of AGI.
Example: A donor makes a cash gift to establish a donor advised fund with the Community Foundation in the amount of 60% of AGI. The donor can supplement that gift in 2020 only with a gift of cash to the Community Foundation's flexible endowment fund up to 40% of AGI and the entire amount – both cash gifts aggregating 100% of AGI – will be deductible.
2. Make IRA gifts at age 70½ +
IRA accounts have no required minimum distribution ("RMD") in 2020 only. But those age 70½ or older can still make a qualified charitable distribution (QCD) directly from an IRA to the Community Foundation up to $100,000. This is a gift of pre-tax dollars which also reduces income tax liability for future years as the IRA account is reduced by the QCD amount. Donor advised funds do not qualify for QCDs.
3. Maximize your IRAs in 2020
Required minimum distributions ("RMDs") from your IRA will return next year for those age 72+. A qualified charitable distribution from an IRA or IRA rollover to charity reduces RMD. It's a great way to give!
To do this with a 401(k) or 403(b), you must convert the retirement account into an IRA rollover. But conversion requires first taking any RMD from the 401(k) or 403(b). You must pay taxes on that distribution.
You can avoid taxes by making the conversion this year. There are no RMDs in 2020. So, you can convert your 401(k) or 403(b) into an IRA rollover in an amount equal to that waived distribution (up to $100,000). And you can do it without paying any taxes, even if you are over age 72+ as the waived distribution is not subject to the 10% early withdrawal tax for distributions prior to age 59½ and is not subject to mandatory 20% withholding. Then, you will be set up to make future donations from the IRA rollover whenever you want.
In addition, in 2020 if you are between ages 59 ½ and 70 ½, an IRA withdrawal up to $100,000 this year only creates no penalties. But the withdrawal is taxable. This year, cash gifts to charity can be deducted up to 100% of your adjusted gross income. If you are already itemizing deductions this can help offset the tax impact from an IRA withdrawal.
4. Give appreciated assets
Donating appreciated assets (e.g. marketable securities, closely held business interests, or real estate) creates TWO tax benefits. You receive a tax deduction PLUS you avoid paying capital gains tax.
Example: Using the 100% AGI limitation available in 2020, a donor gives 30% of AGI in marketable securities to a donor advised fund and 70% in cash directly to the Community Foundation's flexible endowment fund to take advantage of the 100% of AGI limitation.
5. Bunch gifts with a Donor Advised Fund
The Tax Cuts and Jobs Act created much higher standard deductions. Fewer people can use charitable deductions because they aren't itemizing. One way around that is to "bunch" charitable gifts.
Example: A donor puts 5 years' worth of donations into a donor advised fund. The donor takes a tax deduction for the entire amount in that year. Because the deduction is so large, the donor itemizes in that year. In later years, the donor recommends grants to charities from the fund. The grants from the donor advised fund create no tax deduction. But in those years the donor takes the standard deduction instead of itemizing.
6. Charitable Gift Annuities
Charitable Gift Annuities allow an individual to make a gift of cash or marketable securities to the Community Foundation, and the Community Foundation agrees to pay one or two beneficiaries selected by the donor a fixed, lifetime dollar amount. Any endowed unrestricted fund, field-of-interest fund, or endowed donor advised fund can be the ultimate beneficiary. Certain nonprofit agency endowment funds with the Community Foundation also qualify as a remainder beneficiary.
7. IRA beneficiary v. gift in a will
Many people like to include a charitable gift in their will to support a cause that has been important in their lives. One tax smart strategy is to leave part of an IRA, 401(k), or 403(b) account to a nonprofit by changing IRA beneficiaries.
If heirs need income, consider identifying a charitable remainder trust as a beneficiary on the IRA. See link below to a Community Foundation article on CRTs and IRA assets.
Download our article on CRTs and IRA assets.
Why is either of the approaches above smart? Because heirs pay income taxes on this money. Starting this year, heirs (except spouses) must take out all funds (and pay taxes) within 10 years of inheriting. But any part left to a nonprofit or a CRT avoids these taxes. So, if you are leaving assets to a nonprofit, consider using IRA assets.
Contact us to assist with your charitable giving… we are here to partner with you to make giving easier.
Emily Angyal
Philanthropic Services Officer
eangyal@cfsem.org
Laura Brownfield
General Counsel
lbrownfield@cfsem.org
Randy Ross
Associate Director, Donor Engagement
rross@cfsem.org
Note: This material was developed by Community Foundation for Southeast Michigan for the use of professionals. It is published with the understanding that neither the publisher nor the authors are engaged in rendering legal, accounting, or other professional service. If legal advice or other expert assistance is required, the services of a professional advisor should be sought.
Adapted from Top 10 ways to give smarter at the end of 2020  by Russell James, J.D., Ph.D., CFP®, Professor of Charitable Financial Planning at Texas Tech University.