We're Hiring: Project Coordinator, Michigan Opioid Partnership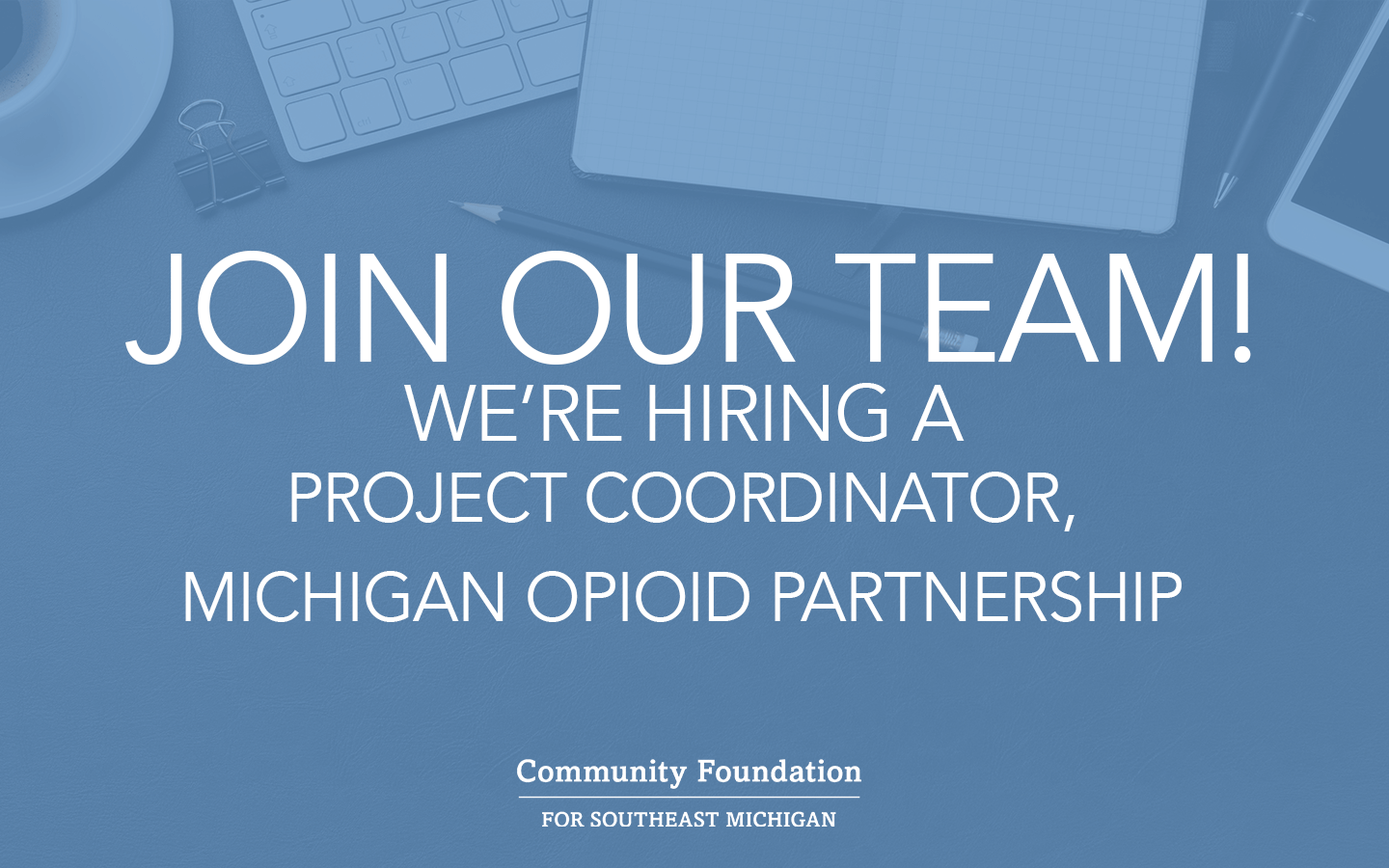 PROJECT COORDINATOR, Michigan Opioid Partnership
The Project Coordinator, Michigan Opioid Partnership provides coordination in support of the Foundation's effort to facilitate the development or expansion of efforts to increase access to medication for opioid use disorder in hospitals and jails and increase harm reduction efforts.
The project works closely with hospitals, jails, universities and outpatient providers across the state.
This position will assist the project team at the Community Foundation onboard hospitals and jails, support grant partners, track and report progress, manage timelines and help set direction for the project.
This effort targets hospitals, jails and communities across the state, with priority given to areas of the state with the highest incidents of overdoses.
This position is funded with a term through September 2021 and the likelihood of extension based on availability of grant funds.
RESPONSIBILITIES INCLUDE:
Coordinate project activities and working with the project team to ensure that all project deliverables and contract requirements are met on time and within budget
Work closely with project staff to develop data collection, analysis and reporting approaches, including producing high-quality reports, and continuously improve implementation processes
Maintain data and records necessary to complete required reports
Work with the team in meeting preparation, participation in stakeholder meetings and writing meeting minutes or summaries
Provide support in writing reports, developing presentations, and creating other print materials as
needed.
Assisting with maintenance/development of websites and communications
Supporting grantmaking processes, including prepping grant application materials and summaries
Assisting with other aspects of the project, including administrative and operational support as needed
Participate in evaluation efforts of the project to ensure effective learning and communication
Develop and maintain relationships with grant partners, contracted consultants and funding partners
Represent the Community Foundation at external meetings and events as needed
Learn and utilize Community Foundation systems for grants management and project management
as needed
When determined safe to do so, occasional travel across the state may be needed
REQUIRED QUALIFICATIONS:
Bachelor's degree with a minimum of two years of experience in public health, public policy, social work or related field, Master's degree preferred
High degree of organization, attention to detail, and ability to multitask
Proven project coordination experience, prioritizing multiple projects within tight deadlines
Strong knowledge of substance use/opioid-related issues a plus
Excellent writing skills including the ability to draft and edit high quality written materials
Excellent verbal communication skills including collaboration and problem solving
Demonstrated commitment to and experience with the application of diversity, equity and inclusion practices within projects or programs
Computer proficiency in all Microsoft applications
TO APPLY:
This position offers a competitive compensation and benefits package. Our office is located in Detroit, Michigan
and the position is based there.
Interested candidates should email a cover letter, resume and salary requirements to Nancy Davies, Human Resources Director, at careeropportunities@cfsem.org. Please reference
Project Coordinator in the subject line of your email.
In order to provide equal employment opportunities to all individuals, employment decisions will be based on merit, qualifications and abilities without regard to race, religion, creed, color, national origin, age, gender, marital status, sexual orientation, gender identity, height, weight, political or union affiliation, disability or any factor prohibited by law.