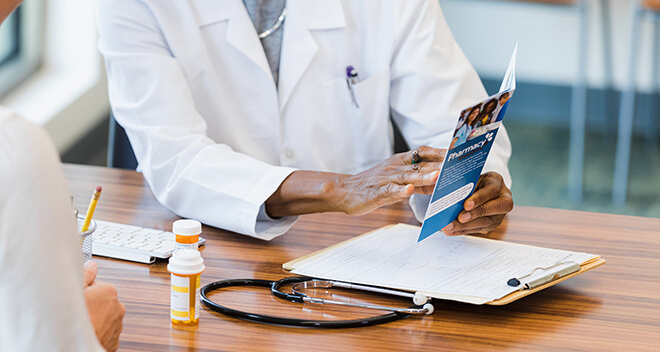 Trinity Health Grand Rapids and Detroit Medical Center are two local health systems capitalizing on changes to the U.S. Department of Health and Human Services (HHS) guidance for prescribing buprenorphine, one of the most effective medications for opioid use disorder (OUD). The practice guidelines now exempt eligible clinicians from training or counseling to become X-waivered, so long as they are not treating more than 30 patients at a given time. Any provider can administer buprenorphine to a patient experiencing withdrawal symptoms in the hospital, but a waiver is needed to prescribe the medication. As the first and sometimes only medical encounter patients with OUD have, emergency departments (ED) are particularly affected by this policy shift. 
"Providers found the training onerous because they had to commit eight hours to complete it," says Dr. Nick Rademacher, an ED doctor at Trinity Health Grand Rapids and a clinical consultant for the Community Foundation for Southeast Michigan's Michigan Opioid Partnership (MOP). "The process is so streamlined now; I can't think of any reason not to get the waiver."
 "The process is so streamlined now; I can't think of any reason not to get the waiver." – Dr. Nick Rademacher
Improving Access to Care
Opioid overdose deaths continue to climb, claiming nearly 92,000 lives in 2020, an increase of 21,000 over the previous year. In Michigan, 2,738 people died, a 14 percent jump from 2019. Despite these grim statistics, research from Pew Charitable Trust, the Rand Corporation, and Deerfield Management Company revealed only half of the 56,000 clinicians qualified to prescribe buprenorphine in the United States do so. This means less than 30 percent of eligible patients receive the drug. HHS recognized the high death rate, shortage of prescribers, and low percentage of OUD sufferers receiving medication as a critical patient access crisis. The policy change builds on the department's efforts to grow the number of doctors prescribing buprenorphine and make addiction treatment part of routine healthcare. "In the same way that we treat diabetes and hypertension with appropriate medications, we should be doing the same for people with addiction issues," says Dr. Andrew King, an ED physician at Detroit Medical Center and a clinical consultant for the Community Foundation.  
Though the education requirement has been eliminated, those seeking the waiver still have to apply to the Drug Enforcement Agency (DEA) through the Substance Abuse and Mental Health Services Administration's (SAMHSA) website. This certification is separate from the DEA license most providers have that allows them to prescribe other scheduled drugs. 
Exemption Increasing Providers, but Barriers Still Exist
At 90 and 75 percent, respectively, Detroit Medical Center and Trinity Health Grand Rapids boast high rates of X-waivered clinicians. Eliminating the training course has helped drive the increase, as has a position paper from the American College of Emergency Physicians (ACEP) recommending doctors prescribe buprenorphine for OUD patients. When asked about the percentage of holdouts, Drs. King and Rademacher point to stigma and misunderstandings about OUD and the implications of being waivered as significant influences.  
"The number of waivered physicians isn't necessarily indicative of the number prescribing the medication," says Dr. King. Some medical professionals do not feel knowledgeable enough about the drug, while others harbor stigma about OUD and its treatment. "We still have doctors who believe we're trading one addiction for another or don't accept it as a disease," Dr. King continues. 
Dr. Rademacher echoes these sentiments. "The providers resistant to getting waivered or refusing to prescribe the medications seem to think opioid use disorder is a personal choice, but substance use disorders are complex and all patients are worthy of access to medications to treat their OUD."
Misinformation about X-waiver requirements also affects enrollment. "Some clinicians are hesitant to prescribe because they think the DEA will come after them. In reality, I think the agency would be thrilled that people are getting treated for their OUD," says Dr. King. 
Another common misconception is that the DEA requires providers to present a list of those receiving scripts to prove they do not have more than 30 active patients. Dr. Rademacher says this is not the case. "The truth is, Michigan has a drug monitoring website that tracks controlled substances." Only filled scripts count against the 30-patient cap. "Once the person transitions to long-term care, they drop off the ED doctor's active list. It's unlikely a provider will ever exceed the max," Dr. Rademacher explains. 
Clinicians Can Still Find Value in Training 
Though the number of X-waivered clinicians has increased, untrained providers "may not understand buprenorphine's nuances, like how it works or its full benefits," says Dr. King. He mentions how being smarter about the drug can help prescribers identify the patients most likely to benefit from it and have greater confidence administering it. The information shared during the training empowers providers to use the medication safely and engage in dialogue with colleagues about expected and unexpected treatment outcomes. It also teaches participants to use non-stigmatizing language when talking about medication for opioid use disorder (MOUD), dispelling myths and concerns commonly held by prospective OUD patients and their families. 
In response to requests for some level of training, Drs. Rademacher and King designed a three-hour boot camp where attendees learn about providing evidence-based care to patients struggling with addiction, strategies for reducing their reliance on the ED, and starting them on the road to recovery. 
"We offered the first presentation in June 2021, so within six weeks of the policy change," Dr. Rademacher recalls. The events are sponsored by the  Michigan Opioid Prescribing Engagement Network or the MOP, with the doctors acting as lead instructors. "People were happy to see the educational requirement go away, but at the same time, they were nervous about prescribing. The full eight-hour class is available to anyone who wants to take it, but providers seem to appreciate the abbreviated version Dr. King and I developed," observes Dr. Rademacher.
Providing Rewarding Care
For many individuals with opioid use disorder, the ED is the only contact they have with the health care system. Starting treatment during the visit can significantly improve access to lifesaving care for people with opioid use disorder.
Besides expanding access to evidence-based patient solutions, X-waivered providers benefit the hospital. "While OUD patients could visit the ED for up to three days for buprenorphine, giving them prescriptions eliminates the need for repeat visits to the hospital, reducing the burden on the patient and doctor," says Dr. Rademacher. These patients are also more likely to follow up with their primary care physician or an addiction specialist and pursue a path to recovery. "A healthier population also benefits health care systems."
Dr. King emphasizes the gratification derived from helping patients through a life-changing intervention. "A lot of amazing things happen in the emergency room and this is one more extremely important intervention that we can add to our already extensive repertoire of life-saving interventions," he says. He believes MOUD offers a rare chance to make a dramatic difference in someone's life. "People start feeling better immediately and begin to have hope. I have had countless patient interactions that resulted in an unexpected hug or high five. It feels great!"