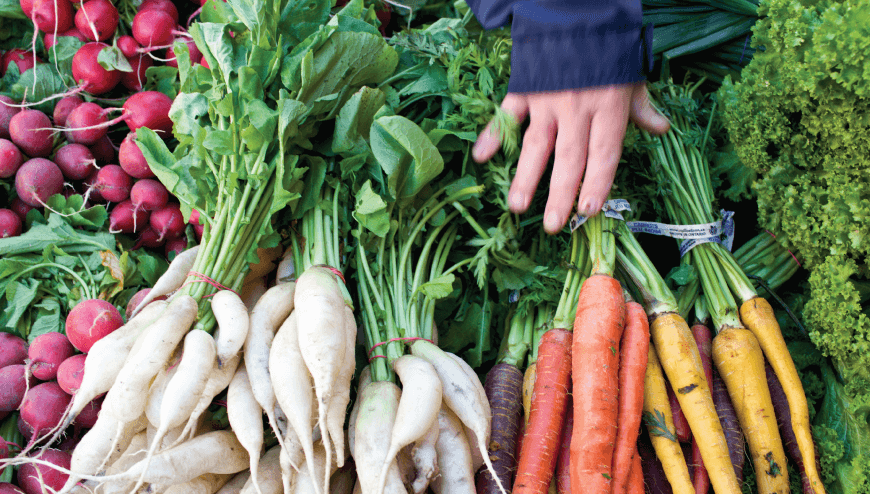 Access to nutritious food is important for all residents of Southeast Michigan, especially vulnerable populations like seniors and children. We launched Healthy Food Connect to make it easier for these citizens to eat better and live healthier lives, awarding $2 million in grants to fund 20 food-access projects. But there was a catch: Applicant organizations had to collaborate with at least one other organization. The winning projects are using innovative thinking and creative partnerships to create dynamic solutions that connect the youngest and oldest members of our community to the people, places, programs and services necessary to ensure they have nutritious food options every day.
With a new year comes a new resolve to eat healthier, a resolution that's already well underway at Healthy Food Connect grantee PACE Southeast Michigan, an all-inclusive elderly care program. Its grant-funded program, Growing Healthy Seniors, offers PACE's senior participants access to fresh fruits and vegetables, cooking demonstrations, and hands-on time in new indoor and outdoor gardens.
PACE has always offered breakfast, lunch and take-home frozen meals, but the produce in them has often been institutional quality, canned or frozen. When director of public affairs and philanthropy Laurie Arora joined PACE almost two years ago, she often heard from staffers that funding for fresh produce was needed, but Arora didn't see any grants for that purpose until Healthy Food Connect.
Especially popular with PACE seniors are the snack packs (or, as the seniors have nicknamed them, "garden packs") of fresh food, like spring salad mix and Italian dressing, that show how easy healthy snacking scan be. "It's gotten to the point where they ask for these," Arora said. "It's really nice to see that they're looking forward to it." The snacks complement Growing Healthy Seniors' breakfast smoothies: a perfect nutrition delivery system for those who have trouble chewing. A recent hit included spinach, mixed berries, bananas, and almond milk.
PACE and grantee partner Peaches and Greens are also leading twice-monthly cooking demonstrations at all three PACE sites (Thome Rivertown, Southfield and Warren) for seniors and caregivers. The level of engagement is amazing, Arora said, with audience members asking questions about shopping for produce and making cooking substitutions. After watching the preparation of dishes like fresh guacamole and pumpkin soup, they get a lesson on the foods' nutritional benefits from PACE's registered dieticians.
PACE is also using its Healthy Food Connect funding to partner with Elder Law of Michigan in helping eligible participants increase food subsidies through the so-called "Heat and Eat" credit, a federal program that increases food assistance in states where heating bills can be high. And though it's still snowy outside, PACE and grantee partner Keep Growing Detroit are already preparing indoor and outdoor food gardens that seniors can participate in tending. The yields will contribute to the smoothies and snack packs, Arora said, but the gardens are mostly an activity to foster a closer relationship to fresh food. "Some of the participants used to be farmers in the South, so this will be bringing them full circle."