We're Hiring a Communications Officer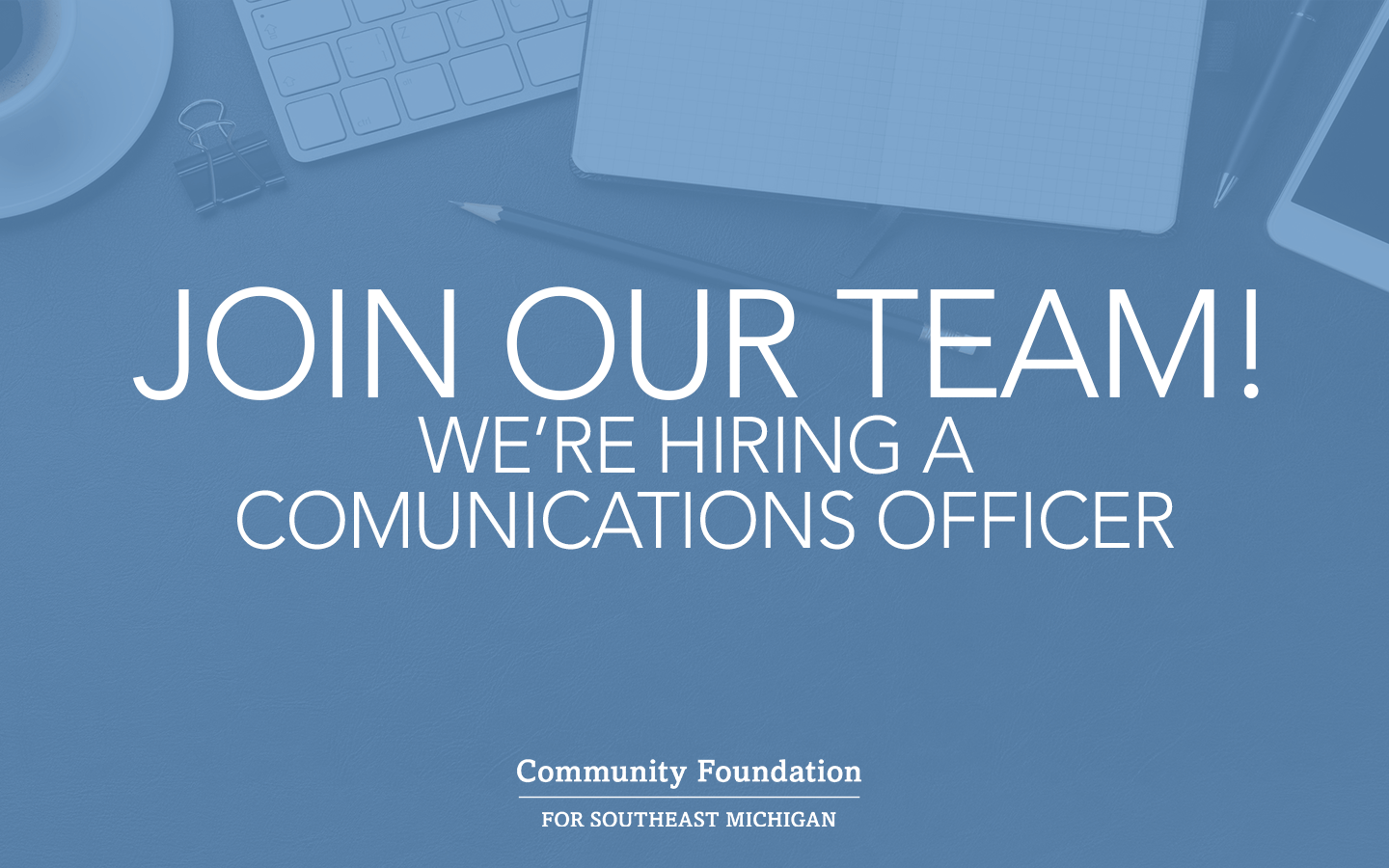 For more than thirty years, the Community Foundation of Southeast Michigan has been working to improve the lives of people in our region – supporting education, arts and culture, health, human services, community development, and civic affairs. Since our inception, we have distributed more than $1 billion through nearly 67,000 grants to nonprofit organizations throughout Wayne, Oakland, Macomb, Monroe, Washtenaw, St. Clair and Livingston counties.
More than that, though, we have helped to provide valuable leadership through very turbulent times. In addition to providing grants and working closely with our donors to help them achieve their philanthropic goals, we have used our reputation in the community as an honest broker, a trusted friend, and a respected voice to bring about positive change for millions of people.
COMMUNICATIONS OFFICER, Detroit, MI
The Communications Officer is responsible for developing and implementing effective communications to increase awareness of the Community Foundation, to advance the impact of its grants and initiatives, and to support the development of new gifts and donors. This position supports the Community Foundation's goals, strategies and brand by helping to convey these to the relevant internal and external audiences. Working with the Foundation's management, staff, volunteer committees, donors and grantee organizations, the officer builds a positive image of the Foundation through a comprehensive communications program including publications, print and social media, public relations and special events.
RESPONSIBILITIES INCLUDE
Lead the storytelling initiatives for the Foundation.
Research, write, edit and produce the Foundation's three newsletters, annual report, brochures, press releases, special reports and other materials promoting the services and impact of the Foundation.
Develop and write enewsletters in support of key programs
Support the delivery of a comprehensive communications strategy, with annual goals and work plan that support the Foundation's objectives and aligns with the overall Marketing & Communications objectives.
Develop effective policies/practices to facilitate internal and external communications.
Work with Foundation management and staff on communication needs and special projects and initiatives support.
Contribute content to website.
Implement consistent branding and internal/external messaging.
QUALIFICATIONS
Superior writing and editing skills with experience in different research, topics, formats, and audiences
Bachelor's degree in journalism, communications, English or related major field
Minimum of 7+ years progressive experience in communications or related function
Self-starter with the ability to manage ambiguity and demonstrated success in a fast-paced environment
Strong collaboration capabilities
Experience working with foundations and nonprofits a plus
TO APPLY
Send your cover letter, resume and salary requirements to Nancy Davies, human resources director at: careeropportunities@cfsem.org.