We're Hiring a Philanthropic Services Assistant (Donor Advised Funds)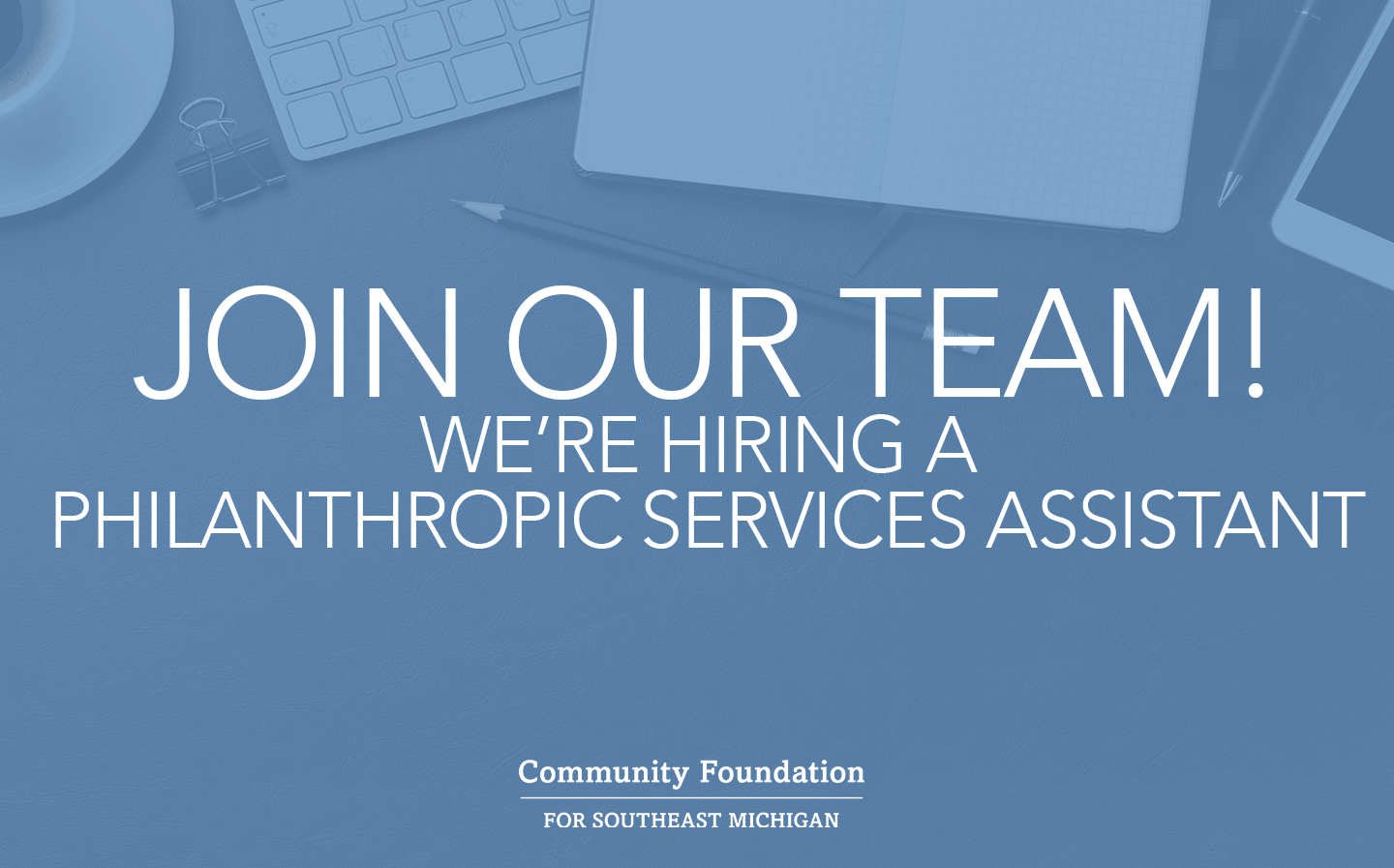 PHILANTHROPIC SERVICES ASSISTANT (DONOR ADVISED FUNDS)
The Philanthropic Services assistant is responsible for providing a day-to-day data entry and operations of the Donor Advised Fund grant program, including assisting donor advisors, conducting due diligence, preparing grant recommendations, and preparing related materials for finance and communications.
RESPONSIBILITIES INCLUDE
Manage Donor Advised Fund grant processing:

Grant processing, tracking pending grant recommendations and payments with a goal of 99% or better internal and external accuracy in collaboration with the Processing Coordinator and Operations Manager.
Performing due diligence of Donor Advised Fund grant recommendations.
Proofread and finalize letters, memos, and other documents that are generated by and for the Donor Advised Fund grant program.
Prepare reconciliation reports of outstanding grant payments and follow-up with organizations to ensure that grant checks are received and cashed.
Review, edit, and mail quarterly Donor Advised Fund statements.
Promptly refer non-routine issues with recommended solutions to Processing Coordinator, Operations Manager, or other Philanthropic Services staff as necessary.
Help donors with Donor Central issues or questions.

Handle grant processing for corporate grantmaking programs at appropriate intervals.
Prepare terms of grant agreement for multi-year grants and other complex grants that require conditions, including but not limited to grantee reporting, and track such grants accordingly.
Maintain hard copy or electronic files as necessary and handle document retention according to policy.
Prepare and keep available a supply of printed materials for use by Philanthropic Services staff.
Serve as a backup to the office receptionist.
Routinely handle internal and external inquiries by screening calls, answering questions, and redirecting, as necessary, to appropriate personnel.
Assist with donor lists and related data for Community Foundation publications.
Provide support for the Foundation's archiving activities including monitoring and ensuring that organizational files are up to date.
QUALIFICATIONS
High school diploma required; some college coursework preferred.
Three to five years of work experience with preference to those with office management or professional administrative support experience.
Demonstrated oral and written communication skills.
Ability to handle confidential information in professional manner, requiring judgment and discretion.
Working knowledge of nonprofit organizations, a plus.
Working knowledge of standard office equipment and computer software applications such as Foundation Information Management System (FIMS), Blackbaud Raiser's Edge, Word, Outlook, Excel, Power Point and other software as required.
Ability to respond sensitively and patiently to internal and external inquiries in a timely manner and the ability to handle sensitive information and maintain confidences
TO APPLY
Interested candidates should email a cover letter, resume and salary requirements to Nancy Davies, Human Resources Director, at careeropportunities@cfsem.org.
In order to provide equal employment opportunities to all individuals, employment decisions will be based on merit, qualifications and abilities without regard to race, religion, creed, color, national origin, age, gender, marital status, sexual orientation, gender identity, height, weight, political or union affiliation, disability or any factor prohibited by law.