We're Hiring a Project Manager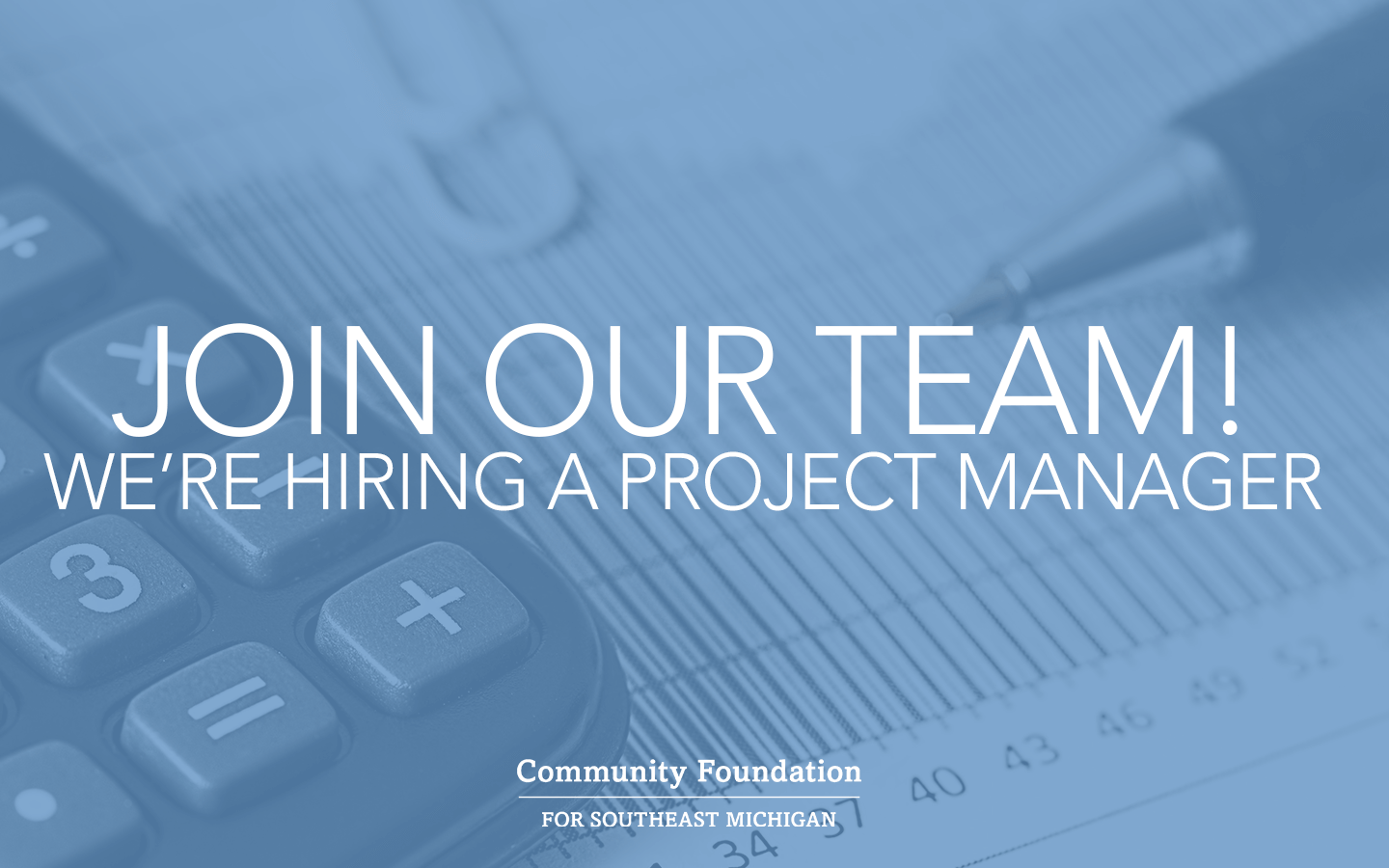 The Community Foundation for Southeast Michigan is hiring for Project Manager, Michigan Opioid Partnership.  This position provides leadership, management and guidance in support of the Foundation's effort to facilitate the implementation of this project. This position is funded by the Partnership for two years, beginning July 2019.
RESPONSIBILITIES: 
Coordination of Initiative Partners:
Lead the scheduling and documentation of Michigan Opioid Partnership meetings, including workgroup meetings
Assist in the coordination between the Community Foundation and the Michigan Opioid Partnership funders collaborative including regular (weekly) email updates and project summaries
Develop and manage a detailed project timeline
Communicate and meet on an ongoing basis with project staff and Foundation staff to ensure coordination of reporting and managing timelines
Lead the planning and coordination of community convenings and stakeholder meeting and events
Develop and maintain relationships with grantees and funding partners
Project Management & Development:
Manage review of grants from the Michigan Opioid Partnership, including joining site visits and compiling written recommendations
Work closely with the Community Foundation program officer to ensure timely submission of reports from grantees to the Community Foundation and from the Community Foundation to funding partners
Work with the Communications staff to develop and deliver key messages that advance the work of the Michigan Opioid Partnership as well as reflect the Community Foundation brand and brand promises
Maintain relationships with the Michigan Opioid Partnership evaluation teams and project consultants to ensure effective learning and communication
Create quarterly project summaries or dashboards to document processes and/or outcomes
Represent the Michigan Opioid Partnership at external meetings and events as needed
Track project milestones and outcomes
Compile and submit progress and final reports to Michigan Opioid Partnership funders as required by the terms of those grants
Travel:
Some local and statewide travel may be required
QUALIFICATIONS: 
Bachelor's degree; relevant backgrounds may include health care, public health, public administration; master's degree in public health preferred
Five years of progressively more responsible experience in philanthropy or related community health-based field
Demonstrated domain expertise and ability to lead strategy development
Extensive project management and program development experience, prioritizing multiple projects within tight deadlines
Strong knowledge of relevant opioid-related issues a plus
Strong knowledge of the nonprofit sector and experience in leading and facilitating community coalitions
Experience in communicating in a persuasive, credible manner, in person, in digital settings, and in writing and presentations
Strong analytical, evaluative, and managerial skills
Computer proficiency in all Microsoft applications
TO APPLY
Send your cover letter, resume and salary requirements to Nancy Davies, human resources director at: careeropportunities@cfsem.org.