We're Hiring: Director, Michigan Justice Fund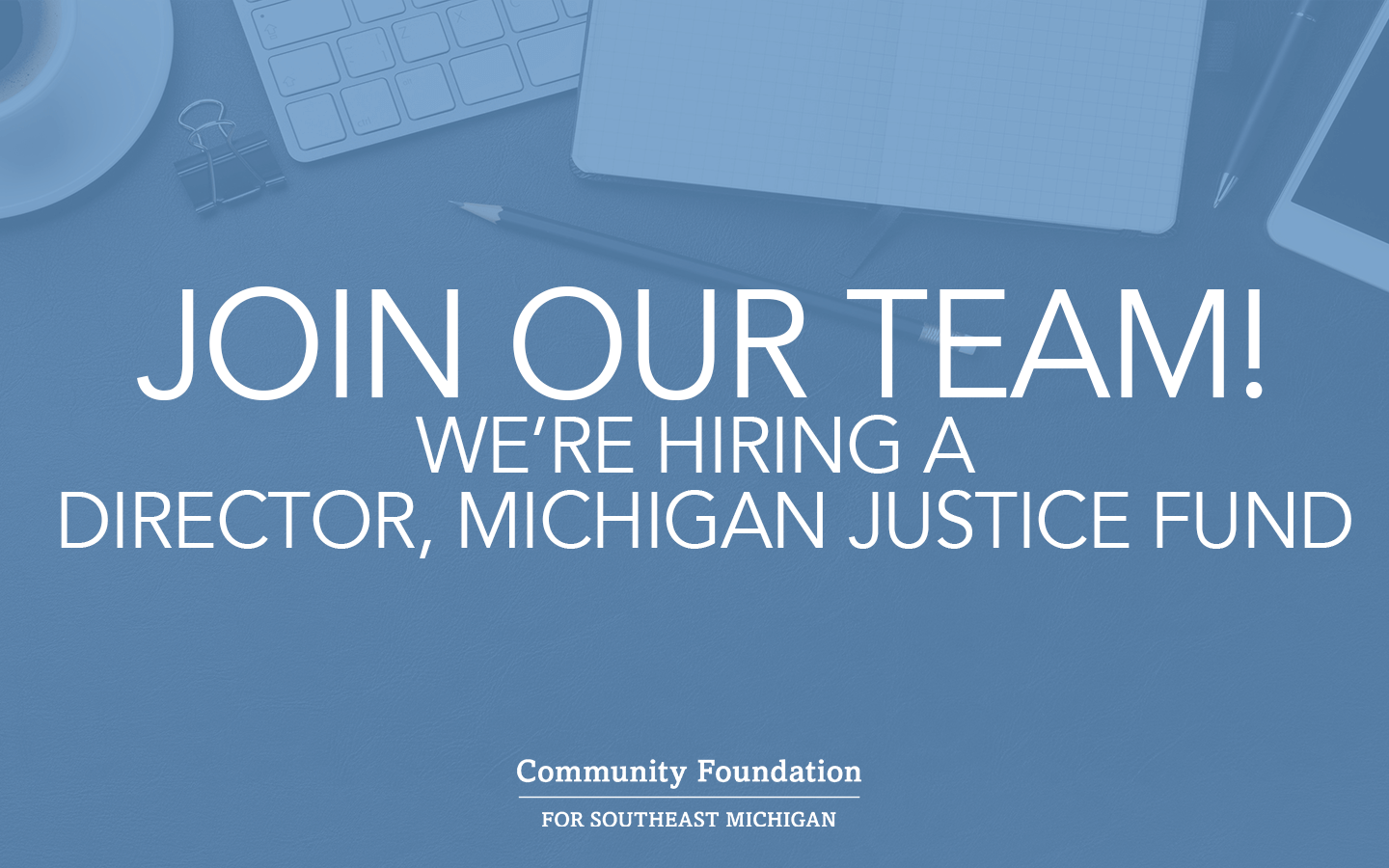 DIRECTOR, Michigan Justice Fund (MJF)
The Michigan Justice Fund (MJF) is a funders' collaborative that seeks to make investments that help stem the flow of individuals into the criminal justice system, support the investment of public dollars to community-driven alternatives to incarceration, and ensure that those who are returning home after incarceration receive the support they need to flourish.
The Michigan Justice Fund's grantmaking strategy was developed  with a learning cohort of 26 organizations in 2020. The Director will manage the ongoing implementation of the strategy and program development efforts; day to day operations; relationships with nonprofit organizations, funders, sector leaders and other key stakeholders; and serve as a liaison between all groups involved. While the core activities, duties, and tasks of this role have been identified, other responsibilities of the Director may surface as MJF evolves and matures.
The Director reports to the Vice President, Program at CFSEM and will also report to the Chair of the MJF Steering Committee, a group made up of local and national funders, for strategic, programmatic, and fundraising matters related to MJF. The Director will be onboarded in 2021, and the role is initially funded through the end of 2023. As the Michigan Justice Fund continues its work, it is anticipated that the term of the Fund will be extended, however, despite the length of time for the funding, the employment for this position is strictly on an at-will basis.
RESPONSIBILITIES INCLUDE:
STRATEGY AND PROGRAM DEVELOPMENT
Collaborate with the Steering Committee, CFSEM staff and consultants to implement its grantmaking strategy by identifying investments and designing activities that advance MJF goals, objectives & milestones, s, and identify and cultivate partners to support and participate in the Fund's work.
Listen to and learn from stakeholders about strengths and weaknesses in the justice policy ecosystem and use information to help direct key aspects of the initiative in order to position the Michigan Justice Fund to support breakthrough juvenile and criminal justice reform.
Organize and coordinate learning cohort meetings and other convenings and events to inform and refine MJF strategy, elevate MJF priorities, and enable partner organizations and stakeholders to get to know each other and learn from each other.
GRANTMAKING, GRANT MONITORING AND GRANT EVALUATION
Identify programs and projects across the state that will leverage Fund resources.
Meet with representatives of nonprofit organizations to discuss specific grant proposals.
Collaborate with CFSEM staff to review grant proposals, and prepare grant recommendations
Participate in the communications with grant recipients to gather progress reports.
Actively support evaluation of the Michigan Justice Fund in partnership with MJF's evaluator, both in order to strengthen the existing work and to learn lessons for future efforts.
COMMUNICATIONS AND COMMUNITY RELATIONS
Serve as a spokesperson nationally and locally for the Michigan Justice Fund
Prepare regular MJF updates and other information briefings for the Steering Committee, funders, grantees and strategic partners to keep them informed and engaged
Assist in coordinating special events to enhance understanding of the MJF's programmatic work
Actively seek opportunities to introduce the MJF to key community, public and private sector constituents, and look for opportunities for collaborative partnerships
Promote and facilitate cooperation and collaboration among nonprofit organizations
Attend regional/national network meetings, providing updates and obtain information
Oversee the timeliness of MJF information on the CFSEM website and ensure that the MJFs website is an effective tool for communicating the Foundation's program strategy
Act as a key resource for information, networking, and communications for the Michigan Justice Fund, serving as an effective liaison between MJF partners and grant seekers
FUNDRAISING AND DONOR STEWARDSHIP
Actively support fundraising and donor prospecting/cultivation activities
Build relationships with potential donors and maintain relationships with existing donors through information sharing, donor events, and regular communication
REQUIRED QUALIFICATIONS:
Understanding of the criminal justice reform sector, including issue content knowledge (applied knowledge preferred), and understanding of diverse tactics and strategies including policy advocacy, community organizing, and civic engagement
Based in Michigan/willingness to move to Michigan for the duration of this role
Commitment to center the voices of directly impacted communities, including analysis of disproportionate impact of the justice system based on race, class, and gender
Ability to travel regularly (post-COVID-19) both in-state and out-of-state for convenings, conferences, etc.
Facilitation and training experience, including design of educational materials for diverse audiences
Ability to function as a member of a team and to supervise others as the project continues to grow
Strong planning and organizational skills, with the ability to think creatively and strategically, in both the design and execution of programs
Demonstrated experience working collaboratively with persons and communities of diverse cultural, economic, social, and ethnic backgrounds
Willing to continuously acquire new skills and knowledge and share with partners and colleagues
Exceptional presentation skills and a strong professional presence
Ability to prioritize and handle multiple deadlines effectively
PREFERRED QUALIFICATIONS:
Fundraising and donor stewardship experience
Grantmaking experience
Five years or more experience in a similar position in a related field, with progressively greater responsibilities
In order to provide equal employment opportunities to all individuals, employment decisions will be based on merit, qualifications and abilities without regard to race, religion, creed, color, national origin, age, gender, marital status, sexual orientation, gender identity, height, weight, political or union affiliation, disability or any factor prohibited by law.
TO APPLY:
This position offers a competitive compensation and benefits package. Interested candidates should email a cover letter, resume and salary requirements to Nancy Davies, Human Resources Director, at careeropportunities@cfsem.org. Please reference Michigan Justice Fund Director in your subject line of your email.