We're Hiring: Information Systems Officer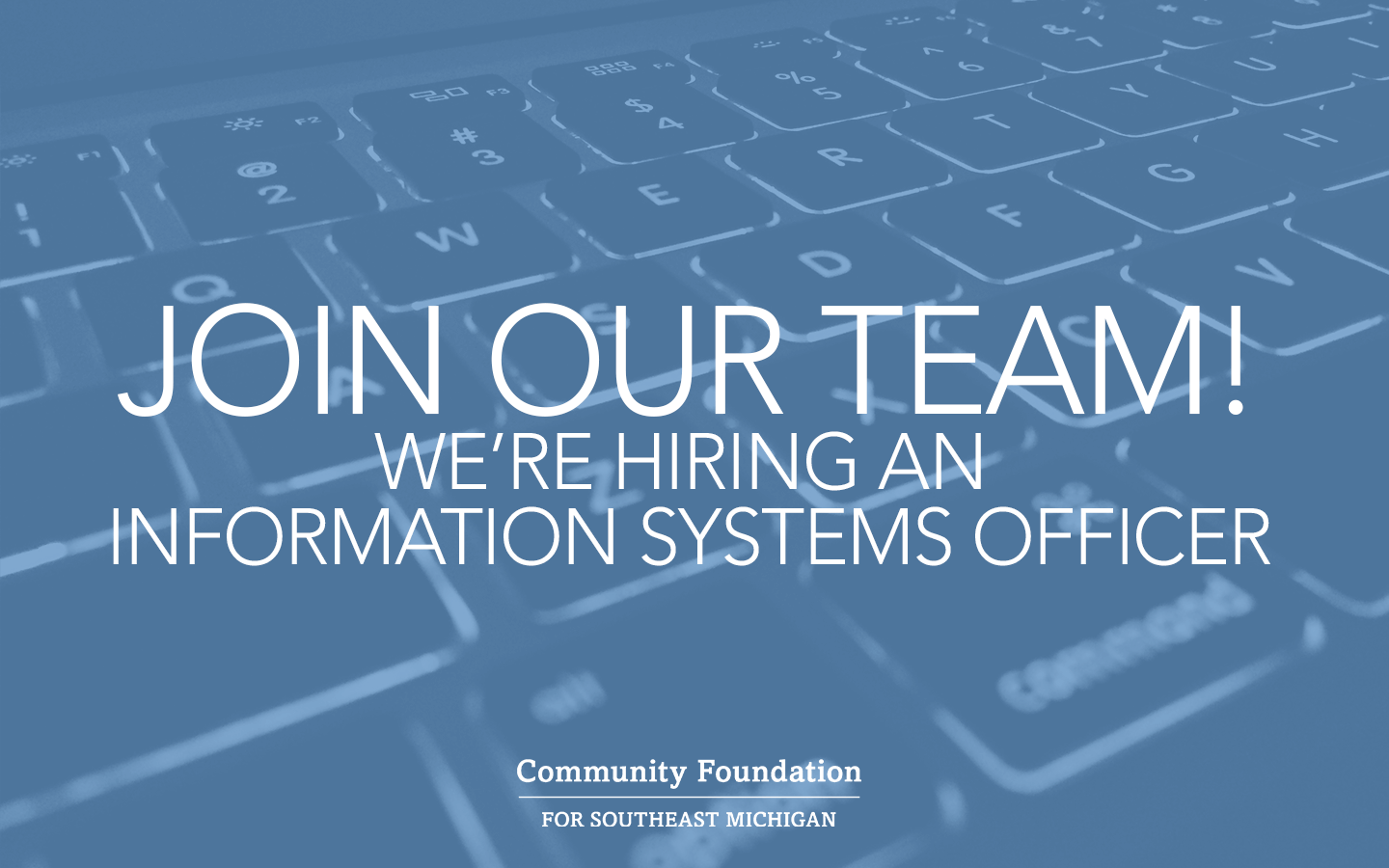 The Community Foundation for Southeast Michigan is seeking an Information Systems Officer to play a key leadership role in supporting the growing operations and services of the Community Foundation.
The Organization
The Community Foundation creates permanent, positive change in southeast Michigan through thoughtful philanthropy. With generous support from thousands of donors, the Community Foundation is building permanent endowment for the region and helping individuals, families, and businesses fulfill their charitable goals.
The Role
Reporting to the Vice president, Finance and Administration, the Information Systems Officer is responsible for supporting the Community Foundation's goals and objectives by providing strategic and operational leadership in the development, use and maintenance of information systems and technology infrastructure.
Role responsibilities breakdown
45% : Information Systems Maintenance
15%: Information Systems Administration and Improvement
25%: Vendor Management
15%: Supervision and overall CFSEM team support
Role Characteristics
The Information Systems Officer will be:
Able to work in a fast-paced environment;
Analytical and research and data driven;
Mentally quick and nimble and able to prioritize effectively;
A collaborative co-worker with the ability to work independently but also contribute to team efforts;
Service oriented;
Articulate and able to present information effectively;
Focused on continuous improvement;
Structure driven;
Qualifications Required
The Information Systems Officer will operate with the highest standards of integrity and trust, as well as have extensive working knowledge of information systems and current technologies.
A minimum of 7-10 years related work experience with information or computer systems
Experience working with hardware, software, or IT service providers
Excellent customer service skills
A Bachelor's degree or relevant certification
Understanding and adherence to high standards of ethics and confidentiality
The Community Foundation is in the heart of downtown Detroit, located near Campus Martius, the Riverfront and many parks and restaurants. Benefits include medical, dental, vision, life/LTD insurances, paid parking, along with paid sick, personal, holiday and vacation time. A 403(b) savings plan is available, along with a Foundation funded pension program.