July 2021: Message From the President and Chair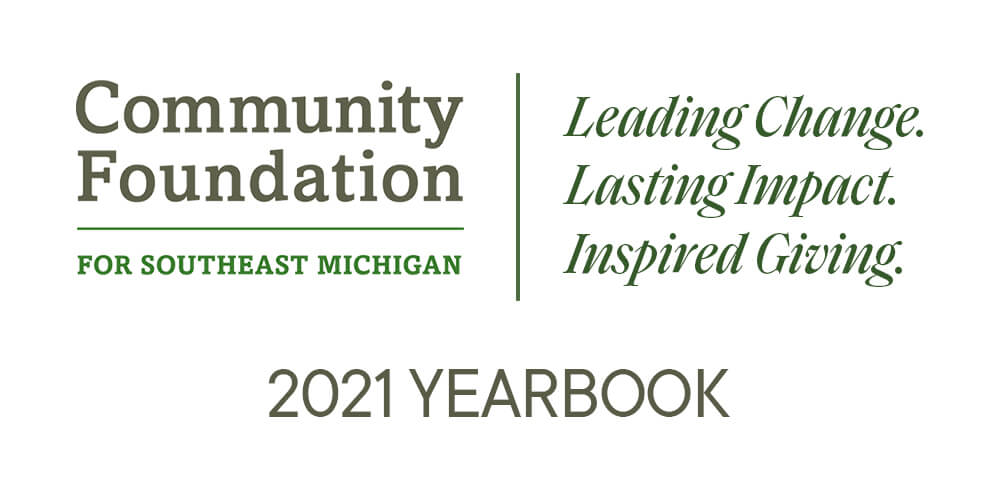 This story was originally published in our 2021 Annual Report.
This was a year like no other.
We saw businesses close and nonprofits struggle to figure out how they were going to continue their important work. At the same time, many in our region confronted injustice, illness, economic hardship, and the loss of friends, neighbors, and family members.
Through our toughest days, however, we saw inspiring examples of our community coming together to support those in need. Just as the Community Foundation has done for the last four decades, we listened, reached out, and responded with thoughtful, strong, effective action.
We are humbled by the trust that so many of you put in us through your financial support. Community Foundation donors responded to the COVID-19 pandemic and the calls for racial justice with incredible generosity – contributing a record $121 million in new gifts in 2020.
The Community Foundation, in turn, made 5,500 grants totaling $101 million to support southeast Michigan nonprofits. Our total assets grew to more than $1.1 billion, the largest in our history, placing us in the top 25 community foundations nationally.
These impressive numbers, however, tell only a small part of the Community Foundation's story in 2020 – and they do not come close to conveying the immense challenges and opportunities we face in the years ahead.
Throughout our history, it's been our mission to support the seven counties of southeast Michigan through good times – and through tough times. 2020 clearly fell into the category of tough times – and we knew early in the year that we would be challenged like never before. From the first days of the pandemic, we heard from nonprofits across our region that were in danger of laying off employees or closing entirely because of sudden disruptions to programs and expected revenues. Their fear was real, but we were ready to help and had the flexibility to change direction to meet the moment.
That flexibility is from having approximately $800 million of endowments, enabling us to get money out the door quickly to where it was needed most and adjust our approach as the community's needs changed. We removed restrictions from grants that had already been approved and accelerated payments to help nonprofits that had been disrupted by the pandemic. We also accelerated annual payments to the more than 200 nonprofits with endowed funds at the Community Foundation. Finally, we joined forces with many donors and foundations to mobilize support for COVID-19 response in healthcare, arts and culture, and small business development.
None of this would have been possible without your generosity and support.
We will never forget how our donors ensured that we could help so many around our region. Nor would it have been possible without the dedication of our staff. Every member of the Community Foundation team acted urgently and compassionately to help our community during this time of crisis, even as they were managing the disruptions caused by COVID-19 in their own lives.
Now, as vaccines have made it possible for us to see a post-pandemic future, we face a new set of challenges and opportunities. Together with nonprofit organizations and philanthropic partners, we're working toward a vision of a more prosperous, equitable, and healthy region.
In 2020, our New Economy Initiative (NEI) stepped up to help small businesses across our region navigate the challenges caused by COVID-19. NEI invested $5 million last year to strengthen small business support organizations in Detroit, Hamtramck, Highland Park, and other Wayne County communities, helping many small businesses stay open and meet their payroll. NEI will continue to create new jobs and support countless families in our region for years to come.
The Community Foundation continued to support organizations working to root out systemic inequities from healthcare, human services, and eldercare.
With the generous support of Facebook, we were able to expand our reach and support more Black-led nonprofit organizations. As southeast Michigan and the rest of the nation heard calls for racial justice, the Community Foundation, in partnership with the Hudson-Webber Foundation, the Ballmer Group and Oakland County, launched the Community Policing Innovations Initiative. This program supports local law enforcement agencies, in partnership with community leaders, to develop substantive, pragmatic, and community-driven approaches to policing and public safety.
With 14 local and national funders, the Community Foundation has also launched the Michigan Justice Fund to reduce Michigan's reliance on incarceration and detention as the primary response to crime. The initiative also aims to advance equity by addressing racial disparities in the juvenile and adult justice systems, and support communities of color that have been most heavily impacted.
In 2020, we continued to make great strides in the battle against the opioid crisis through the Michigan Opioid Project. Through our partnership with the Michigan Department of Health and Human Services, other funders, and health-care providers, this impactful program is now statewide.
We also developed a vision for a Great Lakes Way – more than 160 miles of an interconnected set of trails and blue ways stretching from Lake Huron to Lake Erie. As we help build southeast Michigan's economy of the future, the Great Lakes Way will promote outdoor recreation, spark economic development, and attract residents and visitors to southeast Michigan. A map of the vision of the Great Lakes Way can be found at greatlakesway.org. These forward-looking efforts and the outstanding work of nonprofit organizations across our region will be highlighted in this report.
We were deeply saddened by the passing of Joseph L. Hudson Jr., the founder and 19-year chairman of the Community Foundation.
Joe was an extraordinary civic leader and passionate philanthropist. He was known for coining the phrase "building community capital," a phrase he used to describe the Community Foundation's financial capital, but also the social, moral, and reputational capital that the we bring to our work in southeast Michigan.
Our Board has done a superb job of modeling Joe's example of community leadership over the years.
The Community Foundation was pleased to add three new trustees who will help us continue that legacy: Mark A. Davidoff, JoAnn Chávez, and Chuck Stokes. And we are grateful to Margaret A. Allessee, who retired from the Board in December after 19 years of volunteer service.
We appreciate the Community Foundation staff who worked in innovative and new ways to enable all we do.
We could not be prouder of the way this team pulled together to help those in need. We are committed to helping all in southeast Michigan recover from this pandemic and are inspired by the continued compassion in our communities.
Thank you for the generosity of so many, both locally and nationally, who helped us over these past few months. The Community Foundation is best when working with others and we welcome your thoughts and suggestions.
Mariam C. Noland, President
James B. Nicholson, Chair