Kamilah Henderson |
Director, PEDALS Michigan
A leader in advancing social emotional learning for young children, Kamilah serves as the Director of PEDALS Michigan and leads the early childhood grantmaking at the Community Foundation.
With more than 20 years of experience in the nonprofit industry, Kamilah has been making an impact on southeast Michigan with the Community Foundation since 2015.
She is committed to growing and sustaining social emotional learning habits for our region's children to ensure they will grow empathetic, caring, and develop healthy identities.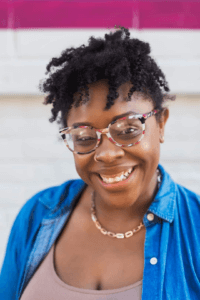 Carmin Issa |
Project Manager
I am the project manager for PEDALS Michigan. I earned both my bachelor's and master's degrees from Central Michigan University. My bachelor's is in early childhood development, and my master's is in guidance and development, with an emphasis on the adult learner. My most privileged experience, during more than 15 years in early childhood development, has been to advocate for and support teachers in the field. A wealth of my experience has been with Head Start programs, and I have also facilitated and hosted professional development for educators in Michigan and Germany. I am a Trauma-Informed Facilitator and understand the intersectionality of self-care and showing up as your best self is what drives the connection we all hope to see in teacher-child interactions. 
When I am not supporting educators, I am supporting my husband and our children. I love to explore the latest foodie places, do yoga and relax at home. I let my creativity flow by creating lovely charcuterie spreads that are the focal point of gatherings. 
I look forward to contributing my strengths to this amazing team as we collectively focus on building awareness around the importance of supporting the emotional well-being of children, families and educators.  
Melissa Roberts |
Coach
I am a member of the PEDALS coaching team. I earned a bachelor of science degree from Madonna University in early childhood development. I bring many years of experience in the early childhood field, the past 25 as a Head Start lead teacher in Macomb County. I love working with preschool-age children because every day brings new insights and experiences for them, as well as for myself as an educator. The rapid growth of skills at this age is exciting to watch and I love creating activities and opportunities for the children to grow.
My hobbies include singing in my church choir at St. Malachy Catholic Church in Sterling Heights and a community choir called Symphonia Chorale located out of Romeo. I love camping and spending time with my family and two dogs.
I look forward to being a supportive coach for the early childhood teachers in our community as they use PEDALS programming to build skills and develop confidence in using them in their classrooms.
Christina Kuhn |
Mentor
I am a member of the PEDALS coaching team. I received a bachelor of science degree in early childhood education from Baker College. I also attended Ashford University for my master's degree in special education. I have spent 13 years in the early childhood world and wore many hats through those years. I started out as a Head Start teacher and, after 7 years, moved into an Early Head Start role. My first position was as an Early Head Start Home-Based visitor working with families. Then, I opened an Early Head Start classroom and was a lead teacher. The next role I took was as an early intervention specialist working with children who had developmental delays.
I am a mom to a 2-year-old daughter. I also have three bonus children that my boyfriend blessed me with.
I am excited to be a mentor coach with PEDALS. Infants and toddlers are my favorite age group. They grow every minute of every day and the knowledge they already have and show us is inspiring.

Josie Tipton |
Coach
I am a member of the PEDALS coaching team. I earned a bachelor of science degree in education from Ball State University. After graduation, I taught high school special education. I've also taught second-, third- and sixth-grade moderately and severely challenged students, first grade in a parochial school setting, and in an at-home preschool. I taught music, cooking, reading and math in a KinderCare Learning Adventures® program and worked in a school program run by Sylvan Learning. After that, I became a stay-at-home mom for 17 years. More recently, I enjoyed working with the Read to a Child nonprofit. I'm passionate about instilling a love of learning and reading in children of all ages. 
I am married with three young adult daughters. I grew up in the country with ponies, dogs, cats, and a goat. I love singing barbershop music, crafting, and camping with my family. 
I strive to coach PEDALS teachers and students on how to appropriately express emotions and show empathy toward others through the Second Step curriculum. Using strength-based coaching practices and my experience and love of teaching, I can guide teachers even in the most difficult circumstances.  

Tonya Reeves |
Assistant Director
I am the Assistant Director for PEDALS Michigan. I earned my bachelor of science in child development and my master's degree in early childhood education. I have worked in early childhood education for over 20 years, starting as a preschool teacher in Livonia and then hosting preschool training and workshops. While on this journey, I became an early intervention specialist for the Wayne County Department of Public Health. I worked in homes with parents to provide lessons and resources for children ages birth to three. Some had mild delays, while other cases were severe. Performing assessments and creating lesson plans to encourage growth and development was the best part of the job. While in this role, I learned about PEDALS of Michigan and became a coach.   
I enjoy cooking, cleaning, lawn care, etc. I also work in the children's ministry at my church. I love reading, sticker planning, and watching a good movie with my siblings. My favorite thing in this world is being an amazing mom to my wonderful son Traeson and our fur baby Cooper Pete.   
I look forward to using my strengths to assist PEDALS coaches, administrators and teachers on the proper way to increase positive social-emotional behaviors. 

Jaletha Smith |
Coach
I am a fourth-year PEDALS coach. My educational credentials include a bachelor of arts in early childhood education and a master's degree in curriculum and instruction. I am a committed early childhood education professional who offers several years of experience teaching, mentoring and supporting teachers and parents by coordinating activities that promote physical, cognitive and social-emotional growth. Some of the previous positions I have held include Child Development Associate professional development specialist, Head Start preschool lead teacher, Early On intervention specialist, parent educator (birth to five years) and childcare owner/director. 
I like to spend time with my husband near the water to have reflective conversations about our present and future. I love spending time tutoring students whom I previously taught. 
My passion is to instill a love of learning in young children. As a PEDALS coach, my purpose is to mentor and support teachers and parents to help young children understand and manage emotions.