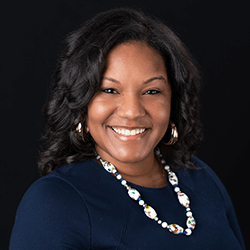 Ashley began her career as a public defender in New York City with The Legal Aid Society. For almost five years Ashley represented hundreds of clients with cases ranging from low-level violations to serious felonies. Ashley has been active in community engagement including "know your rights" trainings for young people and adults, voter registration of inmates at Rikers Island, and mentorship development for the children of incarcerated parents in Brooklyn.
After working in New York City, Ashley joined the Michigan Indigent Defense Commission as a Regional Manager where she worked to restructure the public defender system across the state. Ashley closely advised county administrations and local court systems on how to restructure their indigent defense systems by implementing practice standards for attorneys taking court appointed criminal cases developed by the MIDC. In this capacity Ashley created and presented trainings for attorneys taking court appointed cases, led policy reform discussions with various stakeholders about indigent defense, and helped counties create plans for ensuring that every citizen in the state had access to their constitutional right to counsel, regardless of their ability to pay.
Most recently, Ashley served as a Senior Attorney + Deputy Director in the Justice Project of Advancement Project's National Office in Washington, DC. Her work focused on addressing oppressive systems of mass incarceration and policing by partnering with grassroots organizations to support their campaigns around these issues in cities across the country. She provided legal and strategy support and helped develop mechanisms for widespread community education and engagement around issues in the criminal legal system. These mechanisms included impact litigation, FOIA, and policy research, development and recommendation.
Born and raised in Detroit, Michigan, Ashley attended Hampton University in Hampton, Virginia, and William and Mary Law School in Williamsburg, Virginia.