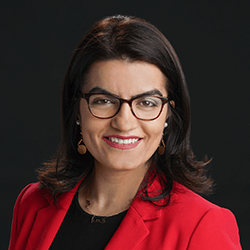 Wafa Dinaro is the executive director for the New Economy Initiative (NEI), a project of the Community Foundation for Southeast Michigan. In this role, she leads the program and grantmaking activities for entrepreneurship-based donors of the Community Foundation. She also cultivates public support for inclusive entrepreneurship and small business development-related initiatives.
Prior her current role, Wafa directed economic development for Wayne County, Michigan. Her responsibilities included the oversight and execution of Wayne County's economic development initiatives including business attraction, retention and expansion programs, small business, and entrepreneurial support.
Wafa has held a variety of other positions in the private and public sector over the years and is seasoned at developing partnerships between business and government. Her professional background includes project management, community development, strategic planning and communication. Wafa's experience also includes diplomatic work, where she led operations for the Department of Defense while assigned to Defense Attaché Offices in U.S Embassies around the world.
Wafa holds a master's degree in public policy from Georgetown University and a  bachelor's degree in political science and communications from the University of Michigan.