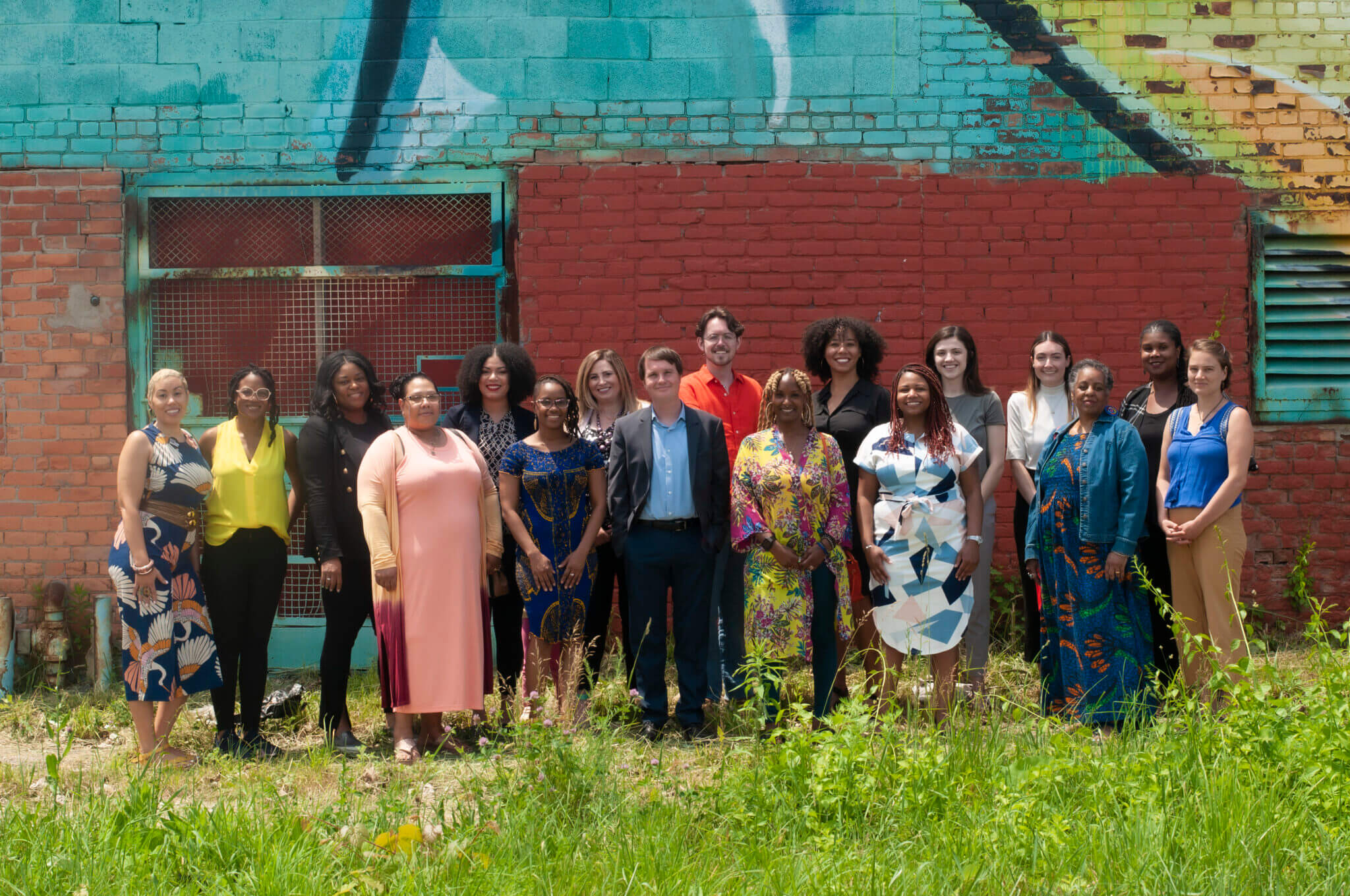 By Liv Velarde, Program Assistant for the Michigan Justice Fund
Amanda Alexander is the Executive Director of the Detroit Justice Center. She founded the organization in 2018 and is phasing out of the organization later this year. She spoke with us about the legacy of DJC, the criminal legal reform landscape, and dreams for the future.
What led you to founding the Detroit Justice Center?
I started DJC in 2018 after five years of listening. It was important to build the relationships that would become DJC long before we had a brick-and-mortar space. I was already doing some of the work that would become DJC's work with other volunteer movement lawyers in the city.
I moved home to Michigan in 2013, right before Detroit filed the largest municipal bankruptcy in U.S. history. As a new attorney, I launched the Prison & Family Justice Project at University of Michigan Law School to serve families divided by the prison and family regulation systems. I represented incarcerated parents who were at risk of losing their children to the foster care system and parents who were unable to get their kids out of foster care because of legal barriers like traffic-related warrants. I saw the ways that the prison and foster care systems collided on families. It was disturbing that in all the talk of Detroit's "resurgence," "revitalization," or "renaissance," the families I served were being completely left behind.
No one in power was talking about the fact that so many Detroiters faced impossible choices: between taking a collect call from their loved one in prison or putting groceries on the table. Or going into debt to cover a loved one's bail.
No one in power was giving enough attention to the question of incarceration and the ways that it drives poverty—and how that was going to keep people shut out of the future of this city. It was clear to me that we could not build a Detroit where everyone belongs without addressing the impacts of policing, criminalization, and incarceration.
At that time, I was also providing legal support to the Movement for Black Lives, which was just getting off the ground in 2013/2014. Many of us in the National Conference of Black Lawyers Detroit Chapter were called upon to provide legal support and to defend protesters who were taking to the streets. I remember we coordinated legal support for the young organizers who chained themselves to the Detroit police department in protest of the killing of Aiyana Stanley Jones. This was work that was happening after hours. We would work long days and then work a second shift from 5pm to midnight to provide this support that the movement clearly needed, but that there wasn't really a home for.
In addition to this client work, the other thing that led me to found DJC is that Detroit is home to some of the most visionary organizing on the planet. Because we've seen the bottoming out of capitalism here, people have had to create more resilient, more people-focused ways of building an economy. I was coming to know organizers who were creating community solar projects, starting urban farms, starting schools, doing all this innovative work and it was frustrating to me that it was not being valued by those in power and was also actively under threat. I wanted to see if there were ways lawyers could be useful to urban farmers who were interested in creating community land trusts, for example.
So it was all of that that really led to our Defense, Offense, and Dreaming model. It was that listening, relationship building, trust building, and meeting needs that gave rise to creating a home for this type of movement lawyering work.
Where were you before you came home to Michigan?
I was born in Southfield and then my family moved to southwest Michigan when my father was incarcerated. He was incarcerated when I was in elementary school, so I understood from a very young age the harm that incarceration does to families. I knew from a young age that this was a system that that needed to be torn down, not tweaked. I wanted us to figure out how we, as a society, could stop incarcerating people and instead build the systems that we need. I wanted to address mass incarceration, but it felt too close to home for a long time. I had difficulty talking about my father's incarceration.
I went to college and was trained in community organizing. I was so fortunate to learn from organizers in ACT-UP (the AIDS Coalition to Unleash Power), who were leaders in the fight for access to HIV treatment for people in the 80s and 90s.
Then I moved to South Africa and learned from organizers there who were trying to salvage their revolution. I went in 2003, which was less than a decade after the end of apartheid. Organizers there were saying yes, we have a ballot box democracy and yes, we can vote, but we are not actually free unless we have changed the material conditions of people's lives. This isn't the freedom that we fought for if people are still living in shack settlements without running water or electricity or if people can't access the HIV treatment that they need.
It was really those organizers in the US and South Africa who taught me to be clear about what freedom means and to define it for ourselves, to not settle for things like formal equality when material conditions have not changed. They were the folks who really set me on this path of knowing that change happens by building power.
I went to law school with all of that on my mind. I was a reluctant lawyer. I thought that most often lawyers dulled the radical energy of movement organizers, that they were always the ones saying what you couldn't do or dissuading people from taking more radical action. When I went to law school, I wanted to figure out how lawyers could be of service to social movements and how we could match the power and energy of movements. At DJC, we've been trying to show up very differently than lawyers typically do.
How has justice work evolved since 2018? How do you see that evolution continuing in the future?
Since 2018, the approach has stayed fairly consistent in that we've been building out our Defense, Offense, and Dreaming model of providing life-changing legal services for people, supporting solidarity economy efforts, and building up new infrastructure that will make policing and incarceration obsolete.
I would say we didn't experience the same rupture that other folks did in 2020 when conversations around defunding the police and abolition came to the forefront of national consciousness. That was always our work. We were always thinking about how we can tear down systems of criminalization while also thinking of what we need to build up. Many more people became interested in our work around 2020 and it just drove home the need for the type of approach that we have.
Because we're a startup we have been constantly learning and adapting, and we've been doing things without a blueprint. Before we opened our doors there wasn't a place where people could turn to deal with fines, fees, tickets, and warrants and so we had to build out those practices from scratch. We've piloted different ways to deliver our legal services. We've been figuring out what works best, how we can do this work better, and how we can best support our clients.
I think we've evolved in our partnerships and in our coalitions. We've been figuring out how we can best be part of coalition efforts. It's been a period of constantly learning, trying to be nimble, and trying to do the best work that we can. What I have found is that for every step we take, it throws up five more contradictions and many more questions. We just try to embrace that uncertainty and know that it's not about having all the answers, but about asking better questions.
What are you most proud of from your time at the Detroit Justice Center?
One thing I've really appreciated and been proud of is that we are restless in our victories. Even when we make change, the team often says it doesn't feel like enough. If we have not made change real in the lives of our clients then it doesn't mean anything. I think the team is always committed to making sure that we're actually addressing root causes and the underlying conditions in people's lives to make sure that wins have a material impact in people's lives.
For example, we were part of changing the law in Michigan to end the practice of driver's license suspensions for the failure to pay court fines and fees. That was a huge policy win. That was something that impacted over 360,000 people in 2019 and this was a major step towards ending the criminalization of poverty in the state. But my team said, "Okay this is nice on paper, it's nice to change policy, but what about implementation?" We've been working with the Secretary of State's office to lead Road to Restoration clinics in Detroit and across the state where we've trained attorneys to help thousands of people get their licenses back. We are really focused on deep change, not just hollow wins. We're not satisfied with just tweaking policy.
Since the beginning, it's also been important to me and the team to build a compassionate workplace where people can do this really difficult work with a sense of joy and purpose without burning out. We've developed some internal practices that I'm proud of that I hope can be a model to other organizations.
We've been working a 4-day workweek since the start of the pandemic, and we take recharge weeks twice a year. In the summer and in the winter, we collectively shut down, so that we can all rest, re-center, and come back to work. We have a communications policy where we really try not to contact each other about work outside of work hours. We want to respect each other's evenings and weekends so that we can pour our energy into the other important things in our lives, like being present with our families and just making time for joy. We also rolled out a sabbatical policy so that people are eligible for a sabbatical once they've been with us for five years.
We're also shifting to a three co-executive director model once I transition out this spring. We'll shift to a structure of distributed leadership where we have three co-EDs, one over management, one over strategy, and one over funding and communications. My hope is this will be a more sustainable model and that it will also cut down on hierarchy within the organization.
I'm proud of the way that we have started down this path. There's a lot of work to do and it is far from perfect. Oftentimes, this work still does lead to burnout for folks, but I think that we're trying things that could make movement work more sustainable in the long run.
How has the criminal legal reform landscape changed from when the Detroit Justice Center was founded?
Since we opened in 2018, the conversation around abolition and real experiments in abolition have really gained traction. I remember back in 2018 when we first opened, we joined with organizers who were trying to stop the new Wayne County Jail from being built. We asked people, "What could we build instead of a jail?" We held a youth design summit and we asked young people "How could we spend this half a billion dollars in ways that would make you feel safe, valued, and empowered?"
The jail did end up being built, so that was not a victory at the time. But the types of conversations that we were having are much more widespread now. People are interrogating police budgets, not just in Detroit but in Dearborn and Livonia where our partners are fighting to get resources shifted out of policing and into what communities need.
It's exciting that we're having much richer conversations about what public safety means and how we should invest our resources and that we're aiming at root causes, like the problem of policing itself, not just tweaking and looking for reforms.
The political landscape has changed significantly over the past five years and we have many more partners in this work. It's been beautiful to see the flourishing of organizing. I think of partners like Michigan Liberation, Detroit Will Breathe, Emergent Justice, Nation Outside, Coalition for Re-Envisioning Our Safety, Detroit Action, Accountability for Dearborn, We the People Michigan, Coalition for Property Tax Justice, East Side Solutionaries, and the Detroit Community Wealth Fund, many of which are Michigan Justice Fund grantees.
All of these groups have started since 2018 or have really picked up momentum since then. We are honored to work alongside these groups that are building power, and we also work alongside the folks who were here long before 2018 and were building power in Detroit before any of us were on the scene. I think of groups like We the People of Detroit and Detroit People's Platform, and other organizations led by Black women that have held things down for a long time.
As I've said before, true change happens when people build power and when organizers build collective power. One of the most heartening things to see is all the organizing that's really grown up.
What changes in the landscape could you see happening in the future?
I see this organizing continuing to grow. I can foresee more and more coalition building happening and I'm excited for us to get more aligned in our work. I think we saw that last year with the fight around stopping ShotSpotter. We were part of the coalition that succeeded in stopping DPD from using ARPA funds to fund this dangerous surveillance technology. We freed up $7 million in ARPA funds to be used for things that would actually keep Detroiters safe.
Our attorneys are now part of a litigation strategy on behalf of the coalition to halt the program's expansion and hopefully it'll be shuttered entirely. It was really powerful to be in coalition with other folks and to see what was possible.
In Washtenaw County, Care-Based Safety has just announced that they are launching Michigan's first unarmed, non-police response to behavioral health crises, which is incredible. We had the honor of supporting them with some of their legal questions about what it takes to get that off the ground. I'm excited for what's possible there and the fact that it can be a model for what could happen in Detroit, Dearborn, or other places in the state.
Statewide, there's a lot of possibility for us to align around some shared goals, like shutting down prisons across the state. I can see us winning some pretty massive decarceration wins and building out the infrastructure to support people who would be coming home from prison.
In your wildest dreams, what do you hope the Detroit Justice Center accomplishes in the future?
I look forward to the day when our work is no longer necessary, when we can shut our doors because we've succeeded in emptying the jails and prisons, when we will have shifted our abundance away from criminalizing, policing, and caging people and investing into things that actually keep us safe.
We will have helped to create infrastructure like restorative justice options, unarmed response teams like they're building up in Washtenaw County, there would be abundant affordable housing, a flourishing solidarity economy with community land trusts and co-ops, and we will have shifted public funding into community health and wellbeing.
At DJC, we have a vision of a just Detroit. My hope is that we will have created a community where people aren't surveilled, policed, or worried about making ends meet and instead they have everything that they need to thrive.
What do you want future generations to know about the Detroit Justice Center?
I love this question because we ask ourselves a version of it often. One of my friends and mentors, Vince Warren, at the Center for Constitutional Rights asked us during the Law for Black Lives Conference in 2015, "Five generations from now, what will Black people thank us for?"
We actively try to think about what we can do today that will plant seeds for future generations and what will make their work easier. We try to start from a place of focusing on what we can dream up and what Black people deserve now and in the future. We start from there rather than limiting our imaginations to what's winnable this election cycle. Of course, we need to come back to those strategic questions in the short term but we're starting with an expansive vision.
I would hope that future generations know that we didn't compromise on the fundamental questions of freedom and that we held them in our hearts as we strategized. I hope they know that we were laser focused on freedom, and that we're trying to do our part to lay the best possible foundation for them to continue this liberation work.
To learn more about the Detroit Justice Center, CLICK HERE.