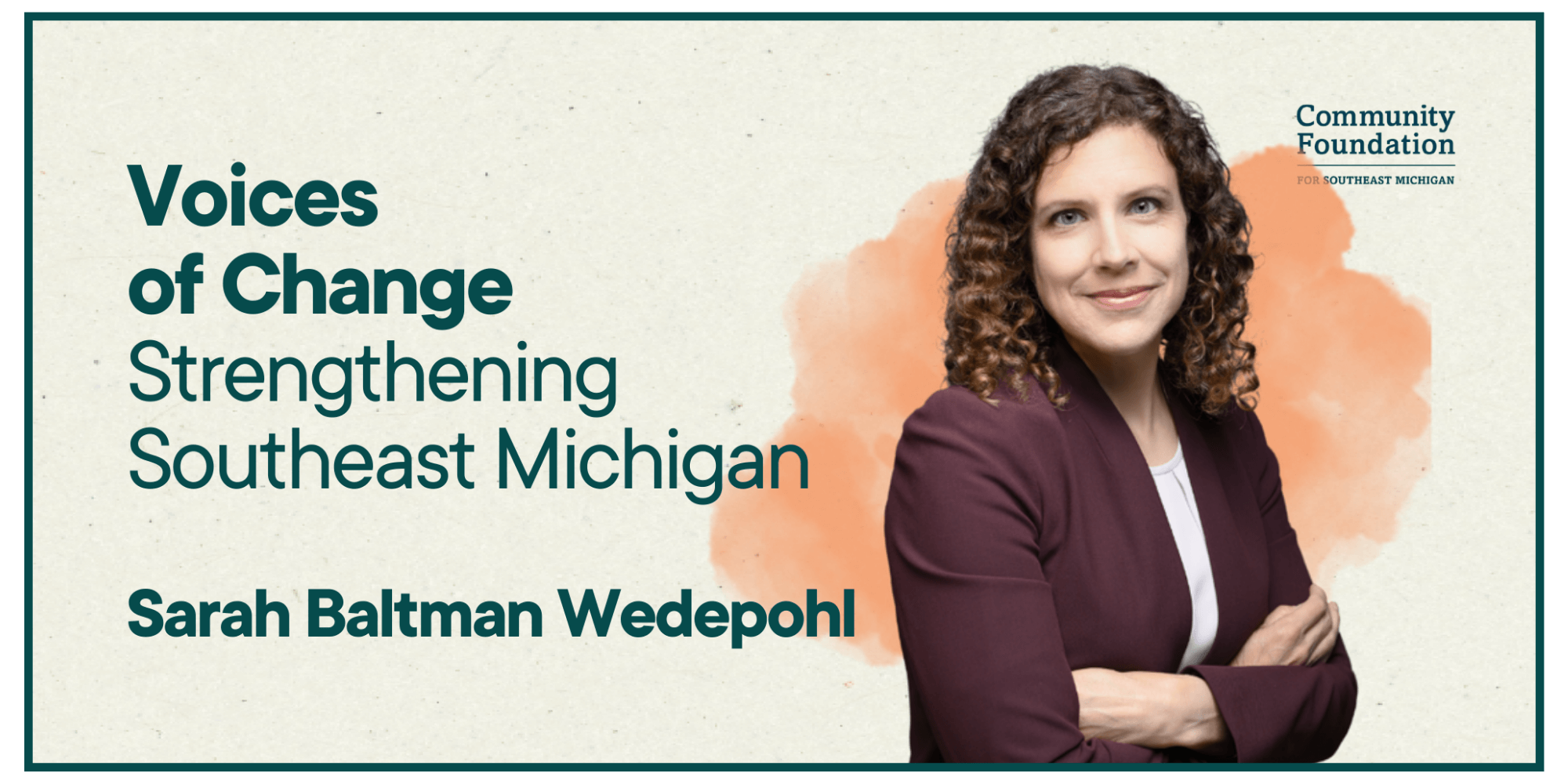 Sarah Wedepohl on how the Community Foundation will carry on her father's legacy 
For over six years, I've had the privilege of working at the Community Foundation for Southeast Michigan, an organization deeply committed to making our region a better place for everyone. During this time, I've witnessed firsthand the transformative power of community support and the enduring impact it can have on our beloved region.
Today, I want to share a personal story that illustrates just how vital the Community Foundation's work is and why supporting its operations endowment is crucial to ensuring a legacy of positive change in southeast Michigan.
My father, Lou, was more than just a beloved teacher with a career spanning over 50 years. He was a man of diverse passions – from his love for jazz, opera, and theater to his unwavering appreciation for the great outdoors. He rarely missed the annual Detroit Jazz Festival and regularly introduced his students to the magic of live theater productions. His adventurous spirit took him from the pristine wilderness of northern Michigan to the majestic beauty of the Grand Canyon and beyond through camping, backpacking, and hiking.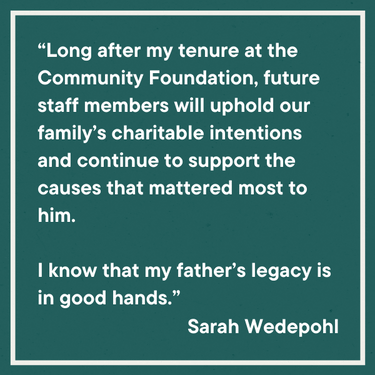 When my father passed away, the Community Foundation staff, whom I consider family, rallied around me in my time of need. They provided personal support and guidance, ensuring that my family and I were cared for during a difficult period. But their support went even further. Together, we established a special fund in my father's name to honor his passion for the arts, especially jazz, in southeast Michigan. This fund became a platform to share his legacy with those who knew and cherished him, allowing us to grow his ability to give back to his community and the causes dear to his heart.
The beauty of the Community Foundation's work lies in its commitment to lasting change. I'm confident that, with the continued support of our community, the Community Foundation will carry on my father's legacy for generations to come. Long after my tenure here, future staff members of the Community Foundation will uphold our family's charitable intentions and continue to support the causes that mattered most to him. I know that my father's legacy is in good hands.
As the Vice President of Program at the Community Foundation, I have the privilege of witnessing the remarkable impact that our dedicated staff, volunteers, and donors make in southeast Michigan every day. Through our grantmaking programs and endowment-building efforts, our region becomes more equitable, just, and enjoyable with each passing moment. I am incredibly proud to be part of a team that is committed to shaping the future of our communities, ensuring that positive and permanent change can continue in perpetuity.
But to maintain this momentum and secure the future we envision for Southeast Michigan, we need support from the community. Making a gift to the Community Foundation's operating endowment is a tangible way to ensure that we always have the talented individuals, cutting-edge technology, and strong community presence required to promote equity and ensure that southeast Michigan remains a desirable place to live, work, and play for generations to come.
You can make a difference today. Use our online donation form to contribute or reach out to our Donor Services Team for information on more ways to support the Community Foundation for Southeast Michigan both now and in perpetuity.
By adding your voice and commitment to the Community Foundation's mission, you become a part of a legacy—a legacy of positive change, a legacy of honoring those who came before us, and a legacy of creating a brighter future for all. Together, we ensure that our community will always have a resource to turn to, a guiding light to lead us toward a better tomorrow. Join us in building a stronger southeast Michigan for generations to come.