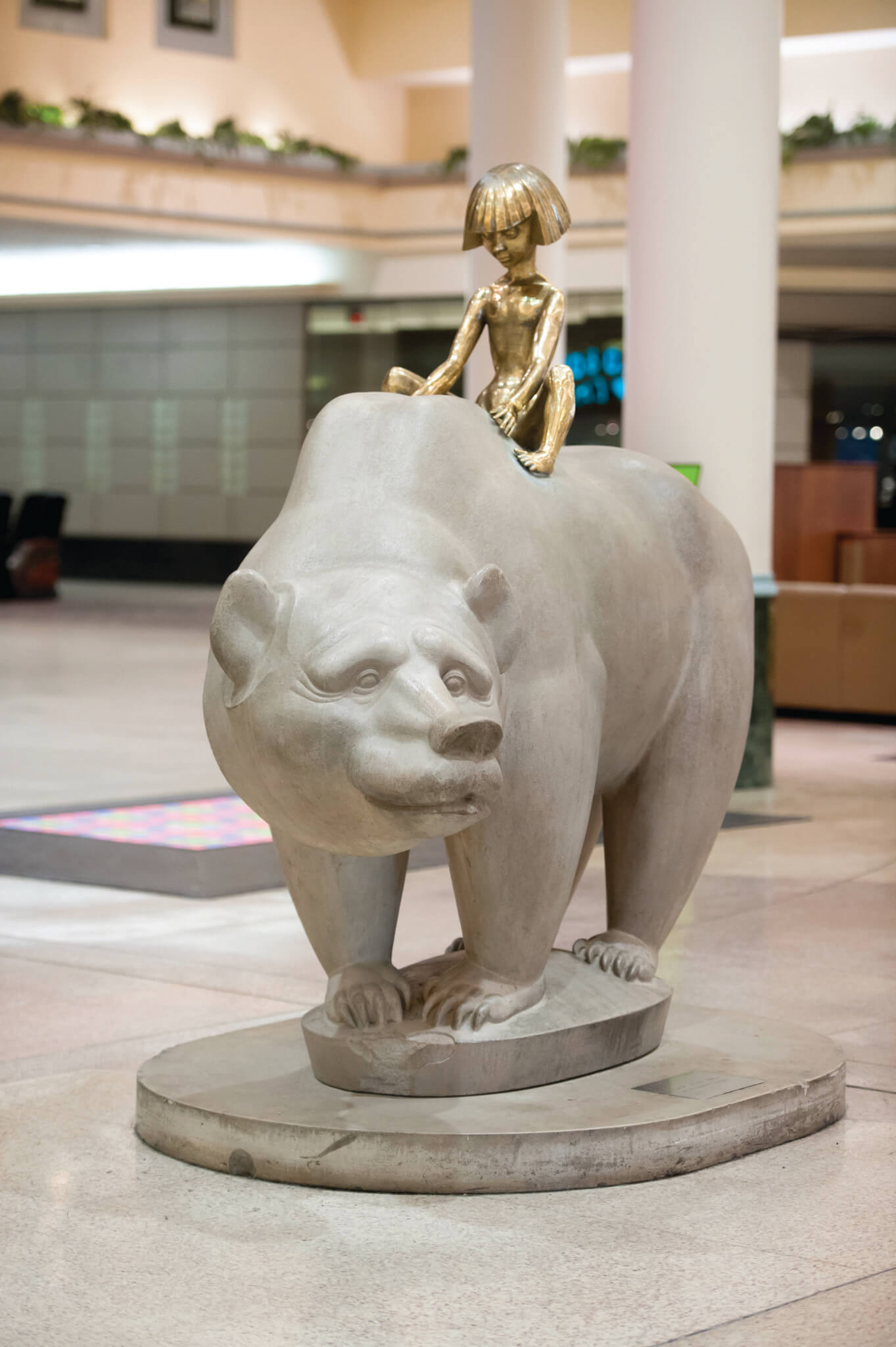 Dynamic public spaces are critical components to active and growing communities. Art can be a key tool in the activation of social spaces and help reflect the historical character of the surrounding community, creating a sense of belonging for all residents. The Community Foundation recognized the City of Southfield's efforts in creative placemaking with a recent grant of $15,000 to support the transfer of art from the Northland Center into community spaces.
Built in 1952 and designed by notable Austrian architect, Victor Gruen, the Northland Center was once the region's epicenter for commercial
development and shopping. At the time, Gruen wanted to create a new type of town square, where pedestrians and traffic were separated, and stores and restaurants were interspersed with open spaces and community congregation points. The mall developer of the Northland Center, the J.L. Hudson Co., had been collecting art and set aside a significant sum designated specifically for art installations.
The closure of the Northland Center in April 2015 marked the passing of the nation's first modern shopping mall. In an emergency effort to protect the art amidst the sale of the Northland Center, the Southfield Public Arts Commission, part of the City of Southfield, immediately began a process to purchase the mall's 14-piece art collection, with the goal of placing the art in the community for public good. The collection was quickly removed and placed in storage. In 2016, an additional four pieces were saved after they were discovered in the basement of the mall during the clean-out process.
The Arts Commission has been raising funds to formally purchase, refurbish, and relocate the art, one piece at a time. It started with Marshall Fredericks' iconic limestone and bronze sculpture, "The Boy & Bear." The Community Foundation invested in the overall fundraising campaign to buy "The Boy & Bear," as well as the other pieces. "The Boy & Bear" has since been relocated into the Southfield Public Library entrance rotunda.
"The city leadership is so grateful for the significant level of community support throughout this effort," says Ken Siver, mayor of Southfield. "As a result, over the next few years, the community will be able to view all 18 pieces of the Northland Center's distinguished art collection in their neighborhoods. The placement of art in public spaces will be a social and economic catalyst for Southfield's resurgence as an arts and culture hub in southeast Michigan."
As of today, the Arts Commission is in the process of restoring five Pegasus statues that were located in one of the Northland Center's outdoor courtyards. In the coming months, three of the pieces will be relocated along the new Northwestern Highway walking and biking path, between Civic Center and Lahser Road, and the other two will go to the north entrance of the Civic Center District. Additionally, an unnamed metal sculpture by Sorel Etrog will soon be placed in front of City Hall.
This article originally appeared in the Fall 2017 Newsletter
The Boy & Bear : AP Photo/Detroit News, David Guralnick
Photo taken Wednesday, Feb. 25, 2015, the sculpture "Bear and Boy", by Marshall Fredericks is displayed at the Northland Center in Southfield, Mich. Southfield officials want to ensure that the beloved statue gets a proper home when one of the country's oldest shopping centers shuts down. An Oakland County judge ruled this week that a court-appointed receiver can begin closing Northland Center. (AP Photo/Detroit News, David Guralnick) DETROIT FREE PRESS OUT; HUFFINGTON POST OUT, MANDATORY CREDIT