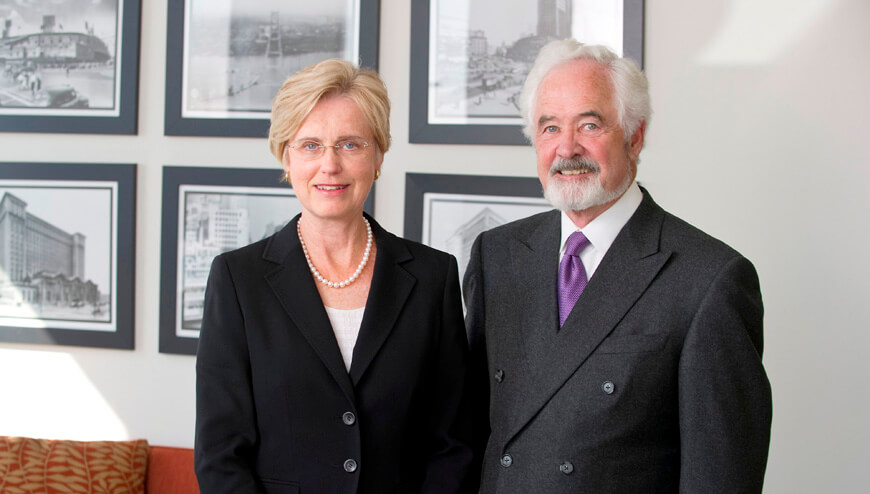 At the June 2014 annual meeting of the Board of Trustees of the Community Foundation, James B. Nicholson, civic leader and president and chief executive officer of PVS Chemicals Inc., was elected chair.
Mr. Nicholson has an extensive history of service and leadership to the nonprofit sector. He is chair of the McGregor Fund, and has served as chair of Business Leaders for Michigan and the Detroit Symphony Orchestra. He is a director of numerous civic organizations, including the Detroit Economic Club, the Parade Company and the Michigan Colleges Foundation. He also serves as a director of DTE Energy and Private Bancorp Inc., and is chairman of the board of Amerisure Companies.
Mr. Nicholson has served as a Trustee of the Community Foundation since 1994. He is only the fourth chair at the Community Foundation since its founding 30 years ago; founding board chair Joseph L. Hudson served from 1984-2003, and Eugene Miller served from 2003-2006 and was succeeded by Allan D. Gilmour, who held the position from 2006 to 2014.
The Board and assembled guests at the June event extended their thanks to Allan Gilmour for his years of service. A video produced by the Foundation pays tribute to the Board's leadership over the years, including Mr. Gilmour's contributions. It also provides information about the organization's future plans under Mr. Nicholson.
Also at its annual meeting, the Community Foundation elected the following officers: Penny B. Blumenstein, W. Frank Fountain and David M. Hempstead, vice chairs; Mary H. Weiser, secretary; and Michael T. Monahan, treasurer.