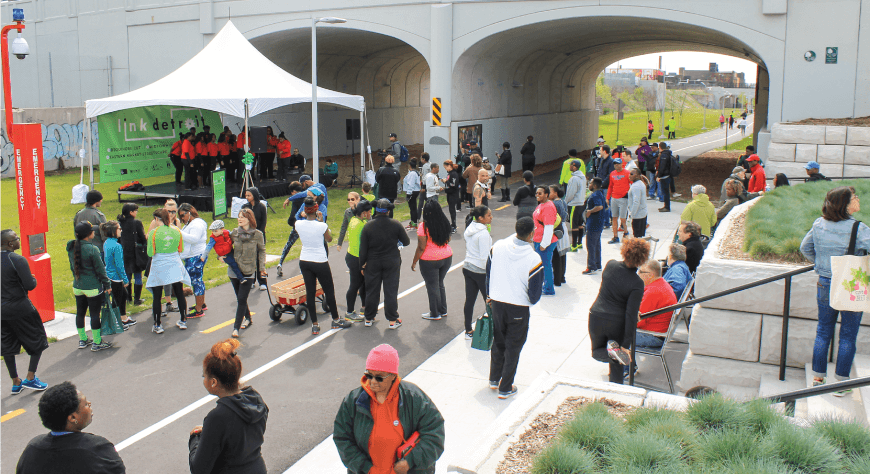 Outdoor Spaces that Transform Communities
The public spaces in our communities say a lot about our values and priorities. Well-conceived public spaces provide a sense of culture and place. They inspire us, bring us together and even have the potential to strengthen bonds across barriers such as race, income, religion and other differences that sometimes divide us in our private lives and pursuits.
At the Community Foundation for Southeast Michigan, we invest in outdoor public spaces throughout the seven counties of southeast Michigan because they add so much to the quality of life in our region. In addition to intangible qualities like connectedness and sense of place, they boost property values, improve the environment and help us stay healthy by providing places to bike, walk and experience the restorative benefits of nature. The stories that follow touch upon just a few of the diverse assortment of outdoor places that have been created, improved or sustained with grants from the Community Foundation. We hope you will get out and explore some of these parks and trails in the coming months, or enjoy time with family and friends at your own particular favorites in our region.
With the recent completion and opening of the northern extension of Detroit's Dequindre Cut, the dream of connecting the riverfront to Eastern Market and the market to Midtown has finally been realized. Since the 2009 opening of the first stretch of the Cut, it has become one of the most used and beloved public spaces in the city, drawing residents and visitors by the thousands. It provides a safe transportation route among important parks, cultural amenities and city neighborhoods, and it is an inviting place to enjoy fresh air, activity and people-watching.
That's quite a transformation — from abandoned rail corridor to proud symbol of revival in just 10 short years. While the Cut owes its existence to the hard work of an entire community — including the public, private and philanthropic sectors and countless champions throughout the region — we are proud that the initial ideas and plans for it were nurtured right here at the Community Foundation. In addition, we provided more than $4 million of the $10 million in funding that went into the making of the Cut. We look forward to continuing our support for greenways and keeping you abreast of the impact they are having on our region.