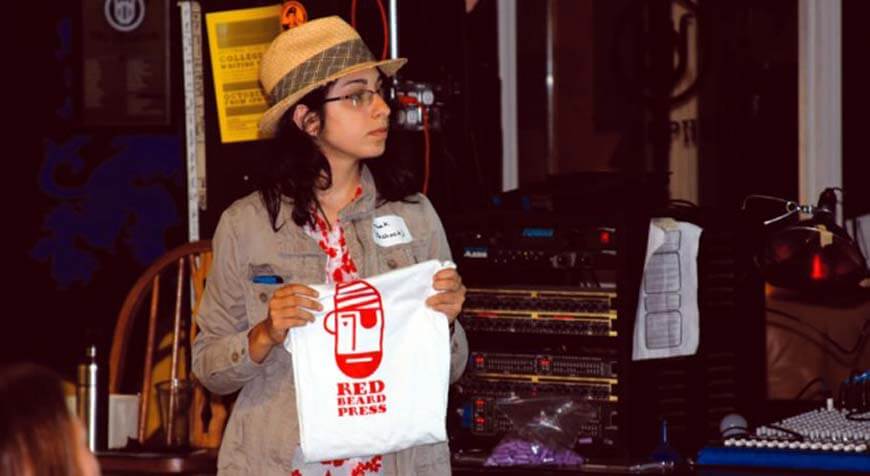 Neutral Zone Helps Teen Artists and Performers Hone Their Skills in Entrepreneurship and Arts Management
The Neutral Zone is a 15-year-old Ann Arbor teen center known for cutting-edge, youth-driven programming. Many offerings promote self-expression through the arts. The Neutral Zone's visual arts, writing and music performance programs are popular with teens and are widely supported in the community for their artistic excellence. The Neutral Zone's Youth-Owned Records, the first independent record label in the nation run by teens, has a large and loyal following, and their yearly youth-curated public concert, Breakin' Curfew, regularly fills Ann Arbor's 1,400-seat Power Center for the Performing Arts.
In recent years, Neutral Zone teens have built on these successes by proposing new business enterprises to help them take full control of producing, publishing and distributing their creative output. Executive Director John Weiss and his staff embraced the teens' ideas, and with the support of the Community Foundation and other donors, several Youth-Owned Enterprises were launched to give teens an opportunity to hone their skills as arts entrepreneurs and managers. Volunteers from Ann Arbor's business community provide training, technical assistance and mentoring to help the teens do their best work.
"The enterprise programs were a natural evolution for us," Weiss says. "They are rooted in teen interests and motivations, but they also help build important skills for adult life. Our schools don't always have the resources to teach creativity, problem-solving and critical thinking, or to offer courses on budgeting, planning or project management. Youth-Owned Enterprises gives young people an opportunity to acquire 21st century workplace skills in an environment that is safe and supportive."
Alia Persico Shammas is one of the teens who proposed creating and running a recording studio at the Neutral Zone. Now a sophomore at Barnard College, she recalls the hard work involved in getting the project off the ground.
"It was up to us to identify exactly what space, technology and other resources we would need to build a professional-grade studio," she says. "Then we pitched the idea to potential funders." After the students' first attempt to raise funds failed, the Neutral Zone enlisted talent from the University of Michigan Business School and the Ann Arbor offices of Google and Menlo Innovations to help them revise their business plan and learn more about marketing and customer service. Their next bid was successful and in March 2010, the Orpheum, a fully-equipped recording studio, opened to the public.
What gave Persico Shammas the confidence to propose such an ambitious idea? "The Neutral Zone is a place that encourages you to dream big. It is incredibly empowering when you want to try something and the adults around you listen and then start lining up the resources to help you succeed," she says.
Ben Alfaro, one of the students who helped dream up Youth-Owned Enterprises, is now putting himself through college using skills he gained at the Neutral Zone. The Urban and International Studies dual major at Wayne State University works as a professional booking agent for Emergence Media — home to Detroit emcee Invincible, along with Bling47's Waajeed and other top talent.
He is also a paid writer-in-residence and facilitator for the Inside Out Literary Arts Project at the Detroit Public Library and Martin Luther King High School. He says all three of his passions — creative writing, music, and using the arts to make cities more livable — took root at the Ann Arbor teen center. Alfaro began his involvement with creative writing in the Neutral Zone's VOLUME Youth Poetry Project, where teens meet weekly to write and share poetry and produce spoken-word performances.
When the teen center expanded into a performance venue with a capacity of 400, called the B-Side, Alfaro jumped at the chance to be the teen curator of the space. He booked and managed events for the B-Side and worked with artists like Mayer Hawthorne and others. He also worked with the record label A-Side Worldwide, which was first imagined at the Neutral Zone and later launched in Los Angeles. It now does business as a management and marketing company for recording artists and other clients.
"I am lucky to have a lucrative career and professional network while still in college," Alfaro says. "The Neutral Zone gave me the chance to explore my interests, develop skills, and get started in arts management while still in high school." A third-generation Detroit resident, Alfaro is one of the many young creative professionals who are returning to the city and contributing to its robust creative economy and arts scene.