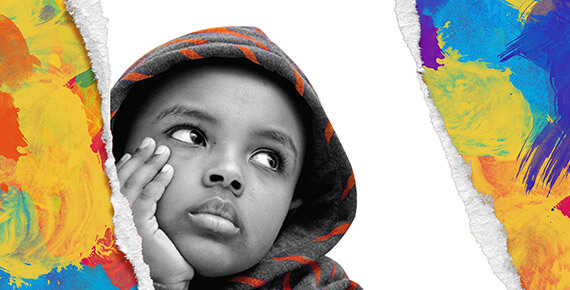 This story is part of a series written by members of our Youth Advisory Committee highlighting grantees working on racial justice initiatives.
By YAC Members of CFSEM
Gray haired and bespectacled, Camille Proctor's infectious laughter rang through the speaker. Although she spoke through a screen, her passion for helping underserved communities was palpable.
"When you have people on the autism spectrum, it's very important that they talk for themselves," said Proctor, who directs the Color of Autism "I think too long they weren't heard, and they didn't feel like anyone wanted to hear them. And so, we want to hear them and we want them to know that their voice is a very important voice to how our society runs and operates."
This principle guides the work of the Color of Autism, an organization founded by Proctor in 2009, after her son, Ari, was diagnosed with autism. The Detroit-based organization provides care for adolescents of color on the autism spectrum and their parents, encouraging self-advocacy.
In this spirit, the organization is running new programming that equips youth on the spectrum and their siblings with the tools to affect social change.
"First of all, we want to provide social and emotional support for them, but we also want to instill the values of how they can advocate for themselves through their local communities, the state, and government," said Proctor. "We're teaching them these skills because we don't want to say 'hey, this is a group for you to just sit here and kind of be yourself.' We want them to do that, but we will also want to empower them with the skills they need to advocate for themselves"
The group starts by picking a topic that is relevant to the youth. The youth learn how to contact their representatives and lobby for their position, and then they put these skills into action to promote change based on their topic.
The Color of Autism added another component to their program: connecting police officers with youth.
Negative interactions with police are more common among people on the spectrum. In a study in Ontario of people with autism, 16% of participants had an interaction with police within an 18 month period. In one third of these instances, police involvement escalated the situation. When those autistic people are also people of color, the chances of escalation only increase.
Instead of running police training, which, in Proctor's words "is not enough," the Color of Autism has taken a different approach.
"What we're trying to do is have an acknowledgement of behaviors, meaning we want a policeman to remember the guy Ted that he was in a group with, who was on the autism spectrum, and we want Ted to have the skills so that he can de-escalate himself if he has an anxiety attack while being approached by a policeman," Proctor said.
By creating personal connections, Proctor said she hopes to create lasting change in how officers interact with autistic communities.
The Color of Autism has carried out this program with the help of a Youth Engagement grant from the Community Foundation for Southeast Michigan.
"[Receiving the grant] it's helped us a lot, because it's given us the ability to, first of all, reach a group of individuals where we probably wouldn't have normally been able to devote a designated person to run a great support group for them," said Proctor. "And then also, this grant has really empowered these young people and we're not done yet. We anticipate that we're going to be able to push out a great number of individuals who will not only be empowered, but they'll be informed.
"When you think about the second leg of what we're doing, which is partnering law enforcement with our young people on a spectrum, we're going to lessen – I hope that we lessen negative interactions and, most importantly, fatalities."