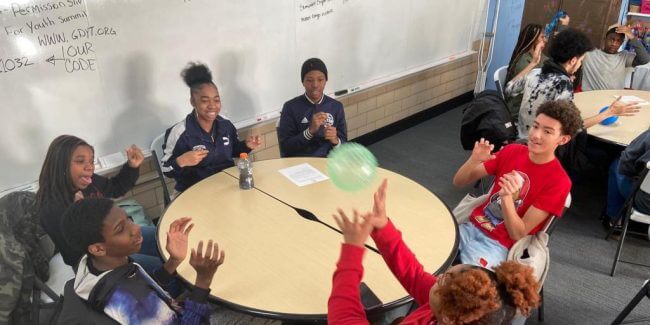 This story is part of a series written by members of our Youth Advisory Committee highlighting grantees working on racial justice initiatives.
By Gracie Grady, YAC Member
When Kimberly Johnson realized that there was a lack of resources and activities for youth in Detroit, she decided to be a fix that problem. In 2007, she founded Developing Kingdoms in Different Stages to help engage youth in her area.
Johnson said she was motivated because there were gaps where young people did not have access to opportunities in Detroit. She said she noticed that people in Detroit felt that the only way to find and participate in programs and activities was to leave the city.
"I wanted to create something of quality that was in the city," she said.
Developing K.I.D.S provides free programming after school and during summer to students from kindergarten through high school and continues to support and lend a hand to students while they go through college. Many students join Developing K.I.D.S to get out of the house and have something to do after school but end up gaining so much more.
Ariel Carter, a junior at Renaissance High School who serves on Developing K.I.D.S Youth Advisory Council, said she joined because she needed help preparing for college. Carter said Developing K.I.D.S helped get her mind off school and teaches important life skills.
Carter is not the only Youth Advisory Council member singing Developing K.I.D.S praises. Jalen Williams, a junior at Western Michigan University, joined Developing K.I.D.S through his church.
"Developing Kingdoms really gives you that feeling of family," he said. "[The group] constantly find ways to come back because you love the people there."
The council members also noted that being a part of Developing K.I.D.S gives them opportunities to engage with their community.
Youth Advisory Council member Jamal Newberry, and council supervisor Destynee Nixon both said that Developing K.I.D.S fosters relationships with the community and other organizations in the community.
"Doing good for themselves helps them do good for others," Newberry said.
Developing K.I.D.S holds events and fundraisers throughout the year to really bring the community together. Johnson said she feels that organizations like hers can impact the community, "if you listen to the community and find out what their needs are."
The program offers many different levels of help and support to students. The name Developing K.I.D.S is more than just a title, it is the core of the organization.
"That is what we do," Johnson said. "We help develop kids."