$102 million in 2020 — the Largest Annual Amount of Grants Provided in the Foundation's History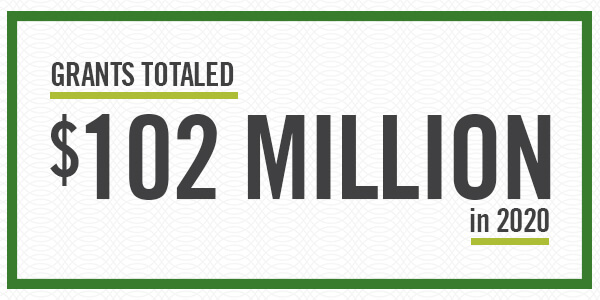 Throughout 2020, the Community Foundation for Southeast Michigan issued a total of over $102 million in grants – the largest annual total in the Foundation's 36-year history.
Grants will help strengthen the quality of life across the region and beyond. Organizations and programs served many areas, including health, education, human services, community development, civic affairs, arts and culture, and more.
"The past year challenged us all in countless ways, but it was also a time of tremendous generosity," said Mariam Noland, President of the Community Foundation for Southeast Michigan."The $102 million distributed by the Community Foundation in 2020 was a record in our 36-year history and speaks not only to the strong spirit of giving in our community, but also to the hard work and willingness of the organizations receiving support to carry out their missions to help our region recover and move forward."
In total, the Community Foundation currently holds approximately $1 billion in total assets.
Dozens of grants were made for COVID-related needs, including support for frontline health care workers, testing sites for vulnerable populations, mental health programs, small business relief, arts and culture organizations, incarcerated individuals, and the elderly.
Building on the organization's longstanding racial equity efforts across all grantmaking portfolios, the Community Foundation's Youth Advisory Committee launched a grantmaking program for youth-led racial justice efforts in the region. Multiple organizations, including hospitals, received support to enhance opioid prevention and links to treatment. Support was provided through the Pontiac Funders Collaborative to strengthen nonprofit organizations and small businesses.
In reflecting on the progress of 2020, board chair James B. Nicholson also recognized one of its losses: the recent passing of Community Foundation founder Joseph L. Hudson Jr, who established the Community Foundation in 1984.
"Joe Hudson was a model civic leader and his act of establishing the Community Foundation for Southeast Michigan 36 years ago has resulted in our providing over $1.2 billion through more than 79,000 grants to organizations throughout the region and beyond," said Jim Nicholson, chair of the Community Foundation. "The Community Foundation is one of the numerous ways Joe worked to benefit all in the community."
Some of the grants made in the last quarter of 2020 include:
Arts
$40,000 to Paint Creek Center for the Art School and Art Anywhere programs, which provide education and engagement for Rochester residents amidst the pandemic.
$35,000 to Accent Pontiac for the Social Change Through Music project, a partnership with the Pontiac School District, to provide music instruction that meets COVID-19 needs.
Education
$50,000 to Detroit Police Athletic League, Inc. to expand science-based youth programs.
$25,000 to buildOn, Inc. to engage students at Western International, Osborn and Cody High Schools in virtual service learning.
Employment
$75,000 to Detroit Urban League to transition workforce development programs to a virtual format in response to COVID-19.
$15,000 to T.E.A. to build organizational capacity to provide direct support to women entering the workforce by growing employer partnerships.
Health
$50,000 to Henry Ford Health System over two years for uninterrupted provision of medication services for transgender teens receiving care at Henry Ford's Health and Wellness Clinic at the Ruth Ellis Center.
$24,000 to Ele's Place Inc. for staff adult grief support groups in southeast Michigan.
Housing
$65,000 to United Community Housing Coalition to ensure that amid the COVID-19 pandemic, housing assistance to low-income residents is uninterrupted as the organization pivots toward an increased reliance on digital technology.
$50,000 to Detroit Future City for pre-development activities for a cohort of eight Detroit-based community development organizations to acquire and rehab up to 80 single family homes.
Civic Life
$75,000 to the City of Detroit for the Detroit ID program, which helps vulnerable populations access medical care, food banks, utility assistance programs and other critical programs that require identification.
"As we enter the new year, we know that organizations on the frontlines will require new and unexpected forms of support," said Noland. "Whatever 2021 brings, we remain committed to serving the region's needs today, while helping our organizations and communities look ahead to make positive change that will benefit all who live and work in southeast Michigan."
###
About the Community Foundation for Southeast Michigan
The Community Foundation for Southeast Michigan is a full-service philanthropic organization leading the way to positive change in our region. As a permanent community endowment built by gifts from thousands of individuals and organizations, the Foundation supports a wide variety of activities benefiting education, arts and culture, health, human services, community development, and civic affairs. Since its inception, the Foundation has distributed more than $1.2 billion through more than 79,000 grants to nonprofit organizations throughout Wayne, Oakland, Macomb, Monroe, Washtenaw, St. Clair, and Livingston counties. For more information, visit www.cfsem.org