Community Foundation Announces More Than $14 Million in Funding in Southeast Michigan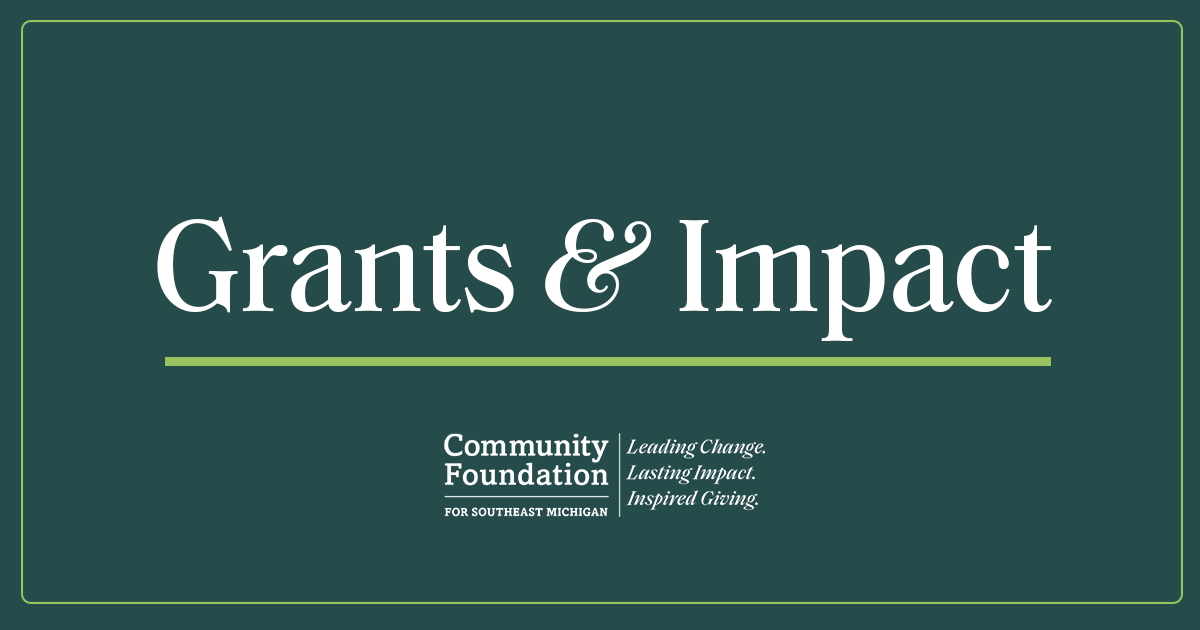 The Community Foundation for Southeast Michigan announced funding totaling more than $14 million during the first quarter.
The grants will support organizations primarily in southeast Michigan that focus on arts and culture, community development, education, environment, health, human services, recreation and youth.
"The Community Foundation's goal is to enhance the quality of life throughout southeast Michigan," said Richard (Ric) L. DeVore, president, Community Foundation for Southeast Michigan. "Thanks to the generosity of our donors, we can support the work these organizations do to advance equity, improve education, and create healthy, vibrant communities in our region for years to come.
"In addition to these grants, we provided funding for projects that address public spaces in Pontiac, criminal justice reform and older adult care."
Arts and Culture
Akropolis Quintet, Inc. – $20,000 for community-based musical performances and educational programs
Detroit Opera – $100,000 for the production of a civil rights-focused opera complemented by a series of strategic community engagement initiatives
Community Development
Develop Detroit, Inc. – $150,000 over two years to support community education and programming at Detroit Food Commons
Enterprise Community Partners, Inc. – $55,000 for a program that provides advisory services and technical assistance for BIPOC-led affordable housing developers in Detroit and Pontiac
Education
Central Michigan University – $64,780 for the expansion of the high school dual enrollment program for advanced fashion careers for Detroit students
Historical Society of Michigan – $40,000 to support outreach to increase participation in the Michigan History Day academic competition
Environment
Regents of the University of Michigan – $31,900 for a place-based experiential learning program to encourage awareness of the Detroit River as an environmental and cultural resource
Health
Black Mothers Breastfeeding Association – $50,000 to support expanded capacity for community-based doula services
Bridging Communities, Inc. – $15,410 for the Lincoln Park Social Development Coalition to address gaps in local resources and care
Center for Healthcare Research and Transformation – $74,945 to support an evaluation of Washtenaw County's Law Enforcement Assisted Diversion Deflection pilot initiative
Jewish Family Service of Metropolitan Detroit – $75,000 for the development of a suicide prevention collaborative in partnership with Black Family Development
Oakland Family Services – $33,500 to expand mental health consultations for children ages 1 to 5 years to increase social-emotional support               
Human Services
City of Detroit Support – $75,040 to expand the capacity of the Office of Disability Affairs
Community & Home Supports, Inc. – $75,000 to increase staff capacity for a housing navigation project for individuals and families experiencing homelessness
First Step – Western Wayne County Project on Domestic Assault – $50,000 to implement a new client management and evaluation database
Forgotten Harvest, Inc. – $50,000 to expand Harvest Heroes, a volunteer program that connects surplus food from small businesses to agencies serving food-insecure individuals in metro Detroit   
Recreation
Chandler Park Conservancy – $65,000 over 18 months to support the Detroit Parks Coalition and its programming and communications
Youth
Friends of Children – Detroit – $45,000 for the expansion of the 2Gen model and financial literacy initiatives
Michigan Organization on Adolescent Sexual Health – $53,000 to support a youth-led trans-inclusion school-based policy initiative in Southeast Michigan