This letter originally appeared in the 2017 Yearbook.
We are pleased to report on a year of strong growth. Just as southeast Michigan's economy continued to strengthen during 2016, so did the Community Foundation's service in the region, both to charitable organizations and to our donors. The Community Foundation recognizes that challenges remain and many families still find thriving in this economic environment difficult. We realize there are many in our communities who continue to rely on the important support of charitable organizations.
As a permanent source of community capital, the Community Foundation is here to promote positive change and a better quality of life for all residents. In favorable times and challenging ones, our mission remains the same: to promote community philanthropy in the seven counties of southeast Michigan and to invest in programs that make life better for all our citizens. During our 33-year history, the Community Foundation has shown remarkable growth, thanks to the support of thousands of donors.
With more than $95 million in new gifts received in 2016, our assets at year end were over $800 million, which places us amongst the top 25 of approximately 800 community foundations nationwide.
Last year, we distributed more than $73 million to promising programs and effective nonprofit organizations. Our grants address a broad range of programs across the region brought to us by hard-working organizations. We are pleased to support their efforts. The Community Foundation also achieves impact through grants focused on specific issues. In the 2017 Yearbook, you will read about three of our issue areas: economic vitality, healthy communities, and investing in youth. Although these areas are not the sole focus of our grantmaking, the stories in this yearbook illustrate organizations that strive to create positive change and address emerging opportunities within the region.
A strong economy is vital to every successful community. The Community Foundation understands the necessity of supporting job-creation initiatives, while also recognizing the need for ensuring there are career opportunities and resources for existing residents. Through programs like Hacker Fellows, which contribute to the startup technology ecosystem, and the New Economy Initiative, which facilitates entrepreneurship, we continue to support both new and existing opportunities.
During 2016, the New Economy Initiative (NEI) — the 13-foundation initiative that works to diversify the regional economy and stimulate entrepreneurship — emerged as a national model for inclusive regional economic development. This was possible because of unprecedented leadership and the collaboration of national and local foundations. The NEI Impact Report, issued in October, provides documented results from the $103 million grants, including the creation of 20,385 jobs and more than $3 billion in real economic regional impact over seven years. For the third year, we continued to see great results from NEIdeas, a program that is connecting small neighborhood businesses with entrepreneurial services and providing more than $1.5 million in capital. The success of NEI's hard work and proven results has enabled funding to continue through 2020.
The health of our communities is crucial in attracting and retaining residents in southeast Michigan. Research has shown that a region that promotes a healthy lifestyle, including nutrition and physical activity, has more  productive and satisfied residents. One example of the work we are doing in this area is our Healthy Food Connect initiative, launched in the spring of 2016. This two-year regional effort, with support from the Michigan Health Endowment Fund and the Community Foundation, seeks to increase access to healthy food among children and seniors in the seven counties of southeast Michigan. Through $2 million in grants to 20 programs undertaken by 72 cooperative organizations, Healthy Food Connect will grow healthy food access initiatives and expand their geographic reach. Learn more about several projects supported by Healthy Food Connect.
Finally, the future of our region depends on our youth. They are our future leaders, entrepreneurs, parents, and teachers; today's youth will solve tomorrow's problems. That's why the Community Foundation continues to invest in programs that allow children and young adults
to thrive in and out of the classroom. We have recently engaged in studies to determine where gaps in youth services exist in our region. The findings will be released throughout 2017.
The Head Start Innovation Fund, established in 2013 at the Community Foundation by 10 foundations, continues to support innovation and high-quality programs and services at local Head Start agencies serving 6,000 young children and their families. The Head Start Innovation Fund is having a positive impact on the quality of Head Start programs in Detroit, and it was expanded in 2016 to the tri-county area with additional funding from the Ralph C. Wilson Jr. Foundation, the Colina Foundation and the Community Foundation. The Head Start Innovation Fund is changing the early childhood education landscape by supporting enrollment marketing campaigns, facilitating regular convenings of providers to share best practices, and coordinating teacher recruitment tools and marketing. Since its inception four years ago, the Head Start Innovation Fund has grown to over $11 million in funding.
Working together with the Detroit Auto Dealers Association (DADA), the Community Foundation granted $534,000 to 15 nonprofit organizations that provide services to children and youth in the region. This was the largest year of grantmaking in the DADA Charitable Foundation Fund's 17-year history — more than double any previous year. The DADA Charitable Foundation Fund was established at the Community Foundation for Southeast Michigan in 1998 by the Detroit Auto Dealers Association, a trade association composed of more than 200 automobile dealers in metropolitan Detroit. The fund, which is unique among similar associations, represents a legacy of the DADA's charitable commitment to the children and youth of southeast Michigan.
We are grateful to the thousands of people who entrust their charitable giving to us. We deeply appreciate the service of our exceptional, dedicated Board of Trustees. We would like to recognize the service of Trustees Gerard M. Anderson and W. Frank Fountain Jr., who retired from our board in 2016, and we are honored to welcome our newest board members: Lena R. Epstein, Bradley M. Gayton, Bruce D. Peterson, Christopher L. Rizik and Karen Sosnick Schoenberg. For another year of commitment and hard work, we warmly thank all our volunteers and staff.
As you travel around the region in the months ahead, there is a good chance you will interact with a recreation space supported by the Community Foundation. From the Detroit riverfront to the Dequindre Cut greenway, or to a new splash pad in Port Huron, investments by the Community Foundation and our donors are adding to the vibrancy of southeast Michigan and improving the quality of life in the place we call home.
If you would like to know more about joining our community of donors, please contact us. There are countless ways to connect with program opportunities that will meet your objectives and fulfill your vision of giving back to the community.
We continue to explore new ways to connect with and learn from our communities, and what we learn continues to inform and focus our work. We would like to hear your thoughts — what can have the most impact in the region?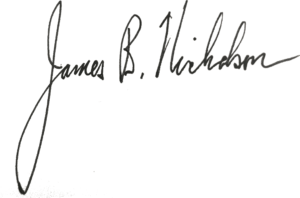 Mariam C. Noland                                     James B. Nicholson
President                                                    Chair of the Board of Trustees