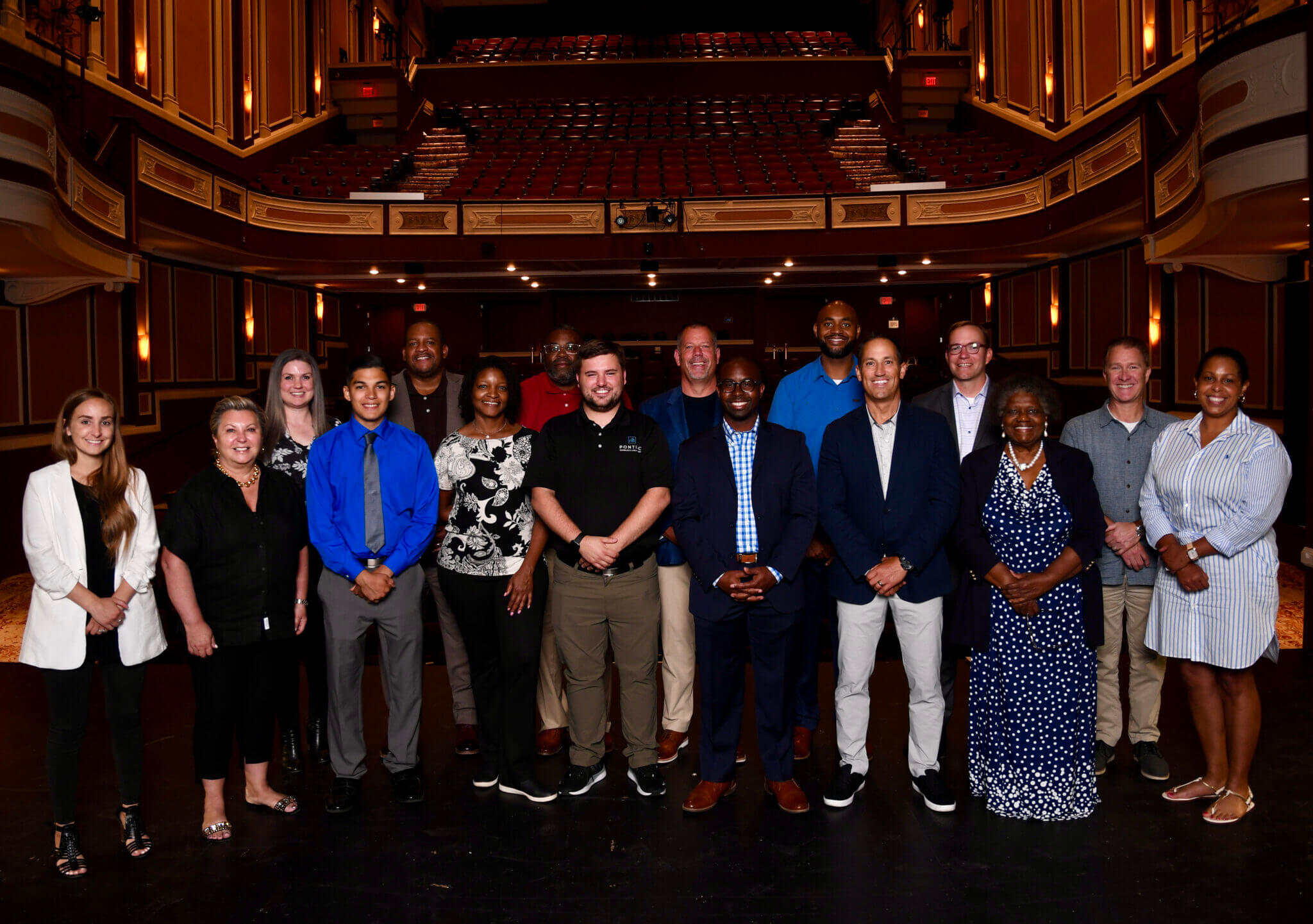 Photo: Pontiac Community Foundation staff and board of directors.
As the local economy in Pontiac begins to recover from the effects of the pandemic, a network of organizations supporting small businesses is organizing with renewed momentum. Their efforts are helping to connect small business owners in Pontiac to training, resources and capital that have long been inaccessible for many residents.
The Pontiac Community Foundation has been a key catalyst of these efforts. Their recently launched Center for Pontiac Entrepreneurship (CFPE) aims to serve as a resource hub and convener to aid in the growth of Pontiac's entrepreneurial ecosystem. Grants from the Pontiac Funders Collaborative have supported the CFPE's initial strategic planning and its launch in 2021.
According to Scott Stewart, Vice President of Programs for the Pontiac Community Foundation, "The idea for the Center for Pontiac Entrepreneurship (CFPE) came about through extensive conversations with community leaders about the need for improved collaboration and strategy in supporting our small business owners." Local support provider, Tameka Ramsey helped spark the effort. "She consistently invested her time and money…to ensure small businesses had access to resources; however, she knew that this was limiting for future opportunities, including with getting funding to expand the work. She wanted a main nonprofit partner to work with that would be intentional and work collaboratively to grow the available resources." Together, they began to imagine an initiative that would serve as a coordinator and convener to bring partners together to identify the current resources and gaps, understand the needs and background of small business owners, and create innovative programs for the city.
The CFPE provides business training, leadership development, access to professional services, and financial counseling through partnerships with a network of support providers. Their first set of "Entrepreneurship 101" classes in 2021 utilized an 8-week curriculum focused on the basics of starting a business, and plans are coming together to expand class offerings in time.
The program has also provided grant support for business owners at a time when so many are recovering from the impact of COVID-19. In 2021, two rounds of mini grants awarded $15,000 to small businesses, helping them cover payroll costs, rent, lease and mortgage payments, utilities, PPE and COVID-19 related expenses, as well as operations expenses. They are actively exploring other ways to connect small businesses with capital and intend for this to be a core component of the CFPE's work.
In addition to training and capital support, the initiative is home to a new Small Business Roundtable that aims to build alignment amongst entrepreneurial support providers to meet small business owners' varied needs. The roundtable, made up of representatives from providers serving Pontiac, is working to collaboratively define a set of shared goals that are rooted in data about the needs of local businesses. By aligning their programming and offerings around shared goals, and leveraging learnings from one another, they hope to streamline access to resources for businesses and improve and expand upon what's currently available in the city.
A recent grant from the Small Business Administration is helping to amplify the CFPE's efforts. The Pontiac Community Foundation is one of two communities in Michigan (along with Flint) to receive funding through the SBA's Community Navigator Pilot Program. The program supports CFPE to partner with local providers to offer services to small businesses. The services, including financial assistance and access to capital, contracting and procurement, marketing, operations, and business development are being provided by local and regional partners T. Ramsey & Associates, Centro Multicultural La Familia, Rebrand Cities, Main Street Pontiac, and ProsperUs. "It has been decades since Pontiac has received such a significant investment in its small business ecosystem and this speaks to why we decided to start CFPE – no other entity in the city had the capability to go after this funding," says Stewart. "The funding came at a perfect time, enabling us to pour a significant amount of funding to ecosystem partners in an effort to increase the availability of resources for the next two years."
In thinking about the future and what the CFPE and Small Business Roundtable partners will focus on, the organization is leading an effort to gather data about small businesses and their needs, as well as to identify available capital resources for entrepreneurs. "All of these, and other similar initiatives," says Stewart, "will allow us to raise funding to create innovative programs for Pontiac's entrepreneurs, contributing to the city's economy and improving economic mobility for the city's residents."