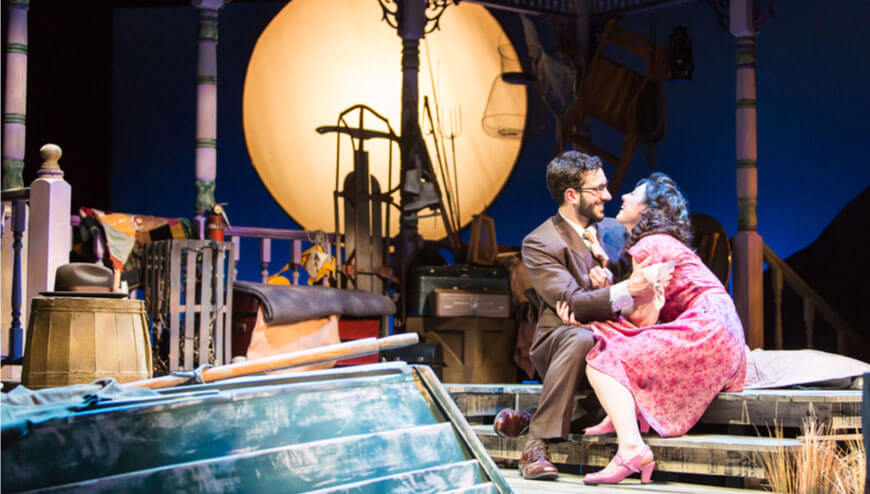 In 1990, actor, playwright and musician Jeff Daniels established the Purple Rose Theatre Company in a former used-car and bus garage in downtown Chelsea, which is on the western end of Washtenaw County in southeast Michigan. The mission of the theater is to "create fresh, original productions that get our audiences talking among themselves and feeling something new." Purple Rose has distinguished itself by producing plays about people from the Midwest, written by people from the Midwest. It also serves as a teaching facility for developing playwrights, actors, designers, directors and arts administrators.
The Purple Rose Theatre has been recognized nationally, regionally and locally for excellence in professional theater. The National Endowment for the Arts featured the Purple Rose Theatre in its 2013 issue of NEA Art magazine. In 1999, after being nominated four times over the years for the highly selective and prestigious American Theatre Critics Award for Best New Play, the Purple Rose Theatre Company won that prize for its production of "Book of Days" by Lanford Wilson.
While the Community Foundation for Southeast Michigan, and our affiliate, the Chelsea Community Foundation, have worked with Purple Rose over the years, we were particularly pleased to support their most recent effort. In December 2014, the Chelsea Community Foundation made a grant of $17,825 to support Purple Rose in undertaking a play development partnership at five venues across southeast Michigan. The activity builds upon the very successful play development activities that have been conducted in partnership with the Chelsea District Library since 2009. At each session, a cast of professional actors presents readings in front of an audience. The audience is afforded an opportunity to become intimately involved in the early script development process, and they are able to express their opinions and raise questions about the script during talk-back sessions immediately following each reading.
Concert readings have proven to be an invaluable tool for playwrights and directors, enabling them to gauge an audience's response to a play. They are also an important tool for the Purple Rose, in that they drive people to attend the plays when they are released as part of the theater's season.
The existing partnership with the library accomplishes three goals:
• Commissioning, developing and producing works by Midwestern playwrights for potential production at the theater
• Involving community members in the script development and play production process,
• Inspiring young writers to create their own works for the stage.
The series has been wildly successfully, cultivating new works by 12 playwrights and engaging more than 1,000 audience members.
Building on this activity, as part of the special activities leading up to its 25th anniversary year (2016), the Purple Rose is expanding its play development activities to include a range of additional locations across southeast Michigan. Recognizing that Purple Rose's reputation and reach extends beyond Chelsea, the staff and board believe this to be an opportune time to directly connect with potential audience members from other parts of the region. Because the play development readings have been so successful in Chelsea, the staff believes they would be a great tool to use to connect with people in other parts of the region.
The partnerships Purple Rose confirmed for this new activity are exciting. They include:
– Chelsea High School Auditorium (Chelsea): Tuesday, June 23 at 7pm
– Riverwalk Theatre (Lansing): Sunday, June 28 at 7pm
– Cleary University's Johnson Center (Howell): Tuesday, June 30 at 7pm
– Cranbrook Institute of Science (Bloomfield Hills): Sunday, July 19 at 7pm
– DIA/Detroit Film Theatre (Detroit): Friday, August 21 at 7pm
The Purple Rose remains a true gem in the southeast Michigan landscape, both because of its quality productions as well as its role in promoting local playwrights and introducing them to the national scene. This project builds upon the clear success of and knowledge gained from the existing partnership with the Chelsea District Library. The partnerships should ultimately drive more theater-goers to Chelsea, resulting in a positive economic impact for the whole community as well as the theater. In addition, it may help draw new audiences to the partner agencies as well.