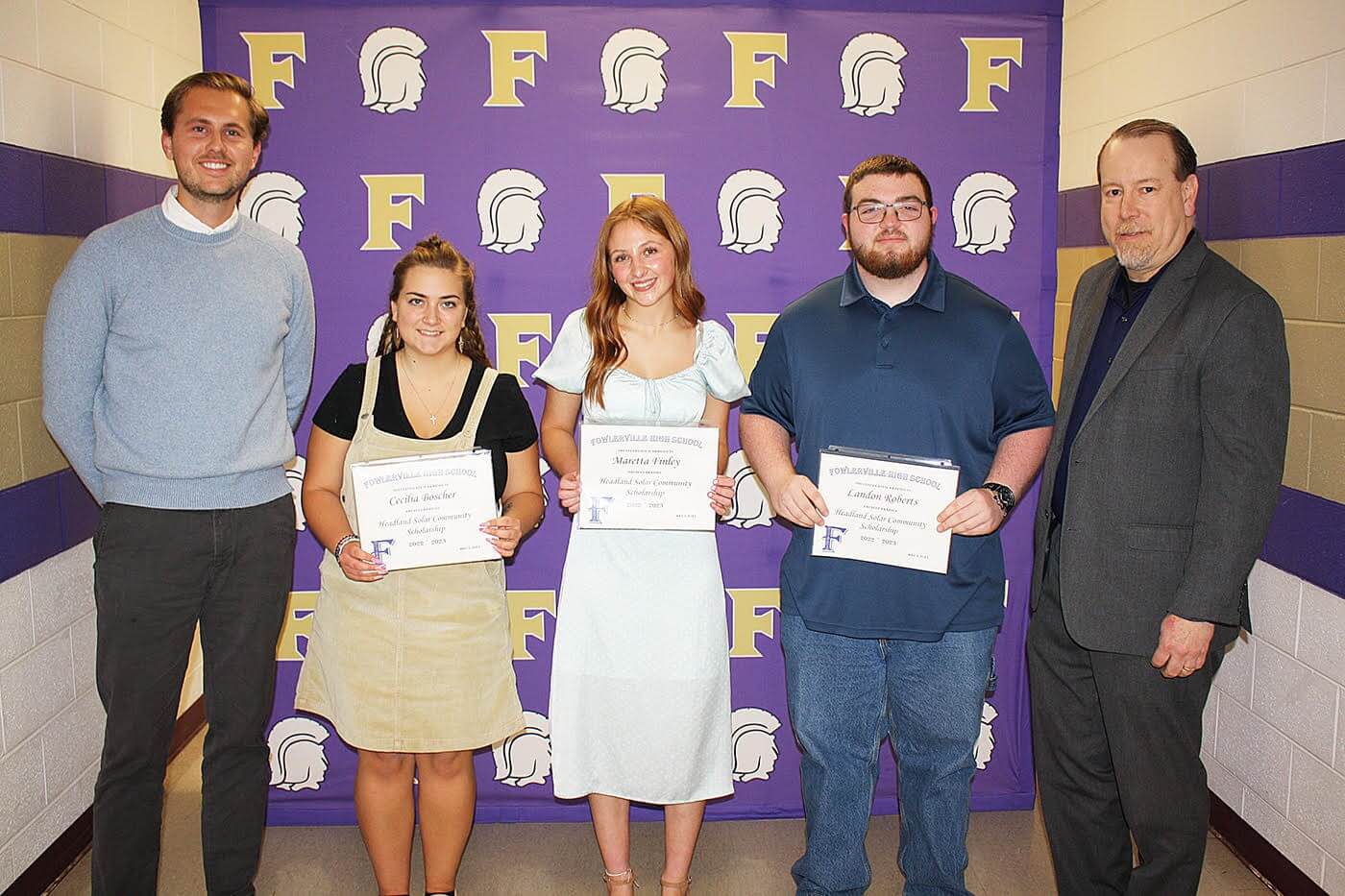 From left to right: Drew Vielbig, Cecilia Boscher, Maretta Finley, Landon Roberts, and Randy Ross
As many students get ready to head off to college for the first time, three graduating seniors begin their college careers as the inaugural recipients of the Headland Solar Community Scholarship Fund for Fowlerville High School, which was recently established as part of the Community Foundation for Livingston County, an affiliate of the Community Foundation for Southeast Michigan. The Fund was established by Ranger Power's Headland Solar Project which is taking shape largely within the boundaries of the school district.
The three recipients of the 2023 Headland Solar Community Scholarship Fund were:
Cecilia A. Boscher – graduated in June from Fowlerville High School with a 3.90 GPA. She served as Sentinel of the Future Farmers of America chapter at her school and was also a member of the Interact Club where she created social media posts for the community. Cecilia has extensive volunteer experience through the Salvation Army Red Kettle Program, Blessings in a Backpack, and Chamberlain's Pony Farm. In addition, she recently completed an internship as a Laboratory Technician with American Chemical Technology. Cecilia is a first-generation college student and will be attending Michigan State University this fall with plans to pursue a degree in Chemistry.
Maretta R. Finley – graduated in June from Fowlerville High School with a 3.90 GPA. During her senior year, Maretta served as the People Editor for the yearbook, directing others in creating content. Her work experience includes customer service and data entry for local garden centers, and most recently she has been employed as a kennel assistant at a veterinary clinic. Maretta volunteers with the Future Farmers of America and the Salvation Army Red Kettle Program and also spent time in Indianapolis with Friends of the White River removing trash from the banks of the river. This fall, Maretta will begin her studies at Lansing Community College and plans to transfer to Michigan State University to study Large Animal Veterinary Medicine.
Landon E Roberts – graduated in June from Fowlerville High School with a 4.08 GPA. He was an Academic Honor and Academic Letter student during all four years of school, as well as a four-year member of the Robotics Team. Outside of school, Landon served as Vice President and President of the 4-H Club during his freshman and sophomore years and has worked at the Fowlerville Fair Grounds as a grounds crew team leader for the past two years. In addition, Landon worked during his senior year at Corrigan Oil cleaning and recertifying propane tanks. In the fall, Landon will begin his studies at the University of Michigan in Ann Arbor and plans to become an engineer.
Each was awarded a one-time scholarship of $5,000.
"We work every day with individuals and businesses who want to positively impact the community now and for generations to come. The Community Foundation is honored to assist Headland Solar in making an impact in the future of Fowlerville's students," said Randy Ross, Vice President, Donor Services. "This is one more great example of a business and its staff, giving back to the community it serves."
It is anticipated that similar awards will be granted each year, and the Fund will be permanently endowed once the Headland project becomes operational.
The Fund is intended to support students pursuing postsecondary educational programs focused in Agricultural Science, Agricultural Business Management, Natural Resources Management, Environmental Sustainability, Renewable Energy Science, Engineering, or Construction.
"Ranger Power is thrilled to partner with the Community Foundation to provide these scholarships aimed at creating new educational opportunities for Fowlerville's seniors." added Drew Vielbig, Senior Development Manager for Ranger Power. "This is a special community, and we are grateful to have the opportunity to continue to work in the wider Fowlerville community for years to come."
Representing a $200 million investment, the Headland Solar Project, https://headlandsolar.com, will provide significant economic benefits to the Fowlerville community over the project's duration. Headland Solar is projected to generate millions in tax revenue over the project's lifetime, providing critical funding for local schools, libraries, fire and police, roads, and community services.
The Community Foundation for Livingston County has awarded $1,000,000 through more than 150 grants to support and improve public well-being and quality of life in the areas of economic development, human services, arts, civic affairs, education, health, and the environment in Livingston County. Since its inception, the Community Foundation for Livingston County has established 20 funds to recognize individuals and businesses in Livingston County, growing the foundation's endowment to more than $1.3 million.
For more information, please visit www.cflivingston.org.
The Community Foundation for Livingston County is an affiliate of the Community Foundation for Southeast Michigan, www.cfsem.org.