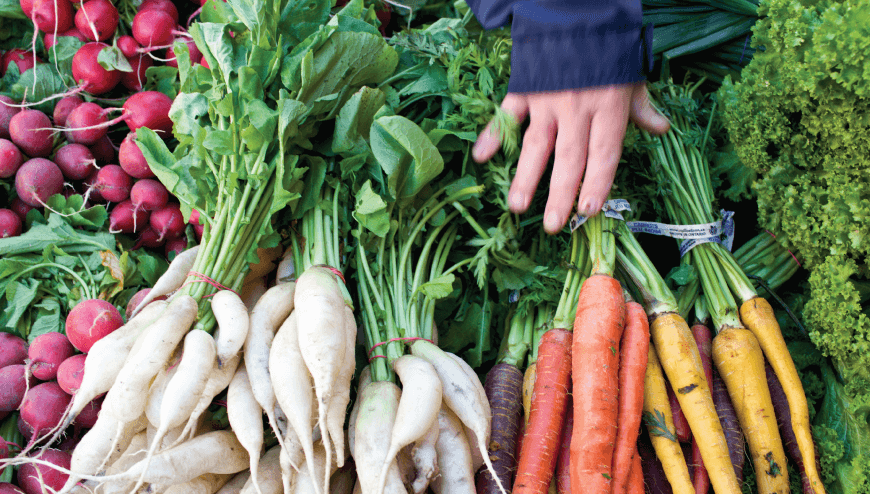 Supporting a Healthy Food System
A diet rich in healthy foods is essential to good health — that may be as close to a universal truth as there is. We are fortunate to be living at a time when good nutrition is better understood than ever before and residing in a state that boasts the second most diverse agricultural economy in the nation.
Farms in Michigan — 98% of which are family-owned — produce an amazing 300 varieties of food commodities. Most of that bounty stays here in the state, much of it sold at farmers' markets throughout southeast Michigan and distributed to restaurants and grocery stores via the nation's largest open air historic market — Eastern Market in Detroit.
But food fuels more than good health. It is also an economic driver, a conveyor of history and culture, a way to connect and socialize. Gardens and farms produce jobs as well as fruits and vegetables, and as those live near them know, they provide a sense of well-being and connection to nature. Food is at the heart of a good life, and that's why so much of our work at the Community Foundation touches healthy food in one way or another.
We are pleased to be part of a healthy food revolution in southeast Michigan that is helping to generate many positive outcomes. The programs featured here are just a few of our many investments in gardening, healthy food access, and the food economy. Our goal is to help ensure that all residents of our region can obtain the food they need to grow and be healthy, and that all communities can leverage the power of food to reach their full economic and cultural potential.
It's estimated that more than 23 million Americans, including 6.5 million children, live in food deserts: areas more than a mile from a supermarket. In Michigan, one in six people struggles with hunger, and in southeast Michigan specifically, more than 780,000 people — 16 percent of our population, including 200,000 children — are food insecure. This means that they are not certain where their next meal will come from. We pride ourselves on being rooted in and connected to our communities, and we want them to be as healthy as possible. That means helping some of our most valuable, and most vulnerable, citizens — children and seniors — get enough nutritious, safe, affordable and available food to lead healthy, active lives.
Healthy Food Connect is a two-year special project that seeks to improve the health of our community members, especially seniors and children, with improved access to healthy food. This initiative addresses a somewhat hidden but critical issue in our community: Children who do not get regular, nutritious meals are not able to reach their full potential; seniors with insufficient food access may suffer complications from existing diseases, be unable to complete basic daily activities and even suffer from depression.
Healthy Food Connect was created with support from the Michigan Health Endowment Fund. With each of its three components — a grant program, education series and media campaign — Healthy Food Connect works to support and highlight new innovations; strong collaborations; sustainable, health-improving efforts; and projects that impact all parts of the region.
The $2 million grant-making program prioritizes projects with strong health components, as well as those designed to either expand or replicate successful food-access projects or take innovative approaches to existing problems. In the spirit of collaboration, each applicant organization had to be part of a partnership of more than one organization. In March, our kickoff event gathered more than 200 people from regional organizations, farms, companies, and schools to learn from local and national experts. In August, we announced the 20 grantees, who represent the efforts of 72 collaborating organizations. Awards ranged from $21,000 to $200,000, and each of our seven counties has at least one project located within its boundaries.
Two different levels of funding were available. Leadership grants of up to $200,000 support larger-scale programs with potential for systemic impact, and local impact grants of up to $75,000 support projects with smaller reaches or new ideas to test out. Leadership grantees include the Fair Food Network — which received $180,000 to support the expansion of regional access to local fresh food, school garden programs, and health and wellness education — and Food Gatherers, which received $200,000 to support the Fresh Produce Conversion Program, which makes it easier for Washtenaw County's low-income youth and seniors to use surplus fresh produce.
Local-impact grantees include PACE Southeast Michigan — which received $65,000 to support Grow Healthy Seniors, an educational program that includes gardening, cooking, and increased access to fresh produce in the tri-county region — and Greening of Detroit, which received $75,000 to create community gardens at Detroit public-housing developments.
The education and training series, which will launch later this year, consists of five events built around themes like food-access policies, communications, data, best practices and innovations. The series will be open to the public in addition to grantees. We hope to build on the momentum of the grants, the education and training series and related media campaign to elevate the awareness of healthy food access and continue Healthy Food Connect into the future.
For more information about Healthy Food Connect, including a full list of grantees and partners and a schedule of events, go to healthyfoodconnect.org.