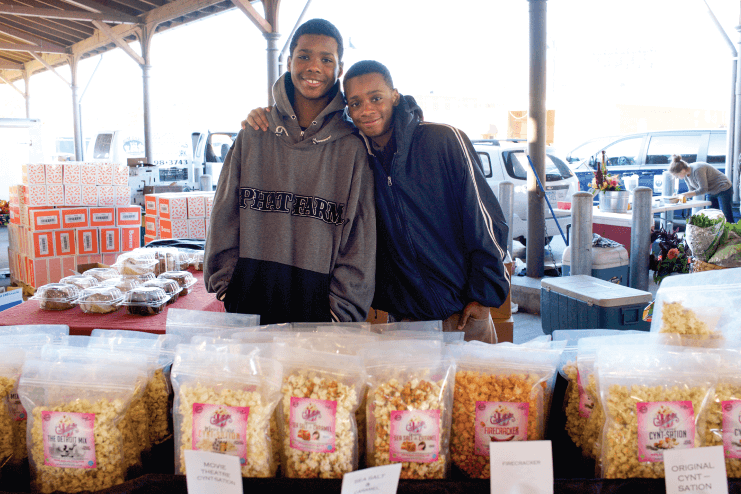 Supporting a Healthy Food System
A diet rich in healthy foods is essential to good health — that may be as close to a universal truth as there is. We are fortunate to be living at a time when good nutrition is better understood than ever before and residing in a state that boasts the second most diverse agricultural economy in the nation.
Farms in Michigan — 98% of which are family-owned — produce an amazing 300 varieties of food commodities. Most of that bounty stays here in the state, much of it sold at farmers' markets throughout southeast Michigan and distributed to restaurants and grocery stores via the nation's largest open air historic market — Eastern Market in Detroit.
But food fuels more than good health. It is also an economic driver, a conveyor of history and culture, a way to connect and socialize. Gardens and farms produce jobs as well as fruits and vegetables, and as those live near them know, they provide a sense of well-being and connection to nature. Food is at the heart of a good life, and that's why so much of our work at the Community Foundation touches healthy food in one way or another.
We are pleased to be part of a healthy food revolution in southeast Michigan that is helping to generate many positive outcomes. The programs featured here are just a few of our many investments in gardening, healthy food access, and the food economy. Our goal is to help ensure that all residents of our region can obtain the food they need to grow and be healthy, and that all communities can leverage the power of food to reach their full economic and cultural potential.
In a city better known for making cars and music, using wholesome Michigan-grown ingredients to create food products is also a growing part of the economy. An extensive network of diverse food businesses is thriving in and around Eastern Market, at the hub of which is an organization called FoodLab Detroit.
Founded in 2011 by a small group of food entrepreneurs, FoodLab has grown to a bustling community of more than 200 food distribution, processing and retail businesses committed to creating "triple bottom line" enterprises. That's defined as businesses incorporating social and environmental as well as financial dimensions — also commonly called the three Ps: people, planet and profits. The membership network supports one another and other aspiring entrepreneurs with services, workshops and access to a network of low-cost commercial kitchens that were founded by FoodLab and operated through Eastern Market.
A $117,000 grant from the New Economy Initiative (NEI) at the Community Foundation is helping FoodLab extend its reach deeper into Detroit's neighborhoods and continue to diversify and expand its network of entrepreneurs. Currently, 74 percent of member businesses are owned by women, and 55 percent are owned by people of color. The NEI grant is making it possible to strengthen and grow FoodLab services, such as helping members move their businesses from licensed to unlicensed and gaining access to new markets and capital.
According to FoodLab marketing and communications director Devita Davison, many creative entrepreneurs are running home-based food enterprises that are part of the informal local economy. By bringing these food business people into commercial kitchens and supporting them with services like marketing, packaging and regulatory compliance, they are able to make more money, employ more people and become part the expanding entrepreneurial ecosystem that NEI has helped to foster and grow.
"Food is an approachable business for many people," said Devita Davison. "We all have a connection to it, and our history and heritage is tied up with it. The FoodLab community is leveraging the remarkable asset of Eastern Market produce to create products that touch the human need to connect through food. Our members nourish, employ and enrich the lives of Detroiters and others throughout the region."
This is the kind of grassroots, inclusive entrepreneurship that has been the hallmark of NEI's impact, contributing to more than $2.9 billion in economic output generated by companies it supports. Read more about NEI's impact to date by visiting neweconomyinitiative.org/impact. For more information on FoodLab, visit foodlabdetroit.com.