The Richard F. Huegli Award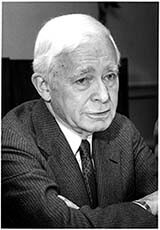 The Richard F. Huegli Award for Program Excellence annually recognizes a nonprofit organization in southeast Michigan that has a history of achieving excellence in human services programming. It celebrates Mr. Huegli's legacy of vision, high standards for programming excellence and belief in human potential. The recipient organization receives a one-time grant of $5,000 to support its general operations.
Huegli, who passed away in 1988, was an integral figure in the region's human services sector for nearly half a century, spending 42 years with United Community Services of Metropolitan Detroit, now part of the United Way for Southeastern Michigan. He later helped to establish the Community Foundation for Southeast Michigan and served as the Foundation's acting director in its first year of existence.
The Mariam C. Noland Award
The Mariam C. Noland Award for Nonprofit Leadership was established by the Board of Trustees of the Community Foundation to honor her first 25 years of service to the Foundation. It annually recognizes a nonprofit leader whose service to his/her institution exemplifies the importance of personal commitment to philanthropy. The Award also recognizes the importance of nonprofit leadership that influences beyond the confines of the institution served, and affects the larger philanthropic community in a positive way.
The Mariam C. Noland Award for Nonprofit Leadership will provide a one-time grant of $10,000 to the recipient's organization to allow the recipient to attend professional continuing education, take a personal sabbatical for career rejuvenation or to engage in philanthropic leadership activities.