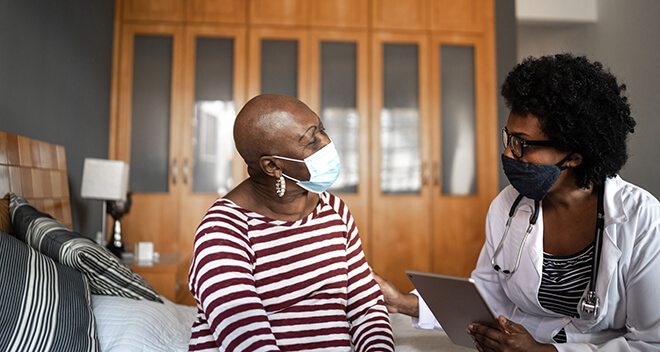 In the last two decades, opioid overdose deaths have grown exponentially in Michigan. The epidemic impacts thousands of the state's residents and communities and is one of the most prominent threats to public health. This dire reality inspired Cara Poland and Paul Trowbridge, physicians at Spectrum Health and Trinity Health Medical Group, respectively, to create the Hospital Engagement Resources Team or HEART. Team members offer technical assistance, stigma training, and protocol development for administrators, physicians, and other providers setting up inpatient medication for opioid use disorder (MOUD) programs.
"The focus in Michigan has been on emergency department medication programs rather than inpatient because that's how many substance use patients enter the hospital," explains Dr. Poland. "As a result, many hospitals don't have the workforce capacity and competency to treat substance use disorders on the inpatient side." The HEART team advises on everything from providing addiction consult services to establishing inpatient MOUD in rural settings to arranging for peer coaches.
Dr. Trowbridge describes HEART as the "dovetailing" of the two doctors' experience starting MOUD consults in emergency departments (ED). As addiction specialists, they are intimately familiar with the benefits medication delivers to OUD patients. "So much good comes from it; why isn't it being used for people who are hospitalized?" asks Dr. Trowbridge. HEART works with hospitals throughout the state, including several Michigan Opioid Partnership (MOP) grantees.
Closing Service Gaps
The idea for HEART emerged when the doctors noticed providers treating patients for complications associated with OUD but not addressing the underlying cause—the disease of substance use disorder. "If we treated diabetes like we treat substance use disorder, people with diabetes would constantly return to the hospital because we're giving them inappropriate care," says Dr. Trowbridge. OUD patients often start MOUD in the ED, but the medication is terminated once admitted. "You wouldn't discharge a person with diabetes with no insulin. That'd be insanity. That'd be malpractice. That's exactly the standard of care for substance use disorder," he emphasizes.
Unfamiliarity with prescribing conventions, lack of understanding about the disease process, and stigma are the primary causes of service deficiencies for OUD patients, according to the doctors.
"For most chronic diseases, physicians have a baseline competency in treating and prescribing medications, but that's not true for OUD," says Dr. Trowbridge.
HEART's educational offerings include workshops and lectures designed to increase providers' proficiency and comprehension of opioid use disorder as a chronic illness and the use of MOUD.
Putting Theory into Action
HEART is developing relationships with interested hospitals across Michigan as a relatively new statewide program. Corewell Health West in Grand Rapids was among the first sites to launch an inpatient initiative with funding from the MOP.
Dr. Ashlee Senay, a board-certified physician specializing in psychiatry and addiction medicine, currently leads its inpatient addiction medical consultation service. "We saw an increase in the number of OUD consults and started working with the ED and integrative medicine to give patients access to Suboxone™ after discharge," says Dr. Senay.
A primary obstacle to continuing MOUD following an inpatient stay is the need for a referral pipeline. This prompted Dr. Colleen Lane, Medical Director for Addiction Medicine at Corewell and board-certified addiction medicine physician, to develop a business plan for a walk-in clinic to improve access for substance use disorder patients.
Dr. Lane based the walk-in clinic on research supporting Red Carpet care standards in HIV medicine. Protocols require fast-tracking people with the virus to treatment immediately after diagnosis. "Capitalizing on patient motivation and quickly getting them into treatment is huge in addiction care," according to Dr. Lane.
"We found that patients admitted for OUD-related conditions were more likely to come in for follow-up appointments if we offered open-access hours."
The clinic launched in 2022 and has seen over 450 OUD patients. "We've been successful in retaining those patients in care," she says.
Reimbursement Major Roadblock to Inpatient Programs
Inpatient programs are an essential part of the circle of care because they present an opportunity to encourage OUD patients to make different choices. "At the moment of hospitalization, they're in their disease and suffering the consequences of substance use. It's a good time to talk to them about treatment," says Dr. Trowbridge. Despite this, Medicaid and some private insurers do not cover inpatient addiction consult services. "A couple of hospitals are contemplating closing the inpatient programs because they aren't getting paid, so it's moving backward," Dr. Poland explains.
Both doctors agree the biggest threat to inpatient programs is financial instability because hospitals cannot sustain non-reimbursable activities. Providers interested in starting these types of services can use their relationships with Medicaid and other insurance companies to express the value and importance of inpatient services.
"The only two things proven to decrease the risk of death from opioid use are methadone and buprenorphine," says Dr. Poland.
"We're asking physicians to report their treatment results to influence policy change so that we can sustain inpatient programs."
Editor's Note: Hospitals considering treating inpatient addiction by building core teams' capacity (i.e., general hospitalists) or developing a dedicated inpatient consult service can contact Dr. Poland.