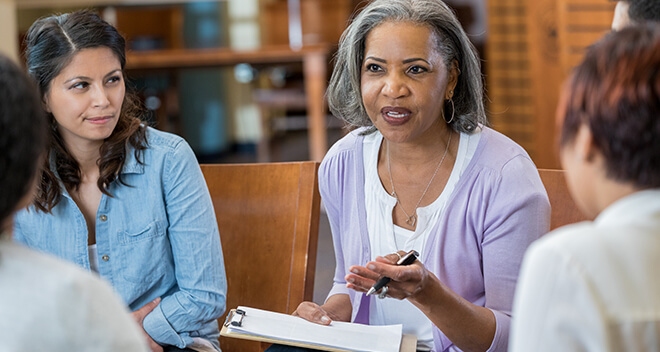 EDITOR'S NOTE: The X-waiver requirement, which is mentioned in this article, was eliminated in December 2022. Up-to-date information is available through SAMHSA and CA Bridge.
The Community Foundation for Southeast Michigan is developing partnerships in the Upper Peninsula (UP), as part of its Emergency Department Medication for Opioid Use Disorder initiative. While the initiative itself is a statewide collaboration with the Michigan Department of Health and Human Services, the Michigan Opioid Partnership, and the Michigan Health and Hospital Association Keystone Center, the Michigan Opioid Collaborative (MOC) is becoming a key partner in addressing the unique needs of rural settings.
MOC is expanding access to treatment and leading efforts in the UP to improve the quality of care for people with opioid use disorder (OUD). Reducing stigma about the disease and encouraging physicians to expand care options to include harm reduction methods is at the core of MOC's work. "Some providers believe substance use disorder is a choice and recovery only looks like abstinence without relapses from all substances," says Melissa DeMarse, a behavioral health consultant for the organization serving the UP region. "We have to meet people where they are and let them decide what recovery looks like to them."   
"We have to meet people where they are and let them decide what recovery looks like to them." Melissa DeMarse  
Acceptance of medication for opioid use disorder (MOUD) first gained traction among primary care and obstetric practices working in counties with the highest average overdose death rates in the UP. "Five years ago, few, if any OBGYN or primary care medical providers were prescribing MOUD. It was very stigmatized, basically thought of as exchanging one addiction for another," recalls DeMarse. Physicians working in these fields were open to exploring treatment options and responded to MOC's outreach and offer of clinical and technical assistance. "We provide education and support on how MOUD can help with cravings and withdrawals—symptoms that make it difficult to change behaviors or remain abstinent," says DeMarse. MOC also walks providers through the X-waiver process, a certification that allows them to prescribe buprenorphine.
Overcoming adverse viewpoints about MOUD requires ongoing education to reduce stigma and dispel myths about this treatment strategy. MOC's webinars and roundtables emphasize OUD as a chronic condition like diabetes or depression that can be effectively treated with medication. DeMarse thinks this concept has taken longer to get across in the UP because rural communities are more likely to lack funding and resources to implement programs and embrace cultural shifts more slowly. "Often people with some belief systems believe there is only one way to recover and that often looks like nobody should use drugs, and if you choose to, recovery can only look like stopping immediately and never using again," says DeMarse. "It's hard for people to just stop, no matter how bad their life is due to their illness." She points to unconscious bias as an obstacle to seeing OUD as a disease. "Witnessing patients at their worst when they are in the throes of their condition can result in providers forming harsh opinions about people with opioid use disorder."
Emergency departments as new access points
Through a recent collaboration with the Community Foundation, MOC is expanding its work to include emergency departments (ED) at UP hospitals committed to establishing MOUD programs. The organization links ED practitioners with community resources and outpatient providers, such as peer recovery coaches and options for rehabilitation facilities. ED staff can then provide patients with reliable referrals as they leave the hospital and transition to community-based, long-term treatment. Helen Newberry Joy Hospital & Healthcare Center is one of the institutions at the forefront of this movement to expand access to care throughout the region. 
Helen Newberry Joy Hospital (HNJH) used recent funding from the Community Foundation to launch its new hospital-based MOUD initiative. "We were prescribing medication to people with OUD in our community clinics," says Dr. Michael Beaulieu, chief medical officer at HNJH. "The grant was a good opportunity to extend the services to our emergency department." Located in the eastern part of the UP, HNJH sees patients from other regions and hospitals as word spreads about the program. "We knew the need existed, and the response confirmed it," said Dr. Beaulieu.
Like other health care systems and the providers MOC works with, HNJH has to combat erroneous and harmful thinking about opioid use disorder as a disease. "I was hesitant to prescribe medications because I didn't understand OUD or how medicine could help," said Daniel Netherton, a physician assistant in HNJH's Gibson Family Clinic. "Now that I've been through MOC's training and understand the benefits, I quickly realized this is the most gratifying part of my practice. I didn't feel alone, trying to figure things out. People from surrounding areas also wanted to know about MOUD and how to start a program," he recalls.
Besides training, the relationship with MOC is providing tools to help HNJH shift the narrative about OUD. "When we received the grant, we worked with MOC to designate HNJH a stigma-free hospital," said John Swangler, director of behavioral health at HNJH. Leadership and staff committed to create hope for people with OUD by eliminating treatment barriers and advocating for an accepting community. "Everybody deserves to be a better version of themselves," according to Swangler. "Some people just need help getting there."
The hospital's efforts to create a stigma-free environment are paying off. Today, 100 percent of the ED providers are waivered, and the misconceptions about OUD being a disease are fading. Given that MOUD is the only treatment associated with substantial reductions in the risk for all overdose mortality in people dependent on opioids, trained, knowledgeable practitioners are essential to addressing Michigan's growing crisis. As EDs are often the first and potentially only medical intervention people with OUD receive, HNJH's program will prove invaluable to the UP by increasing the number of access points to proven care.