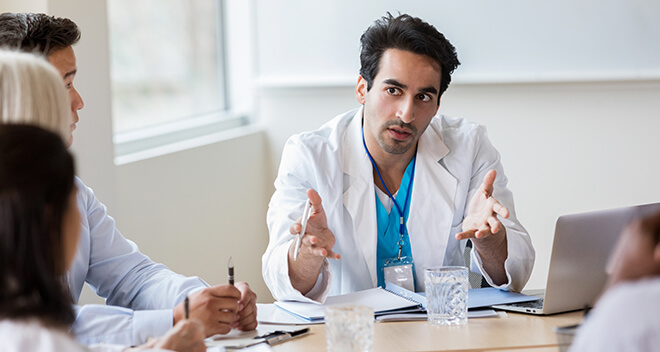 EDITOR'S NOTE: The X-waiver requirement, which is mentioned in this article, was eliminated in December 2022. Up-to-date information is available through SAMHSA and CA Bridge.
As the attending emergency physician and program director of the medication for opioid use disorder (MOUD) program at Flint's Hurley Medical Center, Dr. Ryan Reece has been at the forefront of advancing care for people struggling with addiction. Starting with improvements in technology and communications funded by a grant from the Community Foundation for Southeast Michigan's Michigan Opioid Partnership (MOP), Dr. Reece continues to pioneer cultural change within his hospital by championing the X-waiver. "Stigma is inherent in treating substance abuse, and we have to prepare ourselves to address it like any other chronic disease," says Dr. Reece.
Dr. Reece decided to get X-waivered in 2018 after receiving an invitation from a colleague, Dr. Nick Rademacher, to attend an educational session on prescribing buprenorphine, one of the more effective medications for opioid use disorder (OUD). Any provider can administer buprenorphine to a patient in the hospital, but a waiver is required to prescribe the medication. An emergency department doctor at Trinity HealthGrand Rapids and MOP clinical consultant, Dr. Rademacher advised Hurley on starting a treatment program for people with OUD. "It didn't take much convincing for me to get the training and waiver because I trust Dr. Rademacher," Dr. Reece said.
The disproportionate number of patients he saw affected by substance abuse also influenced Dr. Reece's decision. Like many communities across the country, Flint and Genesee County are experiencing an opioid crisis. According to the Michigan Opioids Task Force's 2020 annual report, the county had the second-highest rate of overdoses in the state at 35.4 per 100,000 residents. The region's 2019 Community Health Needs Assessment confirmed that opioid-related emergency department (ED) use for all ages increased by 7.3 percent from 2016 to 2017, well above Michigan's average. "The best tool in our toolbox for treating OUD is with medications only available to prescribers with an X-waiver," he shares.
"The best tool in our toolbox for treating OUD is with medications only available to prescribers with an X-waiver."
Tool in Comprehensive Treatment Approach
According to Dr. Reece, more than 75 percent of the ED clinicians at Hurley are waivered. "We're fortunate to have a cohesive group working together. Over the last couple of years, we've substantially improved the care we deliver to OUD patients," he states proudly. He says that the conversations staff have regarding these cases and the more sensitive manner in which they approach people with substance abuse problems indicate the cultural shifts destigmatizing the disease. He and his colleagues now often consult on patient scenarios based on a set of symptoms or co-create treatment plans to provide the best solution possible.
 The collaborative work environment in the ED encompasses other professionals that play a vital role in recovery, such as social workers, substance abuse specialists, and peer recovery coaches. "The coaches play a significant role in changing the conversation," Reece observes. "We often don't see the positive outcome of our work with OUD patients in the ED, but the coaches are living examples of what a person's life can be like on the other side of addiction." The X-waiver contributes to the clinicians' work with these partners. Providing a buprenorphine prescription to a patient with opioid use disorder can bridge the gap between discharge from the ED and entrance into long-term recovery.
Reece views the X-waiver as a powerful resource to address the significant opioid events still occurring throughout the state. He says clinicians who choose not to secure the authorization should ask themselves why they have not obtained the waiver. "We have no problem prescribing insulin or high blood pressure medication for people with diabetes or hypertension. If somebody presents with opioid addiction, we should be able to offer them the same level of care."