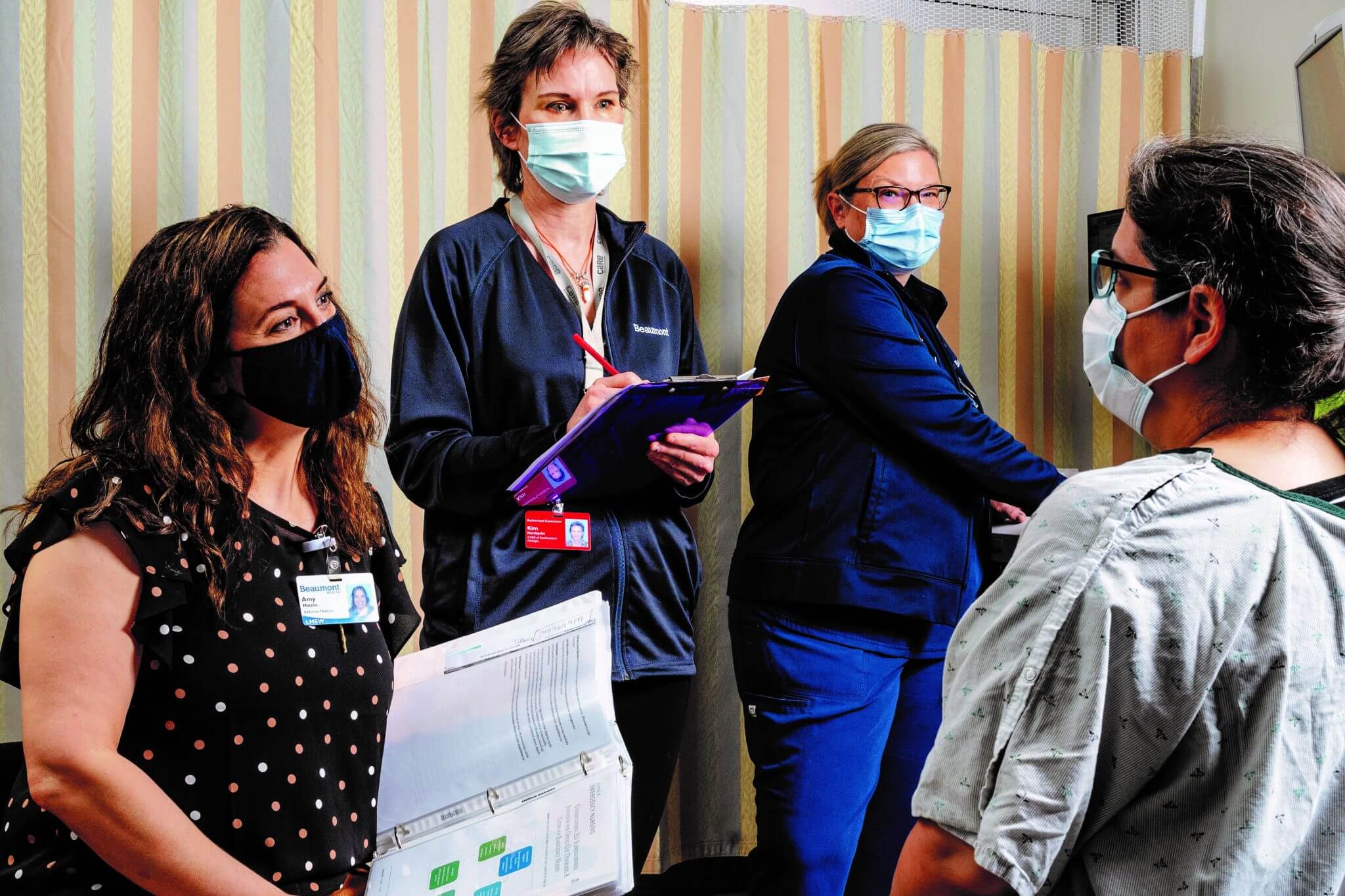 This story was originally published in our 2021 Annual Report.
The Michigan Opioid Partnership – an ambitious public-private collaborative that includes the Michigan Department of Health and Human Services, funders, and health-care providers – is working to reduce the growing number of opioid overdoses and deaths in Michigan.
Prior to the pandemic, deaths by opioid overdoses occurred at roughly twice the rate of traffic fatalities in Michigan – and preliminary data shows that opioid-related overdose deaths were up 20 percent in the state during the first six months of 2020.
But there is hope for better days ahead.
The Michigan Opioid Partnership is funding and implementing groundbreaking work through a team of staff at the Community Foundation.
With funding from the Partnership for its Emergency Department Project, Beaumont Hospital in Royal Oak identifies those who are experiencing opioid use disorder (OUD) in its emergency room and provides these patients with access to immediate treatment. Patients are then able to continue treatment at community-based treatment providers without facing traditional barriers or challenges to treatments.
The process increases the number of people who are identified as needing treatment, as well as the number of people who begin and continue treatment longer term.
The model that Beaumont Royal Oak is using continues to inform best practices at other hospitals – and state legislation is being introduced that will mandate that most hospitals in Michigan adopt this promising model of care.
Because funders and the State of Michigan believed this should be a statewide effort, the Michigan Opioid Partnership grew to serve organizations and residents around the state.
In the Upper Peninsula, where access to treatment is limited, the Michigan Opioid Partnership has provided the resources and technical assistance to establish a similar model in the emergency department at War Memorial Hospital in Sault Ste. Marie, along with a new clinic.
The clinic provides ongoing treatment for patients with OUD – many of whom are identified through the hospital's emergency room.
During its first three months, the clinic has helped more than 100 patients begin treatment.
The Community Foundation is proud to serve as the leader and fiscal home for this state-wide effort, which has laid the groundwork for addressing one of Michigan's most pressing challenges.