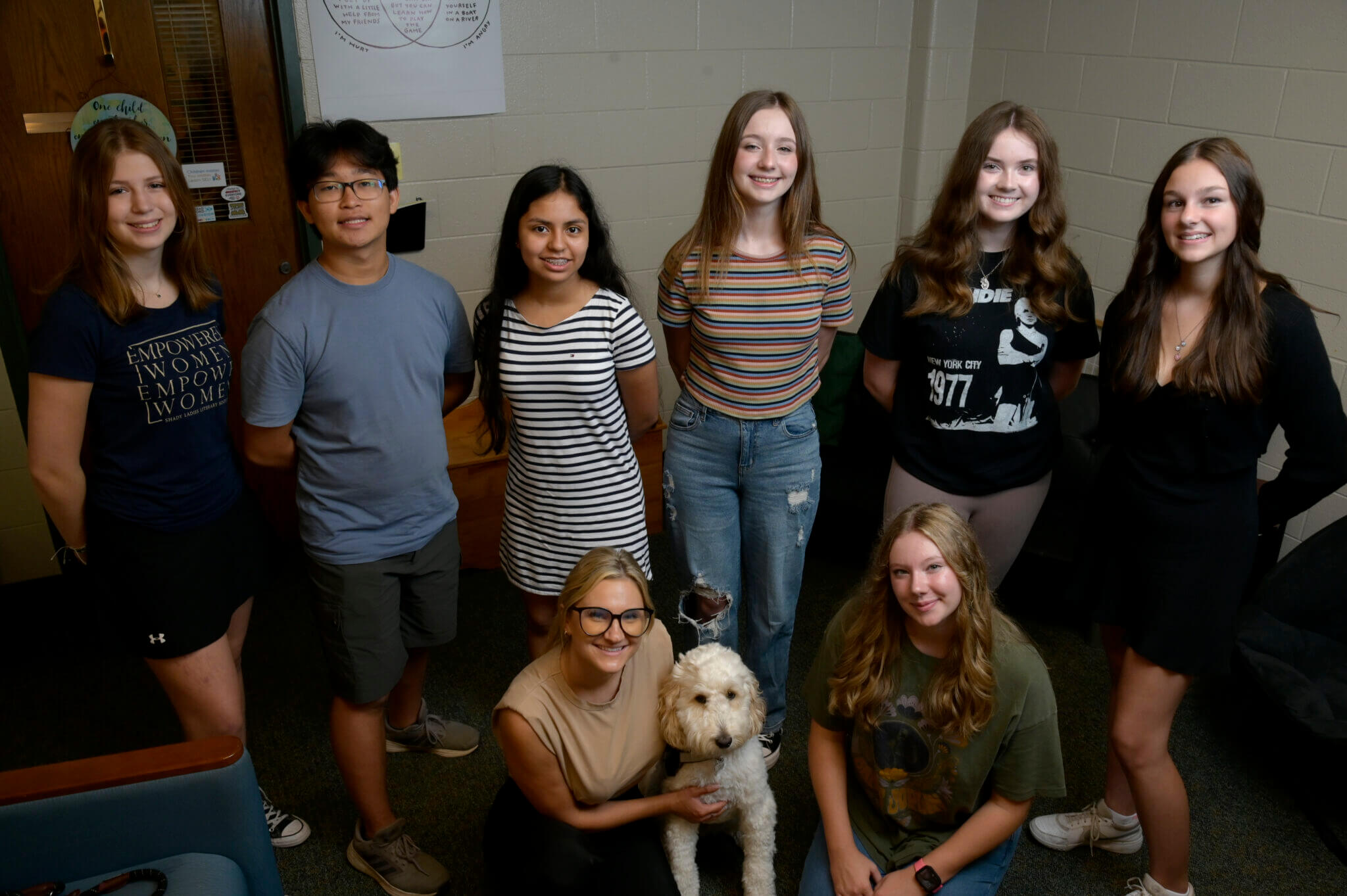 Howell High School mental health specialist Marissa Gawel advised members of the school's Lighthouse group on their Youth Advisory Committee grant application. She cuddles the school's therapy dog, Finn, next to 10th-grader Kaylyn Clemens and with other Lighthouse members, back row, from left: Natalie Kitchen, Jayden Zhang, Militza Algredo-Huerta, Kara King, Adelaide Ellis and Gracie Hieber. Photo credit: Darrel Ellis
Gracie Grady was in a criminal forensics class when she heard about the Oxford High School shooting. 
"My gut reaction was just absolute terror and sadness," says Grady, who was a senior at Mercy High School in Farmington Hills. Like many teenagers in southeast Michigan, she knew people who were connected to students and staff at Oxford High School.
Lifting the youth voice

 
Grady was in a unique position to engage young people after the tragedy in November of 2021. She chaired the Community Foundation for Southeast Michigan's Youth Advisory Committee, known as "the YAC." The YAC helps the Community Foundation engage youth voices in shaping the future. During the past 30-plus years, its middle school-, high school- and college-age advisors have recommended nearly 200 grants that promote youth leadership throughout our region, totaling more than $1.3 million.
"In light of mass shootings, racial injustice, and the pandemic, it's really important to empower the youth voice." Gracie Grady, Community Foundation for Southeast Michigan Youth Advisory Committee advisor
Grady already was scheduled to meet with then-YAC Vice Chair Jibraan Rahman and YAC Advisor Harmony Rhodes on the day of the Oxford shooting, which left four students dead and seven people injured. The trio scrapped their original agenda and sprang into action. They envisioned a special round of grantmaking that recognized gun violence as a systemic issue, with disproportionate effects on youth in communities of color, and drafted a letter on behalf of the YAC.  
"YAC-ers are working within our communities to be the change we want to see," they wrote. "We hope our voices amplify others and bring small slivers of hope and strength to children in our communities."
The Community Foundation Board of Trustees responded by creating a $100,000 grant pool to help southeast Michigan high schools tackle mental health, gun violence, and school safety and asking the YAC to oversee the funds. The YAC recommended the following grant applicants, which the Board of Trustees approved:
Howell Public School District for a student-led mental health advisory committee and student-designed mental health space at Howell High School

 

Loyola High School in Detroit for a youth-led mental health advocacy program at the all-boys school that primarily serves students of color
Jefferson Schools in East Monroe County to create an updated school safety training and youth-led wellness program at Jefferson High School

 
"In light of mass shootings, racial injustice, and the pandemic, it's really important to empower the youth voice," Grady says. "Almost every single teen across America has been negatively affected by these things and it's negatively impacted their mental health." 
In fact, U.S. Surgeon General Vivek Murthy issued an advisory to highlight the urgent need to address the youth mental health crisis, stating: "The future wellbeing of our country depends on how we support and invest in the next generation."
'This could happen at our school'
It's an issue that resonates among the YAC grant recipients at Howell High School, where a group of students works to help their peers cope with stress, anxiety, depression and suicidal thoughts. 
The teens are part of a group called Lighthouse, which was formed in 2020 to reduce the stigma around mental health issues. Lighthouse raised funds to buy a therapy dog and lobbied in Lansing for a toll-free 988 Suicide and Crisis Lifeline that began taking calls in July 2022. The 988 number has been added to all Howell High School students' identification cards and posted throughout the school, along with messaging to normalize mental health care. 
The YAC recommended the Howell Public School District for funding to amplify the students' work and create a wellness center where their high school peers can go to destress, eat lunch quietly, grab a cold bottle of water, connect with a counselor, engage in social-emotional learning activities, or pet the school's therapy dog, Finn. The goal is to promote mental wellness and positive school culture.
"I see the room as being colorful, less of a white room but more fun colors like blue and green. We also talked about using our art classes to create art for that room," says 10th-grader Kaylyn Clemens, who helped spearhead the district's YAC grant application. "It's not specifically for people who are diagnosed with anxiety or depression. (Even with) the simplest amount of stress, you can use that room. It's for everyone."
Clemens says the Oxford High School shooting and isolation during the COVID-19 pandemic intensified the stress students already carry related to academic achievement, social acceptance, cyberbullying, family life, and balancing commitments to clubs and sports.
"We have no clue what's really going on inside someone's head. They could be struggling with something and be afraid to talk to people." Kaylyn Clemens, Howell High School 10th-grader and mental health advocate
The data backs her up. Anxiety and depression among young people have spiked, according to a report that the Baltimore-based Annie E. Casey Foundation released in August. In Michigan, 13.5% of children ages 3 to 17 were diagnosed with or reported anxiety or depression in 2020 compared to 11.9% in 2016, the report says.
"During the events (at Oxford), a lot of people were very concerned about, at any moment, this could happen to our school," Clemens says. "A lot of us who are trying to help people with mental wellness, it makes us think we have no clue what's really going on inside someone's head. They could be struggling with something and be afraid to talk to people, so they take their anger out on other people."
Howell High School mental health specialist Marissa Gawel, who advised the students on their YAC grant application, says they learned a valuable lesson beyond the importance of promoting mental wellness. 
"The students have learned what it takes to build and create something within the school setting, that it's not just about money," she says. "Now we've got to run with it. There are logistics to it. It can't be a free-for-all." 
Learning how to lead
Former YAC chair Gracie Grady says that kind of hands-on experience embodies the YAC's mission to teach young people about philanthropy, volunteerism and community leadership.
"If you never give the youth a chance to work alongside adults and never have their voice heard, then we'll never know how to lead when we get older," says Grady, who is now a freshman at Miami University in Ohio, but continues to advise the YAC.
She has passed the YAC chair position on to Jibraan Rahman, who was vice chair at the time of the Oxford shooting. He and the 2022-2023 YAC cohort opened another round of grantmaking to distribute the remaining $40,000 of Oxford-response funds throughout the Community Foundation's seven-county region. The YAC will review applications through the end of the year and make awards in January. 
Make an Impact
Visit
cfsem.org/field-of-interest
and select "Children and Youth" to make a donation that will help young leaders respond to the needs of our region's youth now and in the future.

 
This story first appeared in the Fall 2022 REPORT Newsletter.