A Message for Our Donors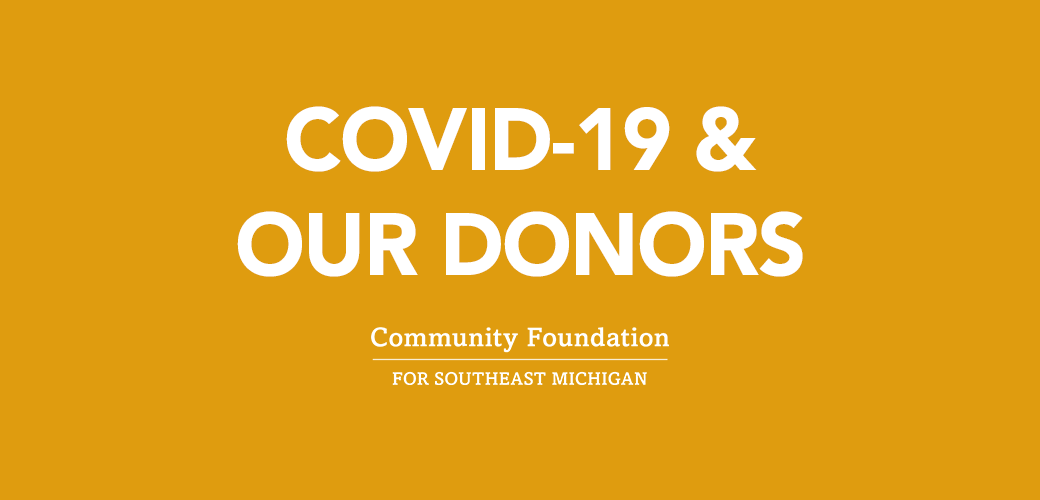 Much like you, at the Community Foundation for Southeast Michigan, we are closely monitoring the development of the COVID-19 Coronavirus pandemic.
As this global crisis rapidly evolves, we continue to learn new information about the effect of the virus on our cities, towns, and neighborhoods. In response, we are working as quickly as possible to ensure the health and safety of our community by determining how we, as a regional philanthropic partner, can help most effectively.
Donors may contribute to the COVID-19 Relief Fund for Southeast Michigan to support immediate and long-term unmet needs or the Health COVID-19 Relief Fund Southeast Michigan to support the urgent health-related needs.
Donate to the Covid-19 Relief Funds
If you want to support urgent, human service needs, the most effective step is to contribute to your local United Way by visiting their website here.
Each of these organizations is working to address critical, immediate human service needs in their respective communities related to the COVID-19 pandemic.
We do not yet know what the long-term effects of this crisis will be, but our grantee partners and other community members are helping us determine where needs are most critical right now.
We have asked our partners to serve as the eyes and ears of our community and to help us maintain a running list of community needs as they evolve.
You'll see that the range of issues is wide – from needs for cultural institutions to needs for small business. We know government will address some of these, but we want to monitor as we look for ways for philanthropy to fill in the gaps.
If you want advice as a donor to support any of these wider range of issues, especially those outside of the human service issues the United Way's are addressing, please do not hesitate to call us. We are happy to lift suggestions to you.
As we learn how best to address this evolving pandemic together, the impact of regional collaboration and local contributions has never been more apparent. By working together with our friends and neighbors, we can ensure the health and safety of our community as effectively as possible.
Sincerely,
Randy Ross
Associate Director, Donor Engagement