Foundations Launch Effort and Make Immediate Grants to Address Needs During the COVID-19 Pandemic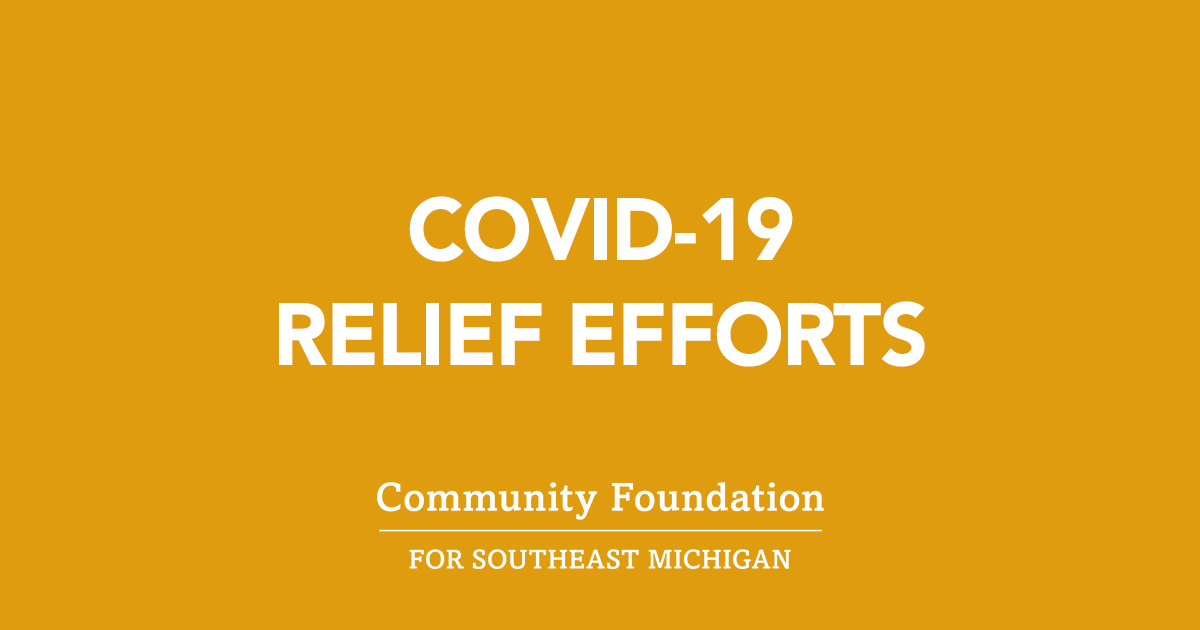 Today, a group of foundations announced strategies to meet targeted emerging community needs during the COVID-19 crisis. The initial funders are the Community Foundation for Southeast Michigan, the DMC Foundation, the Facebook Community Fund, and the Ralph C. Wilson, Jr. Foundation.
"To complement the work of other efforts, address identified needs as they emerge and provide support to area nonprofits so they can withstand this crisis, we are establishing funds to focus on unmet needs," said Mariam Noland, President of the Community Foundation for Southeast Michigan. "In full participation with our foundation partners, we are making grants to provide support for targeted community needs arising from this crisis."
As its first action, a fund has been established to focus on urgent and emerging health needs. As part of today's launch, fourteen grants totaling $700,000 dollars are immediately being awarded as follows:
$300,000 to the City of Detroit for expanded access to COVID-19 testing with priority for first responders and healthcare personnel.
$100,000 for Wayne State University to test sheltered and symptomatic individuals experiencing homelessness for COVID-19.
$100,000 for four area health departments – Wayne, Oakland, Macomb and Detroit to increase their capacity to provide support during the COVID-19 crisis.
$100,000 to four area community health clinics – Gary Burnstein Community Health Clinic, Central City Integrated Health, Covenant Community Care, and Honor Community Health for support for the care of community members disproportionately affected by COVID-19.
$100,000 to four community organizations – Detroit Area Agency on Aging, Area Agency on Aging 1B, Senior Alliance, Inc. and Universal Dementia for outreach and support to older adults and their caregivers.
Additional grants will be made as fundraising continues throughout the outbreak and recovery phases of the crisis. Donors who are interested in supporting this and other evolving needs are encouraged to do so at cfsem.org/covid19-relief or call the Community Foundation at 313.961.6675
We all can help in this unprecedented emergency.
For interview requests, contact Heather George, hgeorge@loviogeorge.com
Available:
Lorna Thomas, Chair, DMC Foundation
David O. Egner, President, Ralph C. Wilson, Jr. Foundation
Mariam C. Noland, President, Community Foundation for Southeast Michigan
---
The Community Foundation for Southeast Michigan is a full-service philanthropic organization leading the way to positive change in our region. As a permanent community endowment built by gifts from thousands of individuals and organizations, the Foundation supports a wide variety of activities benefiting education, arts and culture, health, human services, community development, and civic affairs. Since its inception, the Foundation has distributed more than $1.1 billion through more than 69,000 grants to nonprofit organizations throughout Wayne, Oakland, Macomb, Monroe, Washtenaw, St. Clair, and Livingston counties. For more information, please visit www.cfsem.org
The DMC Foundation is dedicated to promoting the well-being of people in the metropolitan Detroit area through the support of health-related research, education and community benefit activities. The DMC Foundation was created in 2010 to receive part of the charitable assets transferred from the Detroit Medical Center following its sale. In 2013, the DMC Foundation affiliated with the Community Foundation for Southeast Michigan, seeking grantmaking and investment expertise, as well as overall efficiencies. For more information about the DMC Foundation, its community impact or grantmaking, visit www.dmcfound.org
The Ralph C. Wilson, Jr. Foundation is a grantmaking organization dedicated primarily to sustained investment in the quality of life of the people of Southeast Michigan and Western New York. The two areas reflect Ralph C. Wilson, Jr.'s devotion to his hometown of Detroit and greater Buffalo, home of his Buffalo Bills franchise. Prior to his passing in 2014, Mr. Wilson requested that a significant share of his estate be used to continue a life-long generosity of spirit by funding the foundation that bears his name. The foundation has a grantmaking capacity of $1.2 billion over a 20-year period, which expires January 8, 2035. This structure is consistent with Mr. Wilson's desire for the foundation's impact to be immediate, substantial, measurable, and overseen by those who knew him best. For more information, visit www.rcwjrf.org
 The Facebook Community Fund is a small 501c3 nonprofit organization managed by Facebook with a mission to deepen community impact through philanthropy, and to deepen philanthropy's impact through community. For more information, visit www.facebook.com/community/fund