Healthy Food Connect: Kicking it off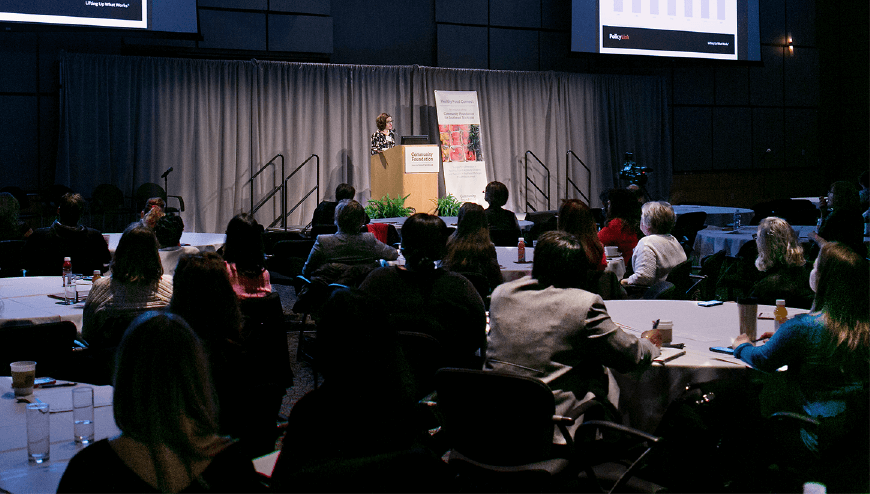 Get two hundred passionate people in a room and there will be sparks.
On March 30, 2016, the Community Foundation for Southeast Michigan hosted the Healthy Food Connect Kickoff event at the Ford Motor Company Conference and Event Center in Dearborn. The purpose of the event was primarily to announce the initiative, which focuses on increasing healthy food access for children and seniors in Wayne, Oakland, Macomb, Monroe, Washtenaw, Livingston and St. Clair Counties. The secondary goal was to give these passionate people time to connect and learn from each other.
The people in the room came from schools, government, faith communities, food banks, non-profit organizations, farms, coordinating councils, parks and recreation centers, health systems, colleges and universities, senior centers, think tanks, community gardens, farmer's markets and food distribution centers. There was representation from all seven counties of southeast Michigan, as well as from statewide and national organizations. There were growers and buyers, businesspeople and philanthropists. People of all ages, demographics and roles gave their day to focus on healthy food access in our regional community.
The agenda for the event can be found here. In the coming weeks, the full video of the event will be available on the Healthy Food Connect page.
The day began with a welcome from CFSEM Trustee Florine Mark who shared the importance of access to healthy food – especially fruits and vegetables – as key to her personal successful maintenance of a healthy weight. Amanda Navarro, Director of PolicyLink, presented a keynote address entitled "Equity: The Key to Growing a Sustainable and Just Food System," which painted the national landscape and encouraged attendees to consider how their work can make the food system more equitable.
Colleen Matts from Michigan State University Center for Regional Food Systems, Megan Masson-Minock from Michigan Local Food Council Network and Kate Krauss from Fair Food Network described the statewide work of their organizations and shared promising practices and exciting efforts related to healthy food access in Michigan.
Before and following lunch, we heard short talks from Dr. Gwendolyn Graddy-Dansby from PACE Southeast Michigan, Nicki Milgrom from Ecology Center, Willie Spivey from Keep Growing Detroit, Noam Kimelman from Detroit Food Academy, Sara Gold from United Way for Southeastern Michigan, Kirk Mayes from Forgotten Harvest and Gerry Brisson from Gleaners Community Food Bank. Through these presentations, we heard about innovation, partnership, collaboration, community engagement and the work that remains to be done to improve food access for our families, our friends, our neighbors, and our region.
Nikki Silvestri, in her afternoon keynote, used her personal food story as a framework to touch on soil quality, lack of food access, climate change, systemic racism and social justice.
At the end of day, attendees learned more about Healthy Food Connect, including an invitation to participate in an educational series and the opportunity to apply for a Healthy Food Connect grant.
The sparks from the kickoff are going to light a fire of collaboration and innovation in healthy food access. Thank you to all who have joined thus far and for all who will be a part of this movement in the days, weeks and months to come.
Header Photo: Amanda Navarro presents Keynote Address at Healthy Food Connect Kickoff