Southeast Michigan Early Childhood Funders Collaborative Awards $1.4 Million in Detroit Head Start Innovation Fund Grants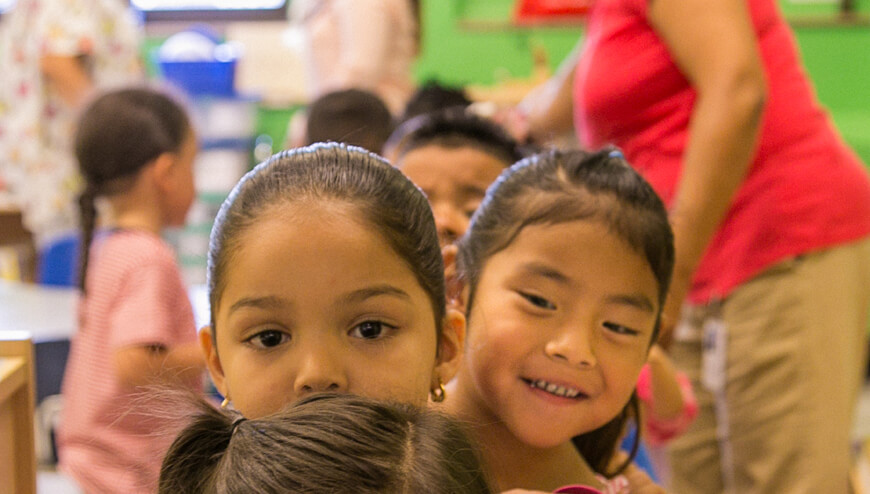 Funding prioritizes attracting, training and retaining additional Head Start teachers to city's 65 centers
DETROIT – The Southeast Michigan Early Childhood Funders Collaborative, a group of funders working together to support early childhood education, has announced a second round of grants totaling $1.4 million from its Detroit Head Start Innovation Fund (Innovation Fund).
The Innovation Fund made its first grants in September 2014 to foster innovation and collaboration and support stronger outcomes for young children and their families enrolled in Detroit Head Start agencies.  The current $1.4 million was distributed to four Head Start organizations, which together serve more than 3,000 children in facilities across Detroit. The funding supports three system-wide goals: recruit and retain qualified early childhood educators; attract more Head Start-eligible families, and support shared data and program evaluation.
Matrix Human Services received $450,000 to increase the pool of qualified early childhood and Teach for America educators by offering a Child Development Associate program and a five-week employment training program. The funds will also be used for financial literacy education and other programs to support low-income families.
Metropolitan Child and Youth Inc. received $200,000 for teacher retention and the recruitment of families with infants and toddlers to Early Head Start programs. Funds will also support a partnership with First Children's Finance to facilitate staff leadership development and capacity building and implement an accelerated child development associate credentialing process. Funding will also support partnerships with Madonna University to provide Infant and Toddler Care certification for staff, and with HighScope and Teachstone to develop and evaluate curriculum.
New Saint Paul Tabernacle Church of God in Christ Head Start Agency received $300,000 for unique partnerships with Madonna University and HighScope to build teacher recruitment and retention efforts, including teacher development and a "train the trainer" program, with a focus on training teachers for Early Head Start.
Starfish Family Services received $450,000 to provide training and professional development for teachers, advancement opportunities for qualified staff, and ongoing performance assessment programs for all personnel at the manager level or higher.
Additionally, funding will also be used to support a data manager who will work to ensure the consistency and compatibility of data gathered across all neighborhood Head Starts managed by the four agencies and the creation of effective data-sharing systems and protocols.
Furthermore, a report, commissioned by the Innovation Fund, examines the barriers to becoming a Head Start or Early Head Start educator in the city, and identifies opportunities for Detroit to utilize proven national methods and locally-generated solutions to build the pool of eligible and qualified Detroit Head Start educators.
The members of the Southeast Michigan Early Childhood Funders Collaborative are:  the W.K. Kellogg Foundation; The Kresge Foundation; the Skillman Foundation; the Max M. and Marjorie S. Fisher Foundation; the McGregor Fund; the Community Foundation for Southeast Michigan, which manages the fund activities; The Jewish Fund; and the PNC Foundation.
"The Community Foundation is pleased to manage Innovation Fund activities on behalf of the Collaborative," said Katie Brisson, vice president, program at the Community Foundation for Southeast Michigan, "The Innovation Fund investments are not typical grants. They show a strategic commitment to expanding the capacity of Head Start in Detroit by recruiting new teachers and providing professional development for existing educators and staff."
The Collaborative created the Innovation Fund in in response to the 2014 rebidding process that occurred with Detroit Head Start programs and focuses specifically on the new Head Start providers that were selected by the federal government. It funds and promotes increased school readiness through initiatives such as increasing parent engagement, providing professional development for teachers, improving alignment among agencies within the system and ensuring better transitions between Early Head Start/Head Start and the K-12 school system.
Attached: Head Start Educator Report
The Community Foundation for Southeast Michigan is a full-service philanthropic organization leading the way to positive change in our region. As a permanent community endowment built by gifts from thousands of individuals and organizations, the Foundation supports a wide variety of activities benefiting education, arts and culture, health, human services, community development and civic affairs. Since its inception, the Foundation has distributed more than $800 million through more than 55,000 grants to nonprofit organizations throughout Wayne, Oakland, Macomb, Monroe, Washtenaw, St. Clair and Livingston counties. For more information, please visit www.cfsem.org.      
###