Community Foundation Honors Rich Homberg with 2016 Mariam C. Noland Award for Nonprofit Leadership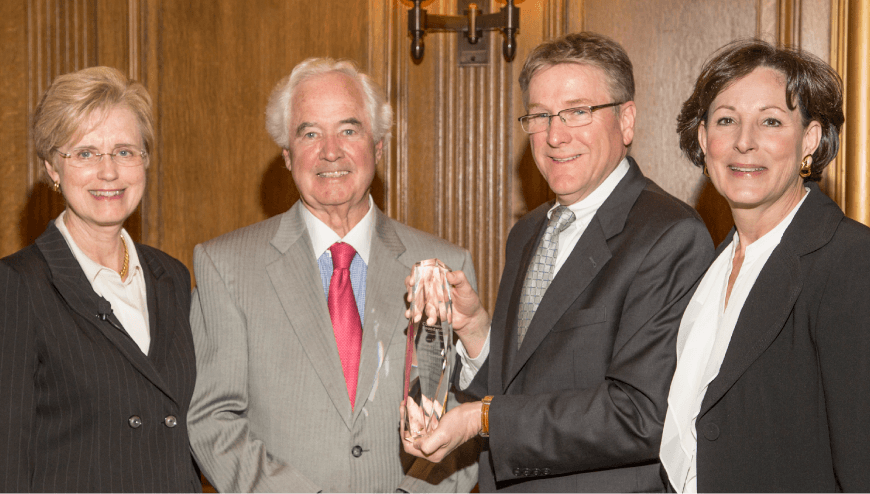 DETROIT – The Community Foundation for Southeast Michigan announced that Rich Homberg, president and CEO of Detroit Public Television (DPTV), was selected as the recipient of the 2016 Mariam C. Noland Award for Nonprofit Leadership. The award was presented at the organization's annual meeting today.
Named after the Community Foundation's first and current president, this annual award recognizes a nonprofit president or CEO in southeast Michigan whose service exemplifies the importance of nonprofit leadership, not only to his or her organization, but also to the wider nonprofit community. The recipient receives a grant of $10,000 from the Community Foundation, with the preference that it be used for executive leadership development opportunities.
Homberg has served in his role at DPTV, the viewer-supported PBS member station serving the nation's 11th largest television market, since 2008. During his tenure, he has greatly improved the station's operating results and audience reach while increasing local content and community engagement. His accomplishments include: leading a successful $22 million capital campaign to build a state-of-the-art broadcast facility; uniting with Michigan State University to provide 24/7 programming for children and families statewide; bringing classical music back to Detroit through the organization's radio station, WRCJ, which operates in partnership with Detroit Public Schools; as well as expanding DPTV's offering in arts and culture through partnership with numerous local organizations, such as the Detroit Symphony Orchestra, Sphinx, and many others.
In 2010, DPTV was named "Best Managed Non-Profit" by Crain's Detroit Business and, in 2012, it was honored with a DuPont-Columbia Award for innovative documentary programming, as well as recognition from the Association of Public Television Stations for its Great Lakes environmental programming.
Prior to joining DPTV, the Bloomfield Hills-resident worked in commercial broadcasting for CBS, Viacom and Westinghouse Broadcasting. Having long advocated aligning efforts across the public media system in order to better serve his constituents, Homberg is currently the Chair of the PBS Diversity Advisory Committee and Cultural Alliance of South Michigan and also serves on multiple boards for nonprofit organizations including the PBS Station Services and Corporate Support Advisory committees and the Strategic Planning Advisory Group. In addition, he has been active in the Major Market Group's efforts around the Community's Agenda and the PBS Community Connection initiative, also serving in the PBS Interactive working group.
"Through his leadership of Detroit Public Television and contributions to PBS, Rich Homberg helps to enrich people's lives with important programming," said James B. Nicholson, chair of the board of trustees of the Community Foundation. "An integral member of our community's cultural leadership, he is an outstanding choice for the 2016 Mariam C. Noland Award for Nonprofit Excellence."
About the Mariam C. Noland Award for Nonprofit Excellence
The Board of Trustees of the Community Foundation for Southeast Michigan established this award in 2010 to recognize Mariam C. Noland on her 25th anniversary as president of the Community Foundation. While Noland's accomplishments to date as president are many and noteworthy, the Board acknowledged her leadership in the broader philanthropic community and the many other charitable causes and entities that she has supported, nurtured and counseled.
Previous recipients of the Mariam C. Noland Award for Nonprofit Excellence include Midtown Detroit Inc. President Susan Mosey (2011), University Musical Society President Kenneth C. Fischer (2012), Macomb Community College President Jim Jacobs (2013), Neighborhood Service Organization President and CEO Sheilah P. Clay (2014) and Presbyterian Villages of Michigan President and CEO Roger L. Myers (2015).
Under Noland's leadership, the Community Foundation's assets have grown to nearly $750 million and it is now the 24th largest community foundation in the country.