Community Foundation Honors ACCESS with Richard F. Huegli Award for Program Excellence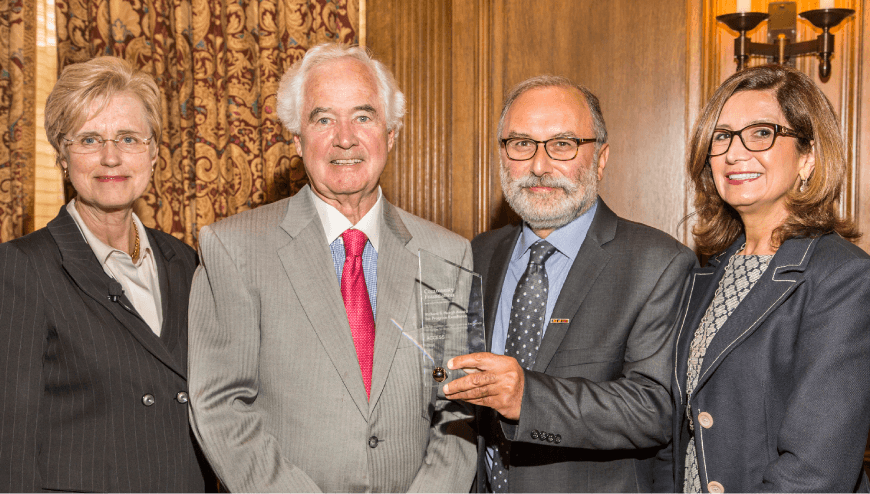 DETROIT – ACCESS (the Arab Community Center for Economic and Social Services), based in Dearborn, Mich., was selected by the Community Foundation for Southeast Michigan as the recipient of the 2016 Richard F. Huegli Award for Program Excellence. The award was presented at the Community Foundation's Board of Trustees meeting today.
The Award annually recognizes a nonprofit that reflects Mr. Huegli's vision, high standards in human services programming and belief in human potential. Huegli served in the human services sector in southeast Michigan for nearly half a century before his death in 1988.  He helped to establish the Community Foundation and worked as acting director in its first year,
ACCESS was established 45 years ago out of a storefront in Dearborn's impoverished south end to help Arab immigrants adapt to life in the United States. Created by a group of dedicated volunteers, the organization is, today, the largest and most comprehensive Arab American nonprofit in the country, with 10 locations and more than 100 programs providing social, economic, health and educational aid. As part of the award, ACCESS will receive a one-time grant of $5,000 to support general operations.
ACCESS has continued to honor its Arab American heritage, while building impactful, community partnerships with other organizations across the region. Today, ACCESS serves approximately 70,000 residents annually across southeast Michigan from all ethnicities and walks of life.
In Southeast Michigan, ACCESS services include basic needs support, employment support, academic intervention, health and wellness programs and a number of youth empowerment initiatives. Additionally, a few years ago ACCESS created the Growth Center, in partnership with the New Economy Initiative, to provide entrepreneurial training and technical assistance to those seeking to start, or grow their own business. ACCESS serves diverse low-income and immigrant communities across the region, and helps them move towards economic stability.
Nationally, ACCESS has three reputable institutions that work to elevate the voice of Arab Americans: The Arab American National Museum (AANM), the National Network for Arab American Communities (NNAAC) and the Center for Arab American Philanthropy (CAAP).
"On behalf of ACCESS, I am honored to accept the Richard F. Huegli Award for Program Excellence," said ACCESS CEO Hassan Jaber. "Our 45-year history of service to southeast Michigan would not be possible without the extraordinary service of our donors, board, volunteers and staff. This acknowledgement and recognition by the Community Foundation marks an exciting milestone for ACCESS."
Added Mariam C. Noland, president of the Community Foundation for Southeast Michigan, "ACCESS's mission very much mirrors that of the Community Foundation and Richard F. Huegli – to serve those in need and provide all with a better quality of life. We are pleased to have the opportunity today to recognize their staff and supporters for continuing the organization's long held tradition of excellence."