CFSEM Youth Committee Members describe how they recommended $125,000 in racial equity grants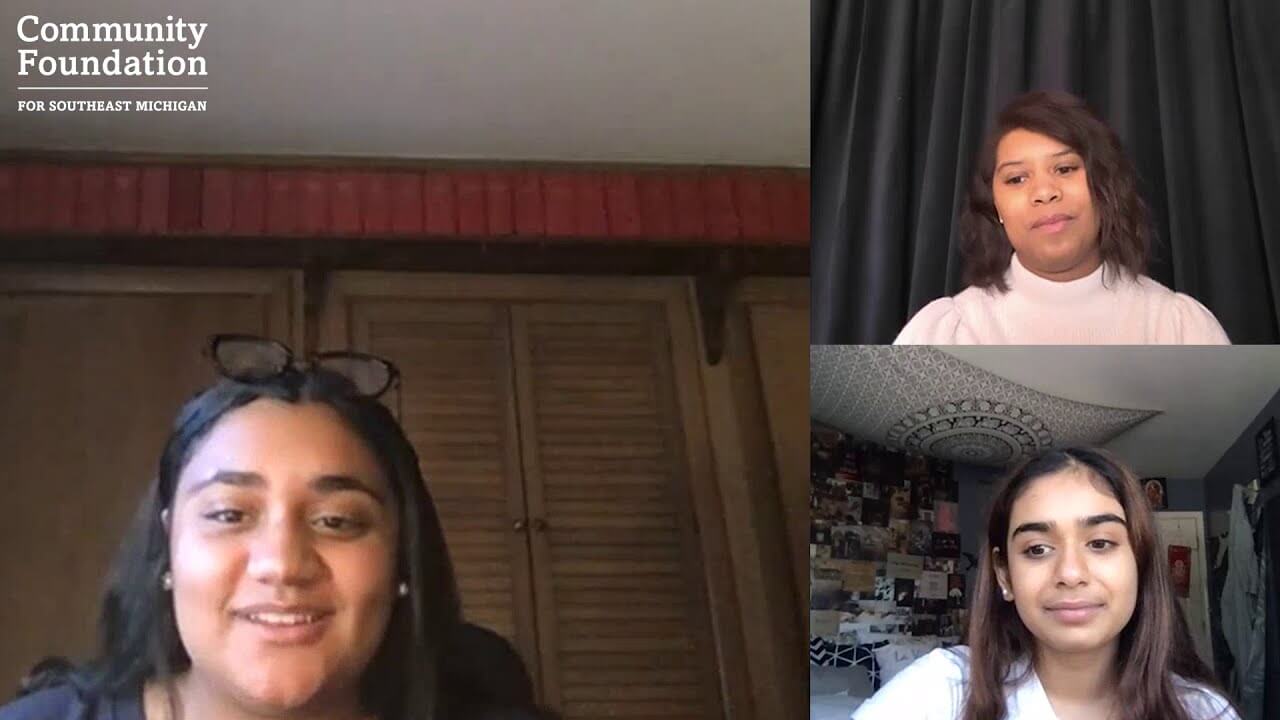 Watch a virtual interview with Gracie Grady and Akhila Mullapudi, two members of the Youth Advisory Committee of the Community Foundation for Southeast Michigan.
The students spoke with program officer Harmony Rhodes, who leads youth initiatives at the Community Foundation, on their experience in recommending racial equity grants earlier this year.
The support totaling more than $125,000 include:  
Allied Media Projects

 for their Detroit Area Youth Uniting Michigan (DAYUM)

 program

 to expand

 efforts to

 

engag

e

 high s

c

hool students throughout the region in youth-led dialogues against racism and injustices experienced at schools or in their communities.

 Students will share their desire for an Online Bill of Rights that seeks to transform education by adopting five rights.

 

 
b

uild

O

n

,

 

Inc

. 

for their 

Leaders in Training (LIT) program that equips Detroit high school students to fight racial inequities and social injustices

.

 

This program will 

create a platform for 

high school 

peers to mobilize and engage in service projects over the next school year that promote racial equity and social justice.

 
Congress of Communities 

for the Youth Racial Council to implement a racial justice action project. 

The Youth Council is collaborating with partner organizations and adult residents to learn about racial and social justice, identify their community's needs, connect with other organizations, and learn the basics of community organizing and advocacy. During the second phase, youth will host dialogues about racial and gender 

justice

 with a

 larger network of youth, community members, and gender/reproductive justice advocates.

 
Developing Kingdoms in Different Stages

 for youth summits, monthly social-emotional workshops, and cultural exchanges with a focus on addressing racial equity. 

The organization's youth advisory group 

will 

host summits with a focus on youth leadership and racial equity, targeting youth ages 13-24. The goal will be to develop leadership skills, share experiences, learn about other races and cultures, and 

facilitate

 

in- depth conversations about the racial disparities that create a system of injustice.

 
Jewish Family Services of Washtenaw County

 to expand refugee and immigrant youth services by creating a Youth Advisory Committee.

 

The effort 

will provide leadership development to a minimum of ten 14-to 

19-year old

 youth in Washtenaw County. The structure will empower immigrant and refugee youth to be a voice for change on key racial justice issues such as human rights, access to services, participation, educational disparities, and equity.

 
Keep Growing Detroit 

for a program that engages youth to examine the food system with a racial justice lens.

 Through their Summer Youth Program, 

t

he 8-week Food Justice Track will provide a combination of workshops, socially distant field trips, and activities to supplement the existing SYA farm-based curriculum in early June. The curriculum will incorporate lessons from Black Lives Matter, colorism, and the history of West African soul food.

 
Local Circles 

for a program that engages youth in racial justice research opportunities.

 

This 

program will allow youth researchers to develop technical research skills from the 

Local Circle's 

program while working as a 

virtual 

team. At the conclusion of the Rapid Cycle program, Youth Researchers will be invited to join the Youth Leadership Council, an existing program, to further grow leadership skills by working on an extended social impact project focused on racial equity.

 
Michigan State University

 for expanded efforts to develop southeast Michigan student voices through journalism.

 

T

he existing Detroit High School Journalism Program and an expansion of the Detroit Program 

will 

provide a journalism training program for members of the

 Community 

Foundation's Youth Advisory Committee

 who will be reporting on the racial justice grant activities

. The Detroit Program links students with MSU faculty and connects them with professional journalist mentors, nurturing student voices via a citywide newspaper, Detroit Dialogue.

 

 
The Color of Autism Foundation 

for peer leader training to elevate the voice of Black and African American youth who have 

a

utism

.

 

Siblings of youth with autism, ages 13 – 26, will engage in support, advocacy, and outreach within schools, community organizations, etc. to improve inclusion of special needs populations in decision making. 

This will close the gaps in services for the community while also responding to the recent racial unrest as well as the victimization of Black and African American Autistic young men in our country.

 
The Community Foundation's Youth Leadership project was established in 1991 with a $1 million challenge grant from the W.K. Kellogg Foundation. These funds established an endowed youth fund that would, in perpetuity, involve young people in reviewing grant proposals from organizations that benefit youth in southeast Michigan. 
The YAC, which includes 20 middle and high school students from across the region, oversees this fund and makes grant recommendations to the Community Foundation Board of Trustees on grants ranging from $2,500 to $50,000.