A Message from the President & Chair — July 2022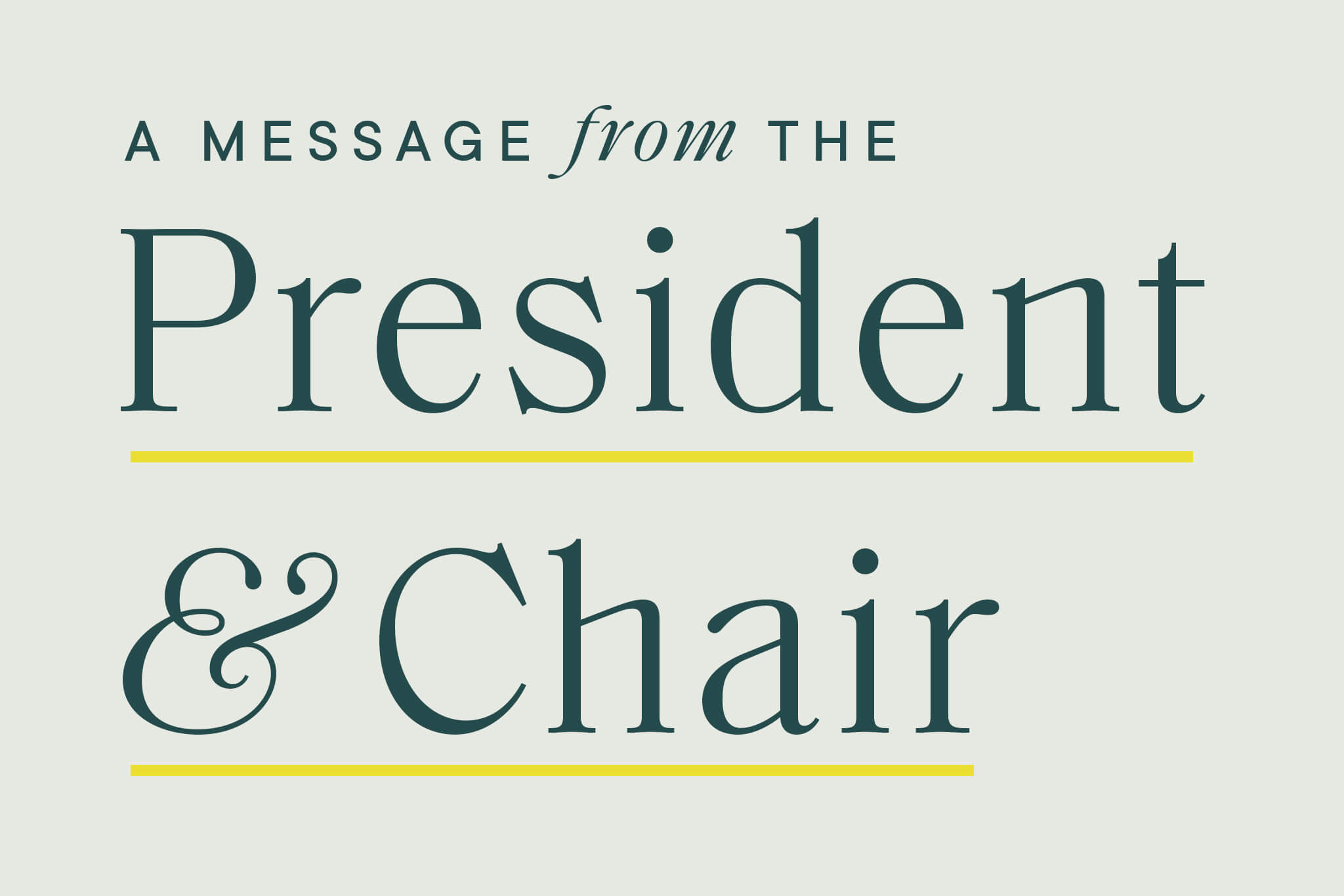 This message was officially published in our 2022 Yearbook.
This year ushers in a new era in the Community Foundation for Southeast Michigan's history.
With a new president, we have a rare opportunity to take a step back, build on 35+ years of success, and to embark on a strategic plan that will serve the region for years to come.
During her storied tenure as the Community Foundation's founding president, Mariam Noland transformed what started as an idea into an institution that has become the bedrock of community-based philanthropy in southeast Michigan. During its nearly four-decade history, the foundation has made more than $1.4 billion in grants and established hundreds of endowed funds for our region's nonprofits to create permanent community capital. With another $1.3 billion in assets under management, we have an opportunity to invest in our community for generations to come.
A cornerstone of the Community Foundation is collaboration. We are proud to work with our employees and volunteers to partner with our donors and funders to address needs, provide resources to the underserved, and to build the capacity of the leaders and organizations of tomorrow.
We believe we have what it takes to build a better tomorrow for future generations. The 2022 report captures and quantifies that impact.
The 2022 report captures and quantifies that impact. You'll learn how the Community Foundation facilitated more than 5,000 grants totaling $103 million during the past year and navigated a global pandemic that continued to disrupt life in our region. You'll explore how our team-led, community-based efforts, such as the Pontiac Funders Collaborative, stimulate economic growth and increase opportunity.
You'll also gain insights into our powerful philanthropic partnerships, including our work with the Ralph C. Wilson, Jr. Foundation, to improve the lives of children across our region.
These stories illustrate how the Community Foundation has blossomed into a critical local institution. We connect donors who care about our region with opportunities to leverage their philanthropy in ways that make a collective impact. This powerful approach, a community-based model in which the contributions of many are combined to collectively support their neighbors, is what makes us unique.
But while some already recognize the impact, our role is to grow that understanding and value of the Community Foundation, its mission, and its work.
Our region, and our nation, bear the scars of a tumultuous decade marked by increasing polarization and political strife, capped by a global pandemic. We believe the process of healing and moving forward begins at the community level —and that the Community Foundation is uniquely positioned to bring our region together around a shared vision.
We've shown what is possible when we collectively work to address community issues. Now, we have an opportunity, and a responsibility, to rally our neighbors to join our movement by investing in our community, building greater trust with grassroots organizations, and forging new partnerships with philanthropy and business to scale our success.
We must continue to grow our general endowment so we can do even more.
We must continue to grow our general endowment so we can do even more. The pandemic demonstrated how philanthropy can quickly mobilize to make a positive impact during a crisis by utilizing the financial stability that endowment provides. We need to build on that flexibility to help organizations and the residents we serve today, with an eye toward preparing for the inevitable challenges ahead.
We also have an obligation to help organizations grow their endowments. Around 230 nonprofits are growing their endowment with us and are seeing the value of long-term operating support in an uncertain world.
We have a lot of work to do. We have a passion for ensuring that underserved communities have the resources they need to thrive, grow, and nurture our future leaders; we must empower and support leaders who reflect the communities they serve.
We believe we have what it takes to build a better tomorrow for future generations.