Community Foundation Honors Nonprofit Leadership and Program Excellence at Annual Meeting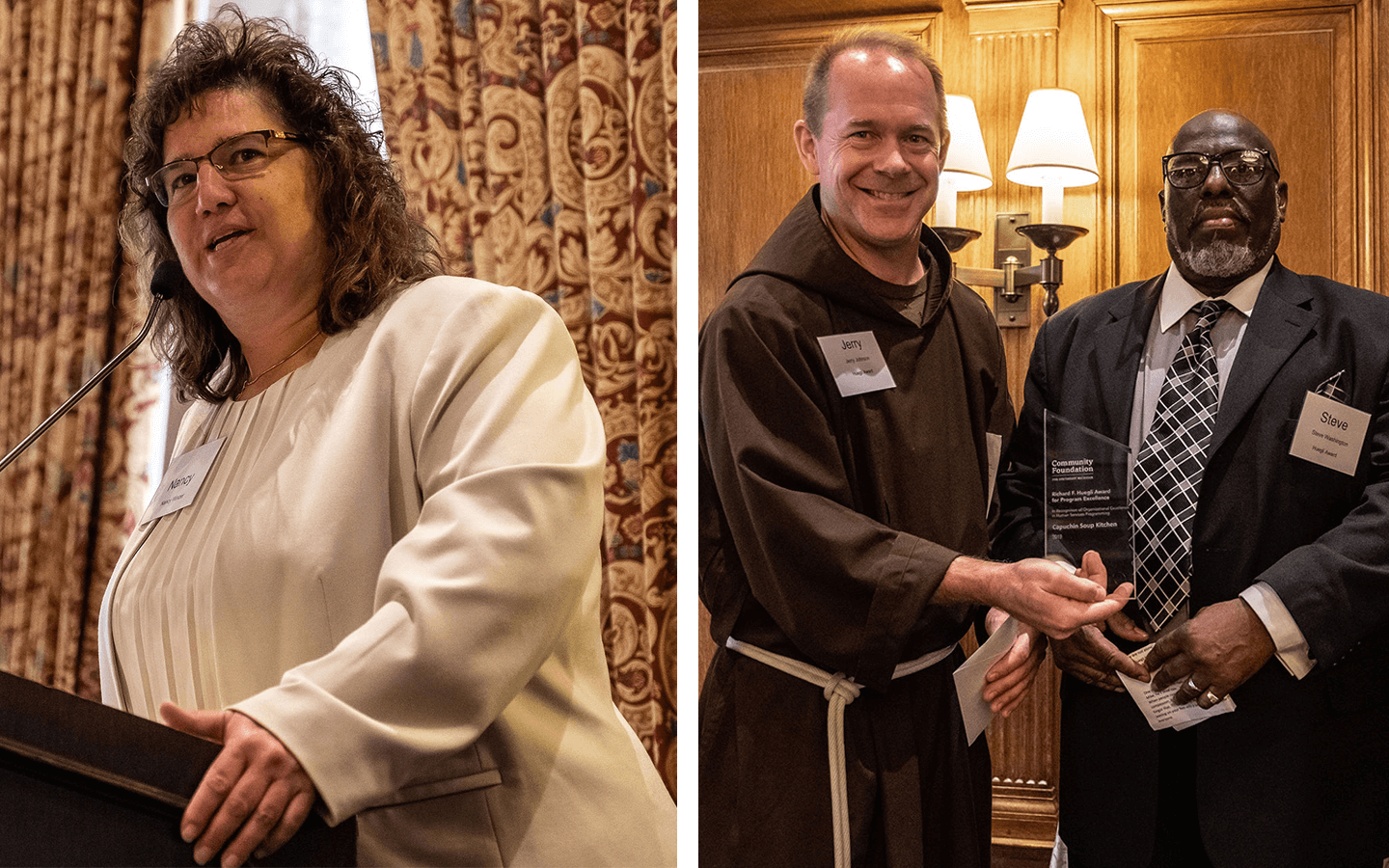 The Community Foundation has announced that Nancy Winzer, Director of Parks and Recreation for the City of Port Huron was selected as the recipient of the 2019 Mariam C. Noland Award for Nonprofit Leadership, and the Capuchin Soup Kitchen, Detroit has been selected as the recipient of the 2019 Richard F. Huegli Award for Program Excellence. Both awards were presented at the Community Foundation's Board of Trustees June meeting.
Mariam C. Noland Award for Nonprofit Leadership
Named after the Community Foundation's first and current president, the Mariam C. Noland Award for Nonprofit Leadership recognizes a nonprofit president or CEO in southeast Michigan whose service exemplifies the importance of leadership in his or her organization and the wider nonprofit community.
The selection of Winzer for the Noland award is also important in that it highlights the role of government leaders as part of the charitable sector. In some of the more rural portions of the region, the government often serves a role in service and leadership where there is a limited charitable sector to provide resources. She has been in the field of recreation for over 30 years. As Parks and Recreation Director in Port Huron, Wizner  oversees the recreation center, two pools, two beaches, the forestry and cemetery division, 24 City-owned parks, a 1,200 seat theater and an ice rink. She raised over three million in grant and sponsorship funds and completed more than 15 projects throughout the City of Port Huron, including a Kaboom Built to Play project last summer.
Wizner is an invaluable member of the Community Foundation's Youth Sports Task Force. It was her practice of placing balls of bins in parks across Port Huron that spurred the vision for, and launch of, a much larger sports equipment sharing pilot which is being supported by the Ralph C. Wilson, Jr.  Foundation.
"I want to thank the entire Community Foundation for all the support they give to our projects in Port Huron, and for nominating me for this recognition," says Winzer. "We need to keep working to provide adequate opportunities for physical activity by giving our kids more time for free play, finding unique ways to meet their interest or simply opportunities for creative play."
Richard F. Huegli Award for Program Excellence
The Richard F. Huegli Award for Program Excellence identifies a nonprofit that reflects Mr. Huegli's high standards in human services programming and belief in human potential. Huegli, who passed away in 1988, was an integral figure in the region's human services sector for nearly half a century, spending 42 years with United Community Services of Metropolitan Detroit, now part of the United Way for Southeastern Michigan. He later helped to establish the Community Foundation for Southeast Michigan and served as the Foundation's acting director in its first year of existence.
The Capuchin Soup Kitchen is celebrating 90 years of serving individuals through its 2 kitchens, food pantry, and multiple programs. The Capuchin Soup Kitchen – Conner site alone serves over 1,100 meals a day along with providing chaplain and social worker support.
The Capuchin Soup Kitchen also understands that their clients need more than food. Their major programs include Jefferson House, a 6 -9 month, 12-bed residential substance abuse treatment program for men coming out of homelessness; Rosa Parks Children's Program for art therapy and tutoring; Earthworks Urban Farm and training program; On The Rise Bakery, a 12-month, 10-bed residential program where bakers-in-training, who have recently been released from prison or have completed a substance abuse program, are provided workforce skills; and providing additional basic needs, for example, 6,000 individuals were provided an opportunity to receive a shower and change of clothing last year to foster a fresh focus and increase sense of dignity and self-worth.
"Like the many wonderful non-profit organizations in the region, we resonate with Mr. Huegli's belief in human potential," says Brother Jerry Johnson, Capuchin Friar. "Working together with others, we try not to think of someone in need as a case to be solved, but as a sister or brother to be listened to and cared for. We are humbled by so many people working together to support our sisters and brothers with their short and long-term dreams and goals."
"We are energized and inspired by people like Nancy and the team at the Capuchin Soup Kitchen," says Mariam Noland, president, Community Foundation for Southeast Michigan. "Individuals and organizations show-up every day to lead and to improve the lives of others in southeast Michigan. We are incredibly grateful for the work they do."