Detour Media launches Emerging Voices citizen journalism program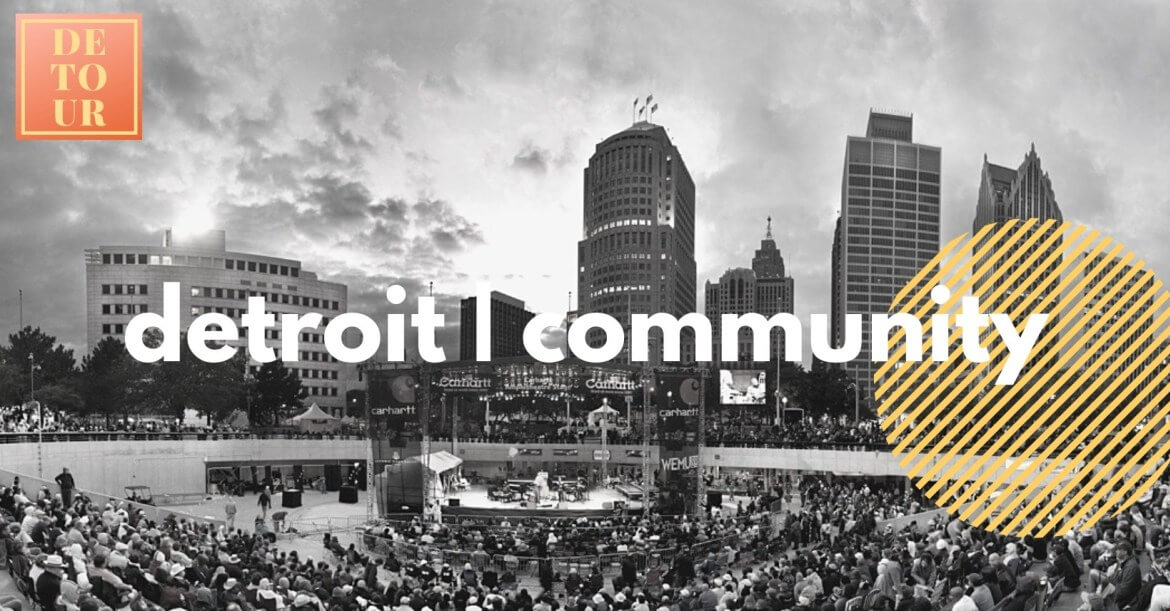 The Community Foundation is glad to pass along this release from Emerging Voices, supported by the Detroit Journalism Engagement Fund.
Detroit residents to be equipped to tell their stories
Detour Media LLC, publisher of the Detour Detroit email newsletter, is proud to announce a new program dedicated to unearthing and amplifying the voices of Detroit residents.
The Emerging Voices citizen journalism program will select six fellows from neighborhoods across the city of Detroit this summer for an immersive training in citizen journalism best practices. The fellows will then be paid by Detour to produce stories for the Detour newsletter and partner news outlets, and to hold public events in their neighborhoods, facilitated with Detour. Emerging Voices is designed to tell the story of Detroit's present and future in the voice of its residents.
"The idea for Emerging Voices came out of conversations I had with the smart people at the MIT Media Lab in Cambridge, MA, during a Visiting Nieman fellowship at Harvard University in spring 2018," said Detour founder Ashley Woods Branch. "I was really interested in the idea of training citizens to produce journalism for the email newsletter, so we could source stories and perspectives that weren't being talked about. I then began to understand that revealing stories from neighborhoods in Detroit that are often ignored by local media can build empathy and understanding between our reader residents."
Emerging Voices will allow Detour to tell more nuanced stories about particular neighborhoods, chipping away at some of the existing stereotypes for outsiders in the process. Emerging Voices will both enrich Detour's Detroit coverage for current readers, while also speaking to new audiences who will see their neighborhoods represented in both the content and its writers.
"The Emerging Voices program isn't just about building citizen journalism in Detroit — it's about building community between neighbors," Branch added.
The Emerging Voices fellowship will be led by veteran Detroit journalist Ken Coleman. Ken Coleman is the education correspondent at Michigan Advance and a former senior editor at the Michigan Chronicle and a press secretary and spokesman for numerous Michigan politicians. He's also written and published four books on black life in Detroit.
"I've always wanted to share my journalism knowledge and experience with people who want to better share their stories," Coleman said. "As Community Engagement Coordinator, I'm able to carry out that vision. There are lots of stories that don't get published, voices that aren't heard, and communities that are often ignored. Detour Detroit will help to amplify them."
Detour Detroit will hold three public meetings throughout the city of Detroit during the week of June 10-15 to share more details about the fellowship and to allow potential candidates to apply in person.
The meetings will take place:
June 10, noon-2 p.m., Detroit Hispanic Development Corporation, 1211 Trumbull Ave., Detroit
June 10, 6-8 p.m., Eastside Community Network, 4401 Conner St., Detroit
June 13, 6-8 p.m., Neighborhood HomeBase, 7426 W McNichols Rd, Detroit, MI 48221
Candidates can also apply by visiting the online application here. Applications are due June 20.
Detour is seeking applicants with diverse perspectives and backgrounds.
"We're eager to tap into the deep knowledge of Detroiters and give new writers tools to tell stories rooted in place," said Detour Editorial Director Kate Abbey-Lambertz. "We urge Detroiters who live outside Greater Downtown, are passionate about their communities and want to work on the craft of writing to apply, whether or not they have journalism experience."
Emerging Voices was funded in January 2019 by the Detroit Journalism Engagement Fund, a partnership between the Community Foundation of Southeast Michigan, the Ford Foundation and the John S. and James L. Knight Foundation to increase the quality, outcomes and reach of journalism in the region, with an emphasis on engagement, innovation and the equitable recovery of Detroit.
"Detour Detroit's work exemplifies several priorities of the Detroit Journalism Engagement Fund program," said Lenzi Abma, program officer for the Community Foundation of Southeast Michigan. "The outlet explores new strategies for engaging diverse, local audiences using thoughtful combinations of common communication tools like email, social media, and in-person relationships. It will be interesting to learn how building trust and strong partnerships with readers can ensure the work is relevant and reflective of its readership," she added.
Detour Media LLC is the publisher of Detour Detroit, a digital-first local news outlet designed to grow community and help Detroiters access journalism relevant to their lives. Sign up for Detour Detroit here or visit the Detour Detroit website for more information on how to become a paid member. Detour Media is also a strategic digital consulting partner for community-focused newsrooms across America. For more information about supporting the Emerging Voices program, becoming a media partner or engaging with Detour Media, contact Ashley Woods at ashley@detourdetroiter.com.