Jewish Fund Commits $150k to Early Childhood Education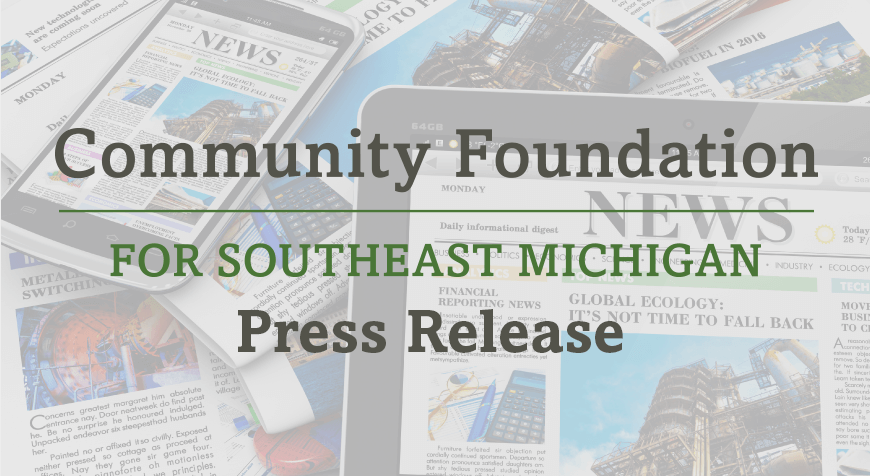 Joins Multi-Foundation Initiative Supporting Detroit Head Start Programs
FOR IMMEDIATE RELEASE
DETROIT—The Jewish Fund has committed $150,000 over two years to support early childhood education in Detroit as part of the Detroit Head Start Early Childhood Innovation Fund. The $4.67 million, three-year philanthropic initiative provides private matching dollars to Head Start providers in the city of Detroit for programs leading to better services and outcomes for children and families.
"The Detroit Head Start Early Childhood Innovation Fund exemplifies the ideal of community leaders and practitioners joining together to create positive change for the children and families of Detroit, and ultimately, for our entire community," said Dr. Richard Krugel, chairman of the board of directors of The Jewish Fund. "While The Jewish Fund is primarily a health funder, we believe that providing young children and their parents with an enriching early childhood experience will lead to improved health and well-being for their families."
The Detroit Head Start Early Childhood Innovation Fund is a consortium of foundations with a history of working together to promote early childhood education. Organizations include the W.K. Kellogg Foundation, Kresge Foundation, Skillman Foundation, Max M. and Marjorie S. Fisher Foundation, McGregor Fund, Community Foundation for Southeast Michigan, PNC Foundation and The Jewish Fund. All fund activities are managed by the Community Foundation for Southeast Michigan.
Detroit is one of five cities engaged in the Head Start Birth-to-Five reform effort initiated by the National Office of Head Start to markedly change and improve Early Head Start and Head Start programs nationally. The Detroit Head Start Early Childhood Innovation Fund was created as a multi-year effort to support Detroit Head Start grantees and delegates involved in using evidence-based practices and new forms of collaboration to improve the quality of Head Start programs and enhance school readiness.
The Innovation Fund will accomplish this through a grantmaking program used to incentivize innovation and program improvement through on-going technical assistance and by fostering a learning and capacity-building network among the organizations implementing Head Start and their community partners to share and incorporate best practices in delivering services. The qualifying nonprofit applicants are the following federally-approved Head Start agencies in Detroit: Matrix Human Services, Metropolitan Children and Youth, New St. Paul Tabernacle and Starfish Family Services. Information about grant guidelines and eligibility can be found at cfsem.org.
A wealth of economic research shows that smart investments in early childhood education are proven to fight poverty by delivering strong academic, social, and economic outcomes not just for children, but for their families and communities where they live. Research from University of Chicago economist and Nobel Laureate James Heckman has shown that every dollar invested in high-quality early childhood programs for disadvantaged children returns seven to 10 percent per child, per year, for the life of the child, through increased lifetime earnings and reduced costs in remedial education, health care, and criminal justice system expenditures.
The Jewish Fund was established in 1997 from the sale proceeds of Sinai Hospital of Detroit to the Detroit Medical Center. Sinai Hospital was a Jewish community funded facility that grew into one of Metro Detroit's top health care institutions. As a legacy of Sinai Hospital, the Jewish Fund continues to support community programs and services that help at-risk individuals improve their health and human condition. 
The Community Foundation for Southeast Michigan is a full-service philanthropic organization leading the way to positive change in our region. As a permanent community endowment built by gifts from thousands of individuals and organizations committed to the future of southeast Michigan, the Foundation supports a wide variety of activities benefiting education, arts and culture, health, human services, community development and civic affairs. Since its inception, the Foundation has distributed more than $598 million through more than 47,000 grants to nonprofit organizations throughout Wayne, Oakland, Macomb, Monroe, Washtenaw, St. Clair and Livingston counties.